Tattoo Interpretation #10: Black & White Crown Tattoo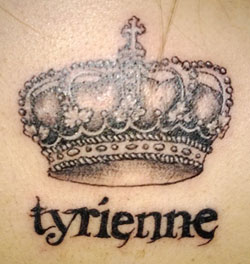 Today's tattoo interpretation is for Miss A. Miss A has this black-and-white crown tattoo on her upper back.
First, let's look at the symbols in this tattoo:
A crown is a very positive symbol. It's a symbol of authority; of ruling and reigning. A crown is worn by a ruler. I felt like the Holy Spirit is whispering to me that Miss A is anointed for leadership.
The fact that the crown is on her upper back reinforces this. Just like your physical back is where you carry a physical burden, so in the spiritual realm your back is symbolically where you carry spiritual things. It's the place where mantles are attached. Miss A is carrying a spiritual mantle of authority from the Lord.
The second thing that drew my attention about this crown is that, in real life, crowns are full of color. They are typically encrusted with gold and all manner of precious gems–rubies, sapphires, pearls, emeralds, and more. And as a matter of fact, you can see those things on Miss A's crown. You can tell from the artwork that this tattoo depicts a very opulent crown; it's just portrayed in black and white.
The fact that this crown is rendered in black and white tells me that Miss A's authority has not fully matured yet. In other words, Miss A has gifts and anointing for leadership, but she is still growing into them. Nevertheless, that anointing to be a godly leader is there, and the Lord will bring Miss A into her season of leadership in due time.
Finally, but perhaps most importantly, let's look at the symbol of the cross. The cross is elevated above the crown. It is the capstone of the crown. The entire crown is attached to it and subservient to it.
A cross is a symbol of death. In Biblical symbolism, it is not only the symbol of Christ's sacrifice for us, but it is also the symbol of dying to self. This is very important. Since the crown is beneath and subservient to the cross, I believe the Lord is saying these things to Miss A:
Miss A, your authority was purchased for you by Jesus Christ when He died on the cross for your sins. His blood paid the full price for you to walk in authority and victory in every area of your life.
You are called to die to yourself and live to Christ.
As God elevates you as a leader, you must remember that your ministry is not about you. Your ministry must be about fulfilling the purposes of Christ, and about serving others. So lead for the sake of establishing God's heart and purposes on the earth. True leadership means you die to yourself and live to God, raising up the people in your charge to be everything God has called them to be.
Now let's look at the colors:
Black represents hiddenness when used in the positive sense. It can also just represent the actual color of something black in the natural world. (If used in the negative sense, it usually represents soulish issues: messed-up issues in your mind, will, and emotions.) This crown is a positive symbol, so we know the positive meaning applies here. Now this is cool; get this:

We just talked above about Miss A not having come into the fullness of her leadership and authority yet. Now look at the meaning of the color black: HIDDENNESS! Miss A has been hidden! She has been growing in secret. No one has seen her… yet.
White, in its positive sense, represents purity, holiness, and God. In its negative sense, it represents a counterfeit or religious spirit–something that claims to be pure and holy but isn't.
So here's the in-a-nutshell interpretation that I believe the Lord is giving me for Miss A:
Miss A, the Lord has been working in you for a long time, and He continues to do so. He has a purpose for everything you have been through. You have a tremendous call on your life.

You may feel faceless sometimes. Maybe no one has noticed you. However, you are not faceless to the Lord! Your loving Papa God has noticed you. He knows you better than anyone else does, and the things that He is doing in your life in these hidden years are invaluable.

Miss A, I believe the Lord is saying that you are anointed to become a leader. It may still take time for you to see the fullness of this, or for you to have the opportunity to lead that you desire. But it will happen. When you get there, remember that the purpose of your leadership is to raise up other people to be what God has called them to be.

You don't have to worry. He is with you always. So just seek Him. Seek His truth. Fall in love with God's Word. Let His Word and His truth reign supreme in your life.

As you do, God will perfect all things that concern you and bring you into everything He has for your future.
Now it's Miss A's turn. Miss A, does this resonate with you? Please leave a comment below and let me know!
Related: