Favor Update, Seasonal Depression, and Father's Blessing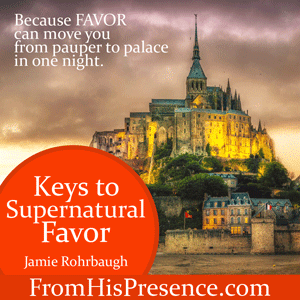 Hey there! Just wanted to give you the heads-up about a couple of awesome things:
Supernatural Favor:
Yesterday, I had some ideas for how I can make the Supernatural Favor study packs even MORE awesome and how I can provide even more value for you with some additional content. So I'm going to commit a marketing no-no …
… and, after I worked so hard all week to get all the extra teaching vlogs out to you about supernatural favor …
I'm going to wait until tomorrow, Saturday, to release the actual study materials.
But it's a good thing. Really. Because…
Father's Blessing:
One of the things I'm adding is a recording of my original Father's Blessing that the Lord gave me recently (never before released). Unfortunately, many people have never received a Father's blessing, and every person needs to. This recording is going to go in every study pack (no extra charge), so you can play it over yourself over and over until you get it down deep in your spirit that you are a GREATLY beloved son or daughter of our Daddy God. 🙂
There's more stuff I'm adding, too. But that's just one thing. It will all be worth it.
In the meantime, did you see the 20 Questions vlog yesterday? Check out this week's vlogs if you haven't seen them all. The links are below.
Vlog #1: What Is Supernatural Favor? and Why YOU Can Have It In Your Life
Vlog #2: How the Blessing of Abraham Can Transform YOUR Life
Vlog #3: How To Make the Ball of Favor Start Rolling
Vlog #4: Answering 20 Reader FAQs About Supernatural Favor
And if you want to stay up-to-date on more helpful, encouraging YouTube content in the future, please subscribe to my channel while you're over there! Thanks in advance!
And a quick note about seasonal depression:
Also, yesterday I released a Facebook video (2 minutes) praying for people who have seasonal depression. Head on over there and agree with me in prayer for yourself if you're going through this right now. And if you're not on Facebook, just click the link above and subscribe to my YouTube channel. I'll release this short prayer on YouTube later today.
That's all, folks! See you tomorrow–Saturday–Lord willing! Have a wonderful day!