Answering 20 Reader FAQs about Supernatural Favor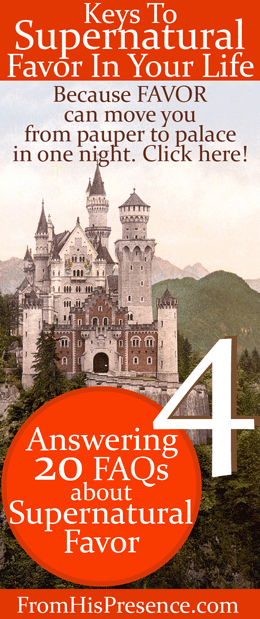 Hey, howdy, hello, and good morning! Are you ready to have more of your questions about supernatural favor answered? Yes? I'm glad, because in today's vlog, we're playing 20 questions. Literally! 🙂
Last week, I emailed all my email subscribers and asked for your questions about supernatural favor. And you answered! You sent me a whole bunch of questions. Thank you!
I sorted through your questions to condense and categorize them, and I came out with a list of about 20 questions, plus a few. Some of these questions were answered in vlogs 1-3, which you will definitely want to watch if you haven't already (see links below). But the rest of them, I'm doing my best to answer today…
… before the much-anticipated launch of my Keys to Supernatural Favor workshop audio and expanded study materials TOMORROW!!! 🙂
Yep, you read that right. In 24 hours, I'll be making Keys to Supernatural Favor available.
The Word of God that I presented in this workshop will rock you. It will bless you. It will encourage you.
And it will change your life.
Are you ready to flow in everything God has for you? Watch the vlog below, leave a comment below with your thoughts on these questions, and come back tomorrow for KEYS TO SUPERNATURAL FAVOR!!!
And if you need to catch up on Vlogs 1-3 in this series, here are the links to the videos on YouTube:
Vlog #1: What Is Supernatural Favor? and Why YOU Can Have It In Your Life
Vlog #2: How the Blessing of Abraham Can Transform YOUR Life
Vlog #3: How To Make the Ball of Favor Start Rolling
And if you want to stay up-to-date on more helpful, encouraging YouTube content in the future, please subscribe to my channel while you're over there! Thanks in advance!
Related: If you'd like more info on this series, check out all 4 of the free vlogs I released to accompany the Supernatural Favor audio MP3s: