How to Make the Ball of Favor Start Rolling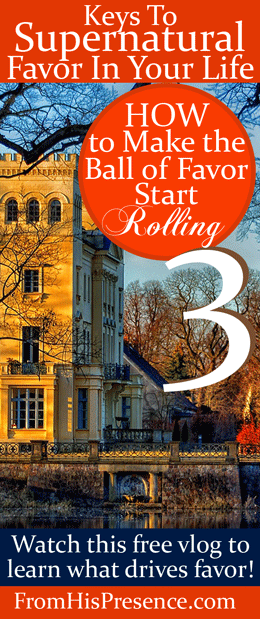 Are you ready to get the ball of favor rolling in your life, but you're not sure how?
If so, yay! 'Cause guess what? In today's vlog, I share from my own personal story (and from the Bible, too) 🙂 the secret about how to start seeing the supernatural favor Jesus died for you to have flow in your life.
It's a simple thing … something that a group of street-smart anarchists taught me. Unfortunately, however, many folks in the Body of Christ haven't figured it out yet.
Read to watch? The vlog is below. Go for it! And at the end of the vlog, pay attention to the information I share about the awesome study materials I have coming up for you:
TOMORROW, I'll be vlogging about the remaining questions you sent me. I'll do my best to answer all the questions I've received about favor (unless I answer them in the Keys to Supernatural Favor workshop).
And IN TWO DAYS (drum roll please…..), I'll be releasing these study materials to Y-O-U.
I'm beyond excited. Keys to Supernatural Favor is powerful. It is, collectively, THE most life-changing body of teaching I've ever released, and the fourth session is THE most powerful message the Lord has ever given me in my life.
Period.
You're gonna love it.
Ready? Watch below and learn how to start the ball of favor rolling in your life! And after you watch the vlog, would you please leave a comment and tell me what you think, or if you have any additional questions?
Thanks so much, and I'll see you back tomorrow for more FAQs and answers about supernatural favor!

Related: If you'd like more info on this series, check out all 4 of the free vlogs I released to accompany the Supernatural Favor audio MP3s: