How the Blessing of Abraham Can Transform YOUR Life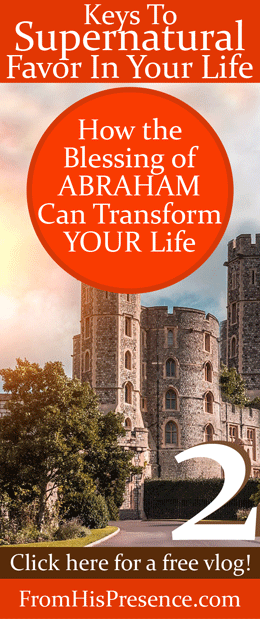 You would not believe the warfare I had over getting this post up today. The enemy simply does not want you to be blessed, or to receive your inheritance in Christ.
But you know what? GOD DOES want you to be blessed, and HE has already won this thing. When God says you're blessed in Christ Jesus …
You're blessed in Christ Jesus. Period. End of story.
You just have to learn about WHY and HOW you're blessed, and how to appropriate it for yourself. And when you do, radical transformation occurs … because Jesus died to RADICALLY transform your life. 🙂 In every good way imaginable.
So today's vlog continues our Keys to Supernatural Favor series. It's about how the blessing of Abraham can transform your life.
The blessing of Abraham was not just for Abraham. Scripture tells us that the blessing Abraham received from God is for you too.
So in today's vlog, I teach about how God sovereignly chose to lift a man up out of obscurity, kiss his life with an eight-fold promise, and ultimately bring the same blessing to you through Christ Jesus.
Ready to watch? Check out the YouTube video below! And after you watch the vlog, would you please leave a comment and tell me your thoughts?
Does this help you see how the blessing of Abraham belongs to you as well? Does it bring other questions up in your mind? Please leave your thoughts and questions below if so!
By the way … I happened to hear Donald Lawrence & The Tri-City Singers' song, The Blessing Of Abraham, recently, and I fell in love. Have you heard it? If not, you should check it out! This song builds my faith, and it will build yours too. You can watch it on YouTube below.

Related: If you'd like more info on this series, check out all 4 of the free vlogs I released to accompany the Supernatural Favor audio MP3s: