God Knows Everything About You and Loves You Like Crazy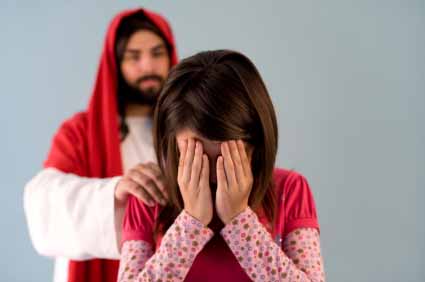 This is the third post in my series "Who Is God?" about the attributes and characteristics of God. You can also read the first two posts in the series, God the Eternal One and God the Holy One.
One of my favorite attributes of God is that He is omniscient. "Omniscient" means all-knowing; in other words, God knows everything.
Hebrews 4:13 states, "And there is no creature hidden from His sight, but all things are naked and open to the eyes of Him to whom we must give account." Because God knows everything, it automatically follows that He knows you and me.
King David, the second king of ancient Israel, recorded the following in Psalm 139:1-4: "O LORD, You have searched me and known me. You know my sitting down and my rising up; You understand my thought afar off. You comprehend my path and my lying down, and are acquainted with all my ways. For there is not a word on my tongue, but behold, O LORD, You know it altogether." 
If you know Jesus Christ as your Lord and Saviour, God's omniscience is a reason for joy. Having an all-knowing God means that God knows even the worst about us, but chose to love us and save us anyway. [1] No matter what you've been through in life; no matter what choices you've made–good or bad–God knows all about it and His heart still beats for you.
And God doesn't just know all the bad stuff. According to the late pastor and theologian James Montgomery Boice, "not only does God know the worst about us, he also knows the best about us, even though that best may be unknown to any other person." [2] God knows things that are in you that you've never experienced yet. He has a call on your life that you can't even conceive the scope of. He knows all the amazing things He has planned for you. He has great dreams for you, and a wonderful plan for your life.
Jeremiah 29:11 states, "For I know the thoughts that I think toward you, says the LORD, thoughts of peace and not of evil, to give you a future and a hope."
God even knows in advance everything we will face throughout life, and He knows how He will bring us through all of those circumstances. God actually has all of our days written down in Heaven. Psalm 139:16 states, "Your eyes saw my unformed substance, and in Your book all the days [of my life] were written before ever they took shape, when as yet there was none of them."
Most importantly, God knows our ultimate destiny: to become like Jesus and dwell with Him as one big family. This has always been His plan for us. Romans 8:29 states, "For whom He foreknew, He also predestined to be conformed to the image of His Son, that He might be the firstborn among many brethren." John 14:2-3 tells us more: "In My Father's house are many mansions; if it were not so, I would have told you. I go to prepare a place for you. And if I go and prepare a place for you, I will come again and receive you to Myself; that where I am, there you may be also."
If you have surrendered your life to Jesus Christ, you can find comfort in the knowledge that God knows everything about you, your past, your present, and your future. It's not possible for Him to overlook or forget you. No matter what the situation is, God knows all about it. [3]
If you do not yet have a personal relationship with Jesus Christ, don't you long to know and be known? My Daddy God knows everything about you, loves you, and longs to be with you. Would you allow me to introduce Him to you today? Click here for the story of Jesus and how much He loves you.