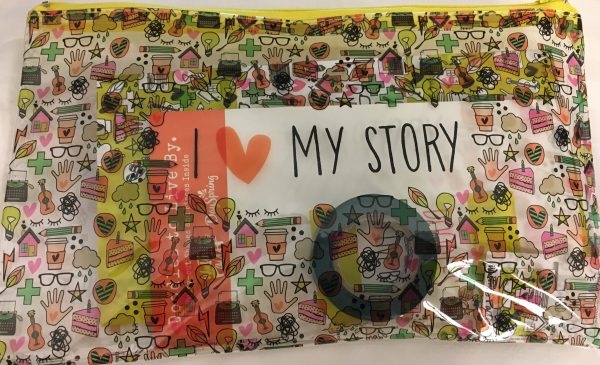 Do you struggle with perfectionism? Does everything have to be just so, or you're afraid it won't turn out right?
I used to struggle really badly with performance and feeling like I had to meet everybody else's expectations.
I no longer feel that way exactly, but I think all of us struggle to some extent with wanting to measure up, don't we? It's human nature that has to be submitted to Jesus, knowing that we are sufficient in Him.
But I digress.
When I got this month's Illustrated Faith Doodles To Live By kit in the mail from DaySpring, it was about 30 minutes before my husband and I were leaving our house for our annual personal retreat. (We are hiking in the wilderness.)
I had no time to prepare, no time to study into the devotional kit; I just had to grab it from the mailbox and go, knowing I'd  have to review it on the road.
And that's where my uh-oh gland kicked in.
Before I tell you what happened and what God said to me, let me first show you what was in the kit. Here's my YouTube video review:
And here are the cool die-cuts that come with the kit. (I haven't been able to use any of them because I'm still hiking in the wilderness as I'm typing this review, and I couldn't bring scissors on the plane.)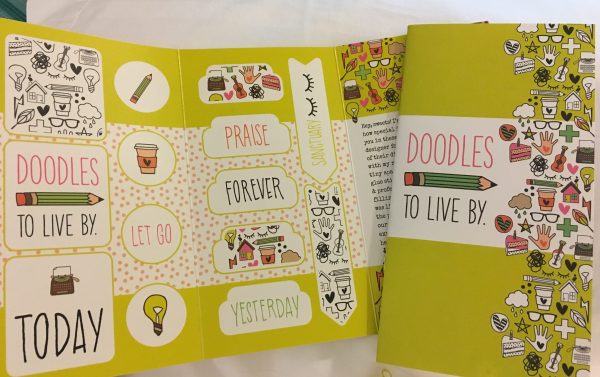 And here are the cute stickers, stamps, and washi tape that come with the kit.
Again, I'm still in the wilderness writing this. I have no ink pads; no scissors; not much of any kind of supply with me, so I haven't been able to use all of these yet. And, I forgot to take a still photo of the goodies before I started using the stickers. Sorry. #ReviewerFail (But you'll see the stickers down below in the pages I completed.)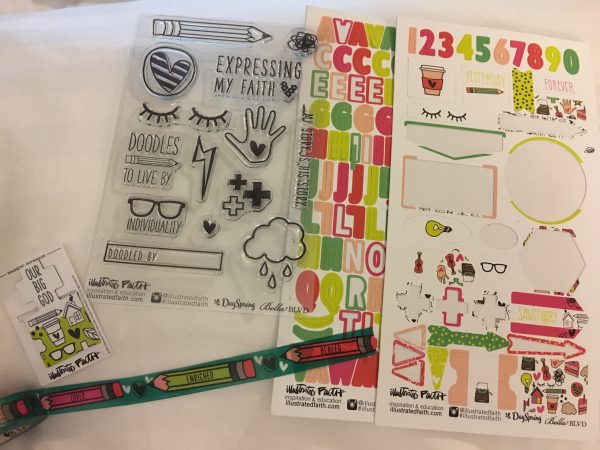 Anyway, this Doodles To Live By kit challenged me. At first, I wasn't sure if that challenge was a good thing.
I didn't know what to do with it.
Why not?
Because I didn't have time to apply gesso to pages. I didn't have time to think about how to make pretty pages. And the kit, at first glance, looks … well … sloppy.
It does. Doodles. Doodles are, by nature, sloppy.
And I am not a sloppy kind of girl. Sloppy PJs when I'm hanging around the house? Sure. But sloppy work product? No way–not if I can help it, anyway.
And being wild and fun and sloppy is what this month's kit is all about.
It's about taking the wild, disconnected parts of our lives and seeing how Father God weaves them into our own individual stories. I struggled to get into it at first, honestly. But I had 4+ hours on a plane and needed some entertainment, so I dug in.
And I had to give myself permission to be sloppy.
It was hard for me. It really was.
It was hard because I knew my sloppiness wouldn't look great to anyone, including me.
It was hard because I thought, if I put this on Instagram or on the blog, people will think it's not very good.
It was hard because everybody else's would be so much better. I didn't even have scissors (not allowed to have them on the plane, you know), so I couldn't even use washi tape or anything.
But I remembered, as I was slopping along, that I am really only journaling and studying for an audience of one.
And somehow, God didn't mind my sloppiness.
It's not that He doesn't want excellence. He does. But I was giving myself permission to just be raw with Him and express my worship, my prayers, and my thoughts to Him as I journaled.
And somehow, that was very special.
I felt His presence and affection so strongly as I worked my way through oodles of doodles.
I gave myself permission to be like a little child and draw for my Jesus with lots of love–and little skill: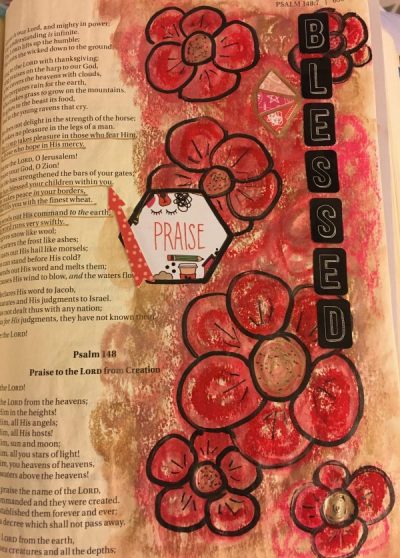 And I just prayed and painted, using my gelatos and my Doodles stickers.
The funny thing was … it was all right, this doodle thing.
I don't have any big artistic accomplishment to show you. I don't even have a great prophetic word to share about this. But it was okay, just to be raw. Just to feel unskilled. Just to pray and read my Papa's Word, not caring how it looked.
Just me and Him. It was okay.
It was great.
So that's my review of this month's Doodles to Live By kit.
I don't do the devotionals. I read through them, but I am just not a devotional-reading girl. But I do love how the Lord uses each kit, each month, to teach me something. To remind me of something. And ever, always, to draw me close to Him.
Want any Bible journaling products this month for your own study and enjoyment? Check out the Illustrated Faith store here on DaySpring.com.
Love,
Jamie
Note: I received a free copy of this devotional kit in exchange for an honest review. The free copy didn't influence my opinion of the product.