Lessons From Secretariat's Heart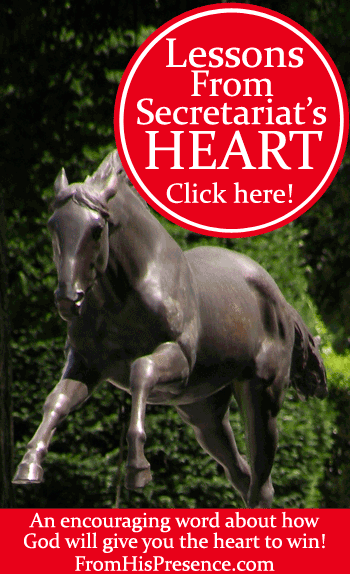 Do you ever feel like you've lost heart? Have you been persevering for a long time, but you've gotten tired? Do you feel like you just can't go anymore?
Papa God has a supernatural answer for you today.
Psalm 119:32 says: "I will run the course of Your commandments, for You shall enlarge my heart."
That verse really hit me recently. I was praying and telling the Lord how tired I am. I need Him give me a steadfast spirit and keep me going. I need Him to give me strength and will to hang in there with everything He has called me to.
Then Psalm 119:32 jumped off the page of my Bible into my spirit. "For You shall enlarge my heart."
And I thought of Secretariat.
If you aren't familiar with him, Secretariat was a horse… one of the greatest racehorses of all time. He won the U.S. Triple Crown (sweeping the Kentucky Derby, the Preakness Stakes, and the Belmont Stakes) in 1973, and he is one of only eleven racehorses ever to do so.
Watch Secretariat win the Belmont Stakes in 1973 here:
Secretariat was amazing. He ran and ran and ran and ran, because he LOVED to run. He had no equal; he was special. As a matter of fact, in 1999, ESPN named him the 35th greatest athlete of the 20th century.
But Secretariat had a secret.
When Secretariat died in 1989, a necropsy (an autopsy for non-human bodies) was performed. Guess what the veterinarian found who performed the procedure?
He found that Secretariat had a HUGE heart.
An average horse heart weighs 7.9 pounds (3.6 kilograms). Secretariat's heart was not weighed, but it was estimated to weigh 22 pounds (10 kilograms).
Did you get that?
Secretariat's heart was over 278% bigger than the size of a normal horse's heart.
Secretariat was great because he had a huge heart. He could run and run and run because of the size of his heart. He completed some of the most impressive athletic feats of the 20th century because of his enlarged heart.
Why does that matter to you? Because God has promised to enlarge your heart too.
Do you want to stick with everything God has called you to do? Do you want to be able to say what Paul said in 2 Timothy 4:7:
I have fought the good fight, I have finished the race, I have kept the faith."
Do you want to fight your fight AND WIN? Do you want to work out your own salvation with fear and trembling (Philippians 2:12). Do you want to finish your race well?
I know I do. I want to be found faithful.
But I need an enlarged heart.
I need a big heart to see people and situations the way God does.
I need a big heart to keep running my race without getting tired.
I need a big heart to stick to it no matter what.
I need a big heart to believe that God will come through for me in everything, even when I don't see the answer to my prayer yet.
I need a big heart to love and serve like Jesus loved and served.
Don't you?
The good news is that our Heavenly Father has promised to give us a big heart. And because of that big heart, we will each run the course of His commandments.
The commands God gives us are not too hard (1 John 5:3; Deuteronomy 30:11). With His help, we can obey Him. We can stay on track. Moment by moment, day by day, if we will ask Him for help and for that enlarged heart, we can run the course of His commandments.
RUN. That means we can do well. We can be athletic about pursuing and obeying Him. We can be victorious. We can win this thing.
All because He gives us an enlarged heart.
So I'm asking Papa God to enlarge my heart. I'm asking Him for a HUGE heart so I can run my race and win. I don't want to just finish it; I want to sweep it. I want the Heavenly Triple Crown.
What are you struggling with today?
No matter what you're dealing with, if you will ask God to enlarge your heart, He will.
He will help you live moment by moment, abiding in His love.
He will help you obey Him every second of every day.
If you ask, He will keep you in His perfect will.
He can keep you from sinning against Him if you ask for His help and submit to His commands.
You, too, can run the race of God's commandments AND WIN–because He will enlarge your heart.
Will you ask God to enlarge your heart today?
Image courtesy of Matthew D. Britt on Flickr via Creative Commons license.