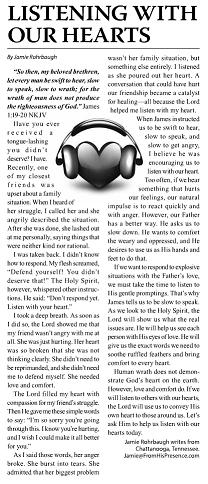 Has anyone ever attacked you verbally for no good reason? I thought so! Unjust accusations and attacks have probably happened to most of us.
Well, for today's dose of encouragement and inspiration on that very subject, please check out my article that was just published yesterday in the April edition of The Christian Journal!
The article is called "Listening With Our Hearts," and it's about what happened when someone I love lambasted me recently for no good reason. When she did, my sense of justice roared to life and I wanted to defend myself! But the Holy Spirit wanted me to follow another plan. What happened? Read it and see!
The article is on page 5, on the far right.
Have a great day, and let's listen to the people around us with our hearts today!
You'll get an email when new content is posted. You'll also receive my free, printable blessing cards and my ebook–The Presence Seeker's Creed–for free when you confirm!