Hey friends, guess what? We're going on the radio!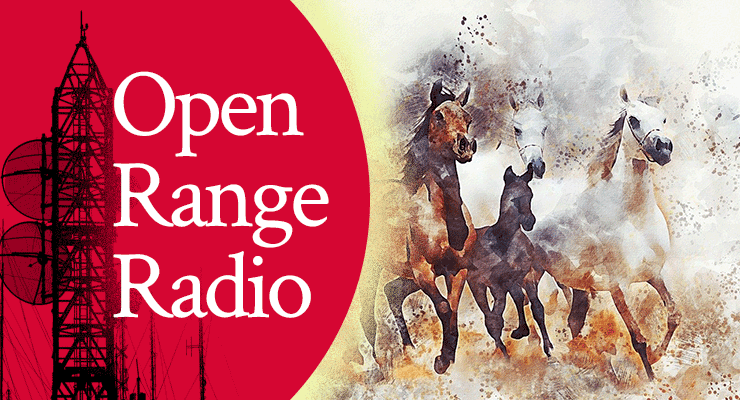 We're starting with the first door that opened to us for radio, and our 15-minute weekly radio program will begin broadcasting on Tuesday, March 23, in Europe, parts of the Middle East, and all of North Africa.
We will be broadcasting to 1.031 million English-speaking people on European Gospel Radio in Europe, North Africa, and the Middle East …
… As well as simulcast on AM/medium wave radio to central and Southern Europe …
… As well as internet streaming on demand …
… As well as real-time internet radio play at the time of our show.
Plus additional 30- and 60- second promos on all their channels.
Here are the details for Open Range Radio:
Our program will be broadcast each Tuesday evening from 20:00 to 20:15 Central European Time (local time in Central Europe) on 7290 kHz in the 41 meter band (Shortwave) to Europe, North Africa and the Middle East.
It will also broadcast simultaneously on Medium Wave on 594 kHz to Europe. That is 8 PM to 8:15 PM Central European Time.
("Medium Wave/MW" in Europe, Asia, and Africa is what we call "AM radio" in America.)
Listeners in the UK, Ireland and Portugal will be listening on Shortwave one hour earlier according to their local time, i.e. from 19:00-19:15 local time in their respective countries (594 kHz Medium Wave will not reach that far, except in very rare occasions).
Live internet streaming is also available at https://nexus.org/mp3
The radio station is planning to move their medium wave broadcasting from 594 kHz to 918 kHz sometimes in April or May, and we will notify you when the change will be applied.
Beloved, if you're in the broadcasting area for the stations above, tune in and listen to Open Range Radio, where I'll be preaching the marvelous name of Jesus Christ!