Pray These 3 Things To Tame Your Tongue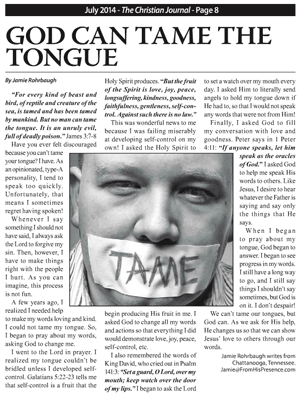 Have you ever gotten frustrated with your own inability to tame your tongue?
James 3:7-8 tells us that no man can tame the tongue, and that it is evil and full of poison in its natural state. Ugh! How terrible! What hope do we have, then?
This is our hope: We may not be able to control our words, but we serve a God who CAN tame our tongue!
My article in The Christian Journal this month contains 3 powerful points to pray in order to get your tongue tamed. If you, like me, have not yet reached perfection in the area of your words, hop on over to The Christian Journal and read "God Can Tame the Tongue"! It's on page 8, top left corner.