Beloved, do you feel invisible today? If so, I believe the Lord wants to break that hiddenness off you today and flaunt you to the world.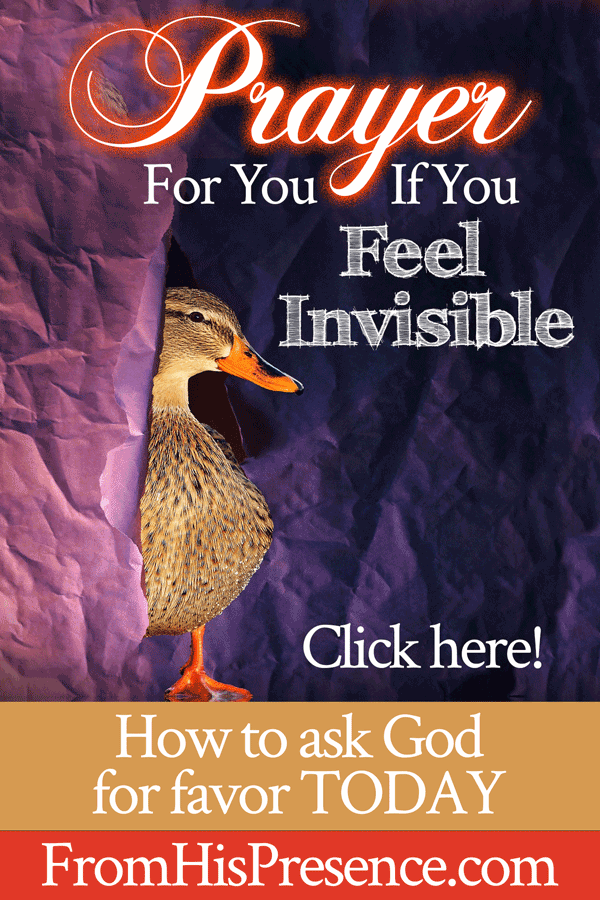 It's true that God raises people up in hiddenness.
Think about David:
He turned David into a mighty man of valor on the back side of Bethlehem while David was tending sheep. Long before David ever made it to King Saul's court, he was known as a mighty man with the sword and the harp.
God raised David up to be strong before He ever got David away from the sheepfold. But then, a day came–and God flaunted David to the world.
He did a similar thing with Joseph:
God raised Joseph up, taught him, and discipled him during those long years of rejection at home with his family. His brothers hated him and sold him into slavery. Then, Joseph had a momentary glimpse of favor at Potiphar's house–only to be falsely accused and subsequently thrown into jail for many years.
But when due time had come, God took Joseph from the pit to the palace in one day.
God may take His time; but when He promotes, He promotes quickly.
I believe that right now is God's time to promote many people in His family. If your heart and spirit are crying out to God as you read this, I believe it's His time to promote you in some way too.
Look at God's promise to you in Isaiah 62:4:
"You shall no longer be termed Forsaken, nor shall your land any more be termed Desolate; but you shall be called Hephzibah, and your land Beulah; for the Lord delights in you, and your land shall be married."
"Hephzibah" means "My delight is in her," and "Beulah" means "married." So with this promise, God is forecasting a new day for you. He says that you won't be forsaken or desolate anymore. Instead, you'll be favored:
You'll be joined together with what you're supposed to be joined to.
God Himself will take delight in you.
His delight will be obvious to others.
You will be chosen, selected, and honored.
I believe it is God's time to honor you.
Related: 7 Life-Changing Prayers for People Who Feel Forgotten
Many of you have been feeling dissatisfied with where you are, yearning for something better. You've been praying a long time for favor, opportunities, and relationships. You've been seeking God with all your heart for His face, not just for His hand.
However, you've also been praying the prayer of Jabez–that He would bless You indeed, enlarge your territory, that His hand would be with you–for so many years as well. You've been believing God for bigger and greater–and You know He will come through.
Yet, all this time, you have watched yourself be passed over time and time again. Favor and opportunity have been fleeting when they have come. You've been grateful for all that you have, but your heart yearns for more. You know God has promised you more … but nevertheless, it's as if you've been hidden from sight.
Your heart has been broken more times than you can count, but you still believe God. The travail has worn you out, but you still believe God. You stand firm in faith, and you have forgotten how to cry.
You just believe God.
But beloved, I believe the pressure you feel right now is the final push–and that God wants you to pray in His ultimate breakthrough.
I believe you feel such agony and groaning in your spirit because God needs you to push through one more time. In order for this breakthrough to come, you need to push.
Will it be the last time you'll need to contend? Of course not. But this strung-out-in-contending feeling you've been having is the birthing pangs of God's destiny for you, and He needs you to pray in His promotion.
It's time for your land to be married, and for the veil of invisibility to be torn from top to bottom by His mighty hand and outstretched arm.
Are you ready to be promoted?
If you feel invisible today, pray this prayer with me:
"Father God, I come to You in Jesus' name.
Father, thank You for loving me. You are good, and I thank You for it. Your mercies endure forever. Thank You. You loved me and knew me before the foundation of the earth. I am Your inheritance, Your precious possession. Thank You. I am Your child, and You cherish me. Thank You, Father. I need Your love, and am grateful for it. I rest in You, and I take comfort knowing who I am in You.
But Father, I feel invisible here on the earth.
Lord, I reject and renounce the evil spirit of self-pity and all of its manifestations. I choose to remain thankful, keep my eyes on You, and give thanks to You instead. You have always taken care of me, and You always will.
But Father, You also have given me instructions in Your Word for what I am to do when I'm needy and desire Your help:
You also said to cast my cares upon You, for You care for me.
You said that I should be anxious for nothing; but in everything, with prayer and supplication, with thanksgiving, that I should make my requests known unto You.
You said to pray without ceasing.
You said to ask for what I want, and that I would receive when I ask–that my joy may be full.
So that's what I am choosing to do right now, Lord.
Father, I have been overlooked in many things for a long time.
You know this, Lord. In so many cases–not all, Lord, but so many times–I have been overlooked when I shouldn't have been:
People who have been choosing haven't chosen me.
People who have been looking haven't seen me.
Other people seem to get opportunities, but I have gotten very few.
It's been like I have been invisible and forgotten about by the world.
Father, I know that You sometimes hide people until the right time.
I know that You raise people up in obscurity and then flaunt them to the world. Your Word says this. You did it with Jesus, hiding Him 30 years in Nazareth. Then, You suddenly flaunted Him to the world at His baptism and again at the wedding in Cana of Galilee. You also did this with David, Joseph, Elisha, Moses, and others in the Bible.
But Lord, I also know that You can't move unless I pray. So Lord, even though You raise people up in obscurity, I'm asking right now for Your help–that You would remove me from obscurity and reveal me to the world for Your glory.
Father, I ask in Jesus' name that You would debut me to the world.
Lord, You have prepared me and I am ready. So like You did with Jesus, with David, with Joseph, and with others, I ask in Jesus' name:
That You would remove the veil of invisibility that has been on me.
Break off the thing that has kept people from seeing me for who I am in You.
Break off the thing that has made me be overlooked for opportunities, promotions, and favor time after time after time.
Accelerate the timing of my promotion and bring it into the NOW like You did for Jesus at Cana of Galilee.
Work a miracle and bring me out into the open for the sake of Your glory, so that I can fully function in who You made me to be on the earth.
Father, You are good. My times are in Your hands, and I submit to Your timing.
However, I believe that my time is now, and that You are asking me to pray this way so Your Kingdom can come and Your will can be done on earth, and in my life, as it is in Heaven.
So Father, turn Your spotlight of favor on me for Your glory.
From this day forward, Father:
Let me be chosen instead of overlooked.
Let Your spotlight of favor shine brightly upon me.
Let opportunities, increase, favor, and promotions come to me from every side.
Let people who previously said "no" to me come back and say "yes."
According to Your Word in Isaiah 62:4, let me be a Bride who is chosen, selected, and sought out.
Send me the kings who are to be my foster fathers, and the queens who are to be my nursing mothers.
Send me my sons and daughters from afar, their silver and gold with them. Send me my children from the ends of the earth.
Let miracles of favor come forth for me today in Jesus' name.
Let miracles of money come forth for me today in Jesus' name.
Let miracles of opportunity come forth for me today in Jesus' name.
Let miracles of relationships come to me today in Jesus' name.
Let miracles of influence come forth to me today in Jesus' name.
Let miracles of healing come to me, my body, my soul, my mind, my spirit, my family, my finances, my ministry, my job, my children, and every other thing pertaining to my life–in Jesus' name.
Lord, let me no longer be forsaken or desolate, but let me be sought out.
Shine Your light of favor on me today. Increase my anointing, FAVOR, and influence on every side for Your glory. I decree that people will come running after me beginning TODAY and every other day, carrying with them favor, opportunity, and promotion.
Lord, promotion comes from YOU, so I'm not going to seek it from people. But, I know You use people to do Your will; so I thank You that YOU are sending the people with the blessings, favor, opportunities, and promotions to me right now in Jesus' name.
And Father, now more than ever, shore up my knowledge of who I am in You.
Help me to rest in You. Help me to know that I know that I know who I am in You. Teach me more about Your call on my life. Reconfirm Your promises to me and my family. Help me to stand with Your armor on; and, having done all, to stand some more.
Thank You, Father. Let the answers come for Your glory; for Your honor; and for Your praise. Let Jesus be lifted up in my life; use me to make His name famous on the earth.
I love You, Abba Father. I love You, Jesus. And I love You, Holy Spirit. Thank You for hearing and answering my prayer. In Jesus' holy and wonderful name I pray, amen."
Does this word resonate with you today? If so, leave a comment below and tell me what the Lord is saying to you!