Prophetic Word: Color Is Coming Back Into Your Life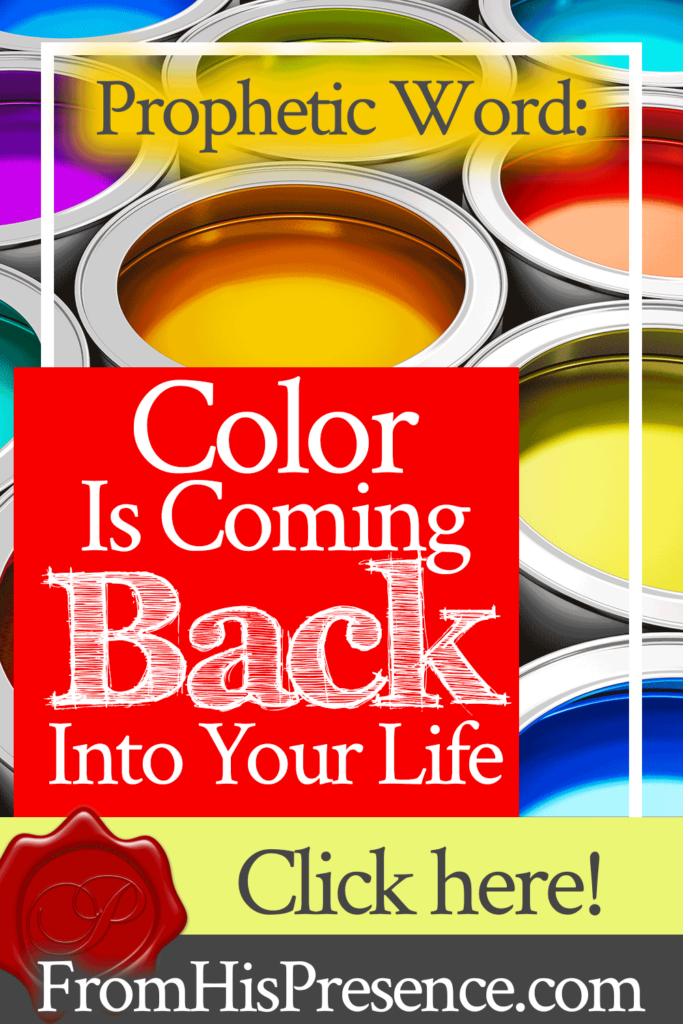 I heard the Father say:
"Color is coming back into your life."
And when I asked Him what He meant by that, this is what He said:
"The wild, radical color of your faith took a big hit in past months. Your beautiful kaleidoscope of faith for My manifold blessings had faded to gray shadows and sepia tones.
But I say to you today that your faith has rebounded and exploded into a rainbow of color, vibrance, and LIFE.
I have resurrected your faith by healing your heart and teaching you to trust Me. I am bringing laughter and smiles back into your heart and life as you rest, as well.
The explosion of your faith has felt to you more like the slow rising of a hot air balloon, rather than a true explosion. But when I look at what I am going to do–what I am about to do for you–then I see it as the explosion that it is, for wild and wonderful things are about to happen to you at My hand!
For too long, you have not seen My hand at work in your life in the measure you desired to see it.
Nevertheless, you have continued to pray and fast and believe. You have continued to echo the words of My servant Jabez, when he cried out to Me, "Oh, that You would bless me indeed, and enlarge my territory! That Your hand would be with me!" And indeed, My hand has been with you to keep you–but you have been in a disciplinary period while I have been teaching you to rest.
You are doing much better at resting now, but I will continue to teach you. Meanwhile, I have decided that it is time for My hand to move on your behalf; for My mighty hand and outstretched arm to make a way for you, when you have seen no way before.
The color and vibrance of your faith have come back because I have healed your heart.
I have healed it, will continue to heal it, and am always healing it. I am Healer, and so I am always about the business of healing. Think not that healing is reserved only for those with a current injury; simply living in a temporal world, away from the eternal where you belong, results in a need for healing!"
The Lord then said this:
"I AM your Shield, and your exceeding great reward.
And I have decided it is time to reward you. Look now for the rewards to start coming your way–rewards that eye has not seen, nor ear heard, that have not entered into the heart of man; but which I have revealed to you and will show you by My Spirit.
You have prayed for reward a long time, and you should. But now is your season. You have come back from the dead, and I am with you to keep you.
You did well to trust Me, for I am supremely trustworthy.
VICTORY IN THE CAMP OF THE LORD, VOLUME 1:
Healing from Fear
Struggling with fear? God wants to heal you.
In this book, Jamie shares how to heal from fear, intimidation, panic attacks, and even a physical inability to breathe! Download Victory in the Camp of the Lord Volume 1: Healing from Fear today and learn how to beat the spirits of fear, python, and intimidation in the name of Jesus.
Hold fast the confession of your faith without wavering, for I who promise am faithful.
I love you, My child. Never forget that.
Love,
Your God Most High who loves you with all My heart."
Wow! Do you receive that word from the Father, and from the heart of Jesus, about how color is coming back into your life? If so, claim it out loud! Say, "I take that!" And also, leave a comment below if you claim this word for yourself!