Prophetic Word for 5779: Go West! Pray! Prophesy! Pioneer!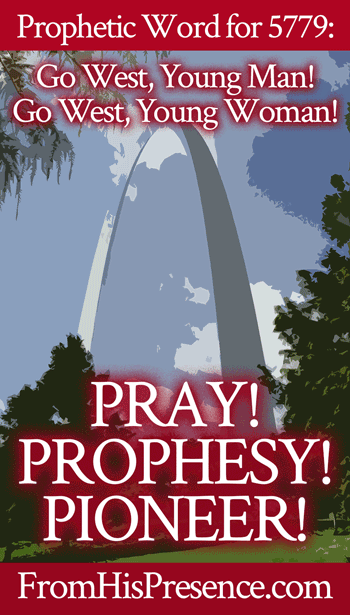 Hey beloveds,
We are in a HUGE time of spiritual transition right now. It's the beginning of Jewish Year 5779. Also, we are in the middle of the 10 days of awe–the time period between Rosh Hashanah and Yom Kippur when Holy Spirit downloads so, so much into His people about the coming year.
Yesterday, I woke up and suddenly began getting huge downloads from the Lord. It was like I was an 8-ounce funnel and Holy Spirit was dumping a 10-pound bag of flour in. It was a Holy Spirit-led whirlwind, and I'm still reeling from it; still in the middle of it; and still working on sorting things out.
(By the way, the same thing is likely happening to you too right now. When God moves, He moves across His Body. So if you're seeing amazing things, dreaming dreams, and getting filled up with new ideas, pay attention. It's not just you. It's not your imagination. God is talking; pay attention!)
The Lord gave me seven prophetic words for 5779 yesterday, and I want to release those now. First:
1. 5779 is the year of finished works of grace by the Holy Spirit.
Here's why:
Five is the number of grace.
Seven is the year of completion and perfection.
Doubled events mean the thing is established in the Spirit realm (Genesis 41:32).
Nine is the number of the Holy Spirit.
Nine is also the number of the 9 power gifts of the Spirit AND of the 9 fruit of the spirit.
5779 is the year in which many will rise up to walk in their gifts, without apologies and without excuses. It is also the year when many of the spectacular grace-works that God established for the foundation of the world will come forth.
The grace-works of this year are the things about which you have only dreamed. They are the greater works that Jesus prophesied you would do. These works are things that you thought you may have to wait 40 years to see. Many of these works will happen this year because of God's grace and supernatural help poured out on you.
2. Go west, young man! Go west, young woman! Pray! Prophesy! Pioneer!
This word has been resounding in my spirit for several years, and the Lord finally told me it's time to release it: "Go west, young man! Go west, young woman! Pray! Prophesy! Pioneer!"
An expansion is waiting for you. You are to enlarge the place of your tent and stretch out the curtains of your dwelling place (Isaiah 54). In 5779, you are to move out into uncharted territories. The territories you will face will not be mapped. You will not know how to take them. You will have to ask lots of questions, do your research, and step out in faith. You are to be like the pioneers of old, who determined to live off the land moment by moment as they sought the dreams that gripped their soul.
God has fastened your soul to His dream. In order to claim the territories of His dream on His behalf, you will have to go out where no man is watching. Go anyway.
4. Prepare in advance for great exploits!
Daniel 11:32b says, "but the people who know their God shall be strong, and carry out great exploits." If you want to accomplish great exploits next year, start work on them now.
God is downloading and opening doors of opportunity that no man can shut, nor can any man open. He alone controls those doors. He is sitting on you to be His hands and His feet.
In some cities of the world, the public transportation companies hire "pushers" to literally push people into the subway trains when the doors open. They do this because time is limited, and as many people as possible need to get on board. They don't have time to worry about people's timidity. The train is rolling out, and it needs to be full!
In like manner, you may have to push your destiny into existence.
Time is limited. Eternity is almost here. The train of time is moving out, and it needs to be filled with souls. You and I are going to have to do some great exploits in order to fill that train, and you're going to have to push your destiny in order to see that train fill up.
Only YOU can do the work God has called you to do in His harvest field right now.
You're the only one. If YOU don't step up, people will be left behind when God's train of eternity rolls out of this Earth-station.
So get a vision. Decide what great exploits you'd like to accomplish next year. Then get to work. Start now so that you can fill the role in the Kingdom to which Father God has ordained you.
5. The sky is the limit.
The Lord showed me that "the sky" represents prayer. If you can pray it and believe it, then you can do it. According to your faith be it unto you!
6. Kick down the doors.
Expect intense warfare. Gone are the days in which everything was easy. You can no longer expect things to fall into place without work. This means:
If someone doesn't answer, call them back.
If it doesn't work the first time, try ten more times.
If the first way doesn't work, try a dozen more ways. Or a hundred. Or a thousand.
Beloved, great exploits are here–but you're going to have to war. We're in a battle. The weapons of our warfare are not flesh and blood, but they are mighty through God to the pulling down of strongholds.
So pick up your sword. Lift up your shield. Pray and fast and pray in the Spirit as much as you have to. Openly confess God's Word over yourself and every situation. FIGHT! Don't give in; don't look down; and don't let up. Push in!
7. Be single-minded in your focus.
I feel Holy Spirit agonizing over this last point. Holy Spirit is issuing an invitation to you right now, and that invitation is this:
"Will you care about eternity as much as I do?"
Will you set aside every other goal, every other aspiration, every distraction? Will you allow your heart to burn within you for the things of God? Will you set aside every temporary purpose for His eternal purpose?
People, get ready! Jesus is coming!
5779 is a critical year. It's the year of finished works by the Holy Spirit. It's a year when you can either choose to get on the expressway of eternal purposes–never to leave that highway–or you can choose to putter along in earthly mediocrity.
Giants of evil will fall in 5779. Giants of faith will rise as you step up into Father's purposes for you. Go west, young man! Go west, young woman! Pray, prophesy, and pioneer as you sell out completely to the Lord's will for you.
Does this word confirm what Father God is saying to you? If so, let me know! Please leave a comment below.