Prophetic Word About God's Provision

Once upon a time, I was teaching my LifeGroup at the church I attended. We were studying through A.W. Tozer's The Knowledge of the Holy and talking about high views of God versus low views of God.
At one point, I felt led to ask everyone in class to bow their head, and we asked the Holy Spirit to show us any way that we, as individuals, are thinking low thoughts about God (and seeing or perceiving Him in a low, unworthy-of-Him way).
When I bowed my head, I heard the Holy Spirit say to me: "You still don't have a handle on My provision."
I was floored … because I rely on God to provide all the time. And He does. He always has, and He has always blessed me. I'm blessed right now! Therefore, I have felt for years that I did actually have a decent handle on understanding God's provision.
But He said I didn't. He said I had a low view of Him in that area.
Then He went on to tell me that He was going to show me by experience what His provision really looks like as I pray radical, big prayers.
(Gloreh!)
I have to confess that my prayers haven't been that radical or big when it comes to God's provision.
I've had enough faith to see the job get done and needs met whenever there is a need, but I haven't been praying crazy prayers or believing with outrageous faith in this area.
I've been satisfied with "enough" … but that's not what Papa God wants for me. And it's not what He wants for you.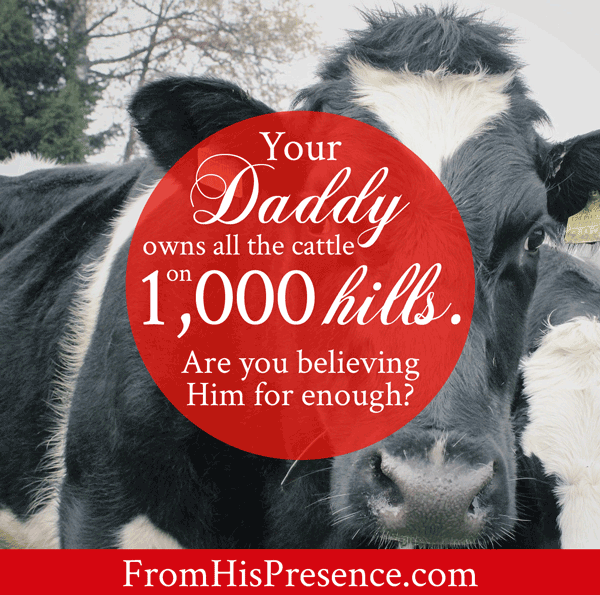 Beloved, Papa is showing me that He wants us to pray and ask Him to provide far above and beyond what we could ever ask, hope, or think.
This is, after all, what the Bible says. Deuteronomy 28:4-13, for example, says:
Blessed shall be the fruit of your body, the produce of your ground and the increase of your herds, the increase of your cattle and the offspring of your flocks.

Blessed shall be your basket and your kneading bowl.

Blessed shall you be when you come in, and blessed shall you be when you go out.

The Lord will cause your enemies who rise against you to be defeated before your face; they shall come out against you one way and flee before you seven ways.

The Lord will command the blessing on you in your storehouses and in all to which you set your hand, and He will bless you in the land which the Lord your God is giving you.

The Lord will establish you as a holy people to Himself, just as He has sworn to you, if you keep the commandments of the Lord your God and walk in His ways. Then all peoples of the earth shall see that you are called by the name of the Lord, and they shall be afraid of you.

And the Lord will grant you plenty of goods, in the fruit of your body, in the increase of your livestock, and in the produce of your ground, in the land of which the Lord swore to your fathers to give you.

The Lord will open to you His good treasure, the heavens, to give the rain to your land in its season, and to bless all the work of your hand. You shall lend to many nations, but you shall not borrow.

And the Lord will make you the head and not the tail; you shall be above only, and not be beneath, if you heed the commandments of the Lord your God, which I command you today, and are careful to observe them."
Did you get that? I'm pretty sure that God said in that passage that we should be lending to NATIONS. And never borrowing.
I'm pretty sure He said that everything we put our hand to will be blessed.
And I'm positive that He said we should be ABOVE ONLY … and that all of our businesses, investments, etc will INCREASE.
And even though I'm blessed and grateful for it, I'm not lending to any nations yet. Are you? Also, my husband and I have a mortgage on our home. Do you?
But PAPA GOD says that His provision will increase us and bless us so much that we shall NEVER have to borrow. And we shall have plenty left over–such that "ALL PEOPLES OF THE EARTH" shall see His blessings and provision in our lives.
And all I can say is:
Father God, I want that kind of provision. I want to know You like that.
Don't you?
Beloved, I'm not going to end this blog post with a model prayer like I often do. I don't feel led to do that. I think this is one that you and I have to get alone before God about, and hash it out in faith before Him–standing on His Word.
I think this is an issue where we have to get the Book out, hold it up to Him, and point at it while staring at God insistently …
… for as long as it takes to build the faith in our own hearts that we need, and also to build our willingness to pray prayers that are as big as Father wants them to be.
But I will tell you, what God says to one, He says to another. (Read 2 Corinthians 1 for more about that.) If He spoke this word to encourage, grow, and challenge me, He's speaking it to you too.
So do you also have a low view of God's provision–a low view of His very nature as Provider and Source?
If so, it's time to get alone with Him and hash this out. It's time to press into Him and pray prayers that are worthy of Who He is. It's time to insist that He provide as greatly, abundantly, and big-ly (I know that's not a word, but work with me here) as He promised He would (and said He wants to) in the Bible.
Are you with me or are you with me? If the Holy Spirit is quickening this message in your heart too, please leave a comment below!