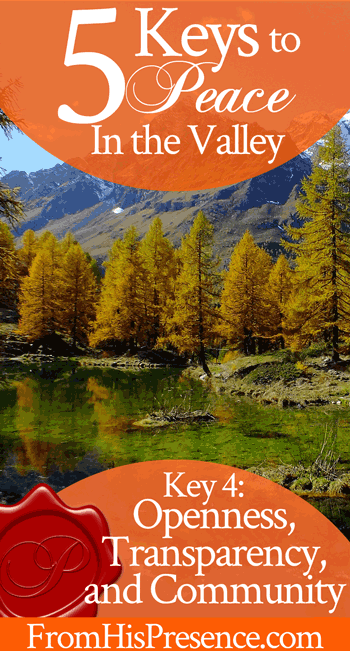 Have you ever felt like you were in one of the worst times of your life, but you couldn't talk to anyone about it? Have you ever had that problem just fester and fester, without relief from the pain–and yet you're afraid to open up and tell someone, even in a godly community?
If so, you're not alone … but I wish you were.
Too many people suffer alone in the Body of Christ.
Having people cry alone at home is a problem. It's a problem in friend groups, Sunday School groups, small groups, churches, and gatherings of Christians of every kind.
It's a problem when we're not transparent with one another.
It's a problem when we ask how people are, or when someone asks us how we are, and we say, "Fine" … even if we're dying inside.
It's a problem when your life is falling apart …
Your marriage is falling apart …
Your finances are falling apart …
And we put on our church masks, link arms, and all go hippity-hoppetying down the bunny trail together.
It's fake. [Read more…] about 5 Keys to Peace In the Valley: Openness, Transparency, and Community