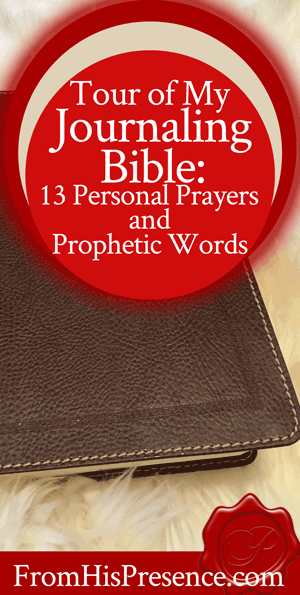 For today's blog post, I wanted to give you a look at all the entries I've made so far in my personal journaling Bible, as well as how I use it to pray and intercede.
To that end, since pictures are worth a thousand words, I made you a video tour of my journaling Bible. 🙂
There are 13 entries so far. In this video, I show you each entry and explain why or how I pray into it.
Oh yeah, and I might possibly preach just a little bit. 🙂
Lou Engle says that prophecy is an invitation to intercession.
In other words, the prophetic word doesn't just happen automatically. It happens when you water it with your prayers and intercession. It happens when you become pregnant with that word and pray it back to God over and over until He does it.
If I could encourage you to do anything today, it would be to take this video that I made for you and let it inspire you to make your own journal or book of YOUR prayers and prophetic words. Pray into them day and night, night and day.
And don't stop until you see them happen.
Ok, without further ado, here's a tour of all my journaling Bible entries so far:
In the video, you'll see one of my entries that I based on an idea I saw on Pinterest. To give credit where credit is due, here's the original pin on Pinterest. It's not my design; I just imitated it because I liked it.
Pinterest is a great source of inspiration for various Bible journaling ideas and designs. I have a big Pinterest board specifically for Bible journaling ideas and tutorials. Here's a link to that Pinterest board if you want to check it out.
That's all, folks! Enjoy! And if you haven't checked out the rest of this series, please do!
Bible journaling series:
Beloved, would you help me with my work of reaching people for Jesus as a domestic missionary?
This blog, and all of my mission work in person, are made possible through your partnerships, donations, and product purchases. If you'd like to help me, please check out the partnership details and products available for sale here. And, thank you in advance for helping make this blog and everything we do together for the Kingdom possible!