15 Prayers for Financial Increase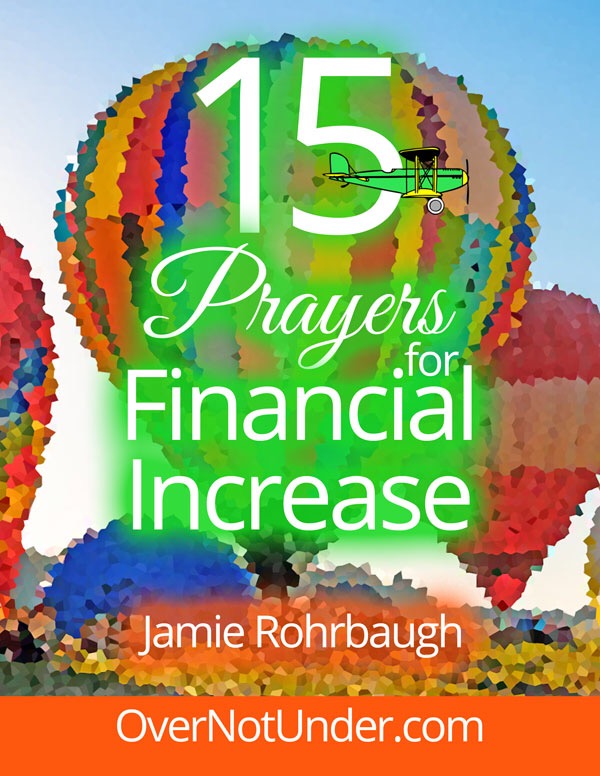 Hi everybody! Guess what? I have a HUGE free gift and surprise for you today! The free gift is my new ebook, 15 Prayers for Financial Increase, and the surprise is my new blog about practical things–especially money!
About the surprise:
Remember how I told you a few weeks ago that my word of the year was "deep," and that Papa told me to disciple people deeper? And remember how I mentioned that I was developing an additional blog about walking in victory in your health, wealth, and home?
Weeeellllllll … It's HERE! 🙂 🙂 🙂
The new, additional blog is called Over Not Under.
The name is a reference to Deuteronomy 28, which says you're to be the head and not the tail. You're to be ABOVE ONLY, and not beneath. In other words, God's plan for you includes victory and only victory. 🙂
Trials may come, but we're to trounce them in Jesus' name. You're not called to be under the weather, under attack, or under the circumstances. Instead, you're called to govern and dominate over your life, winning for the Kingdom and experiencing the victory Jesus purchased for you with His blood.
You're called to be over, not under. 🙂
You may not be in that place of total victory yet, and that's okay. I'm not either.
But bless God, I'm working on getting there—and so are you! The more we draw near to Jesus, the more He draws near to us. And as He works in our lives, Holy Spirit disciples us personally and helps us grow. He moves us from glory to glory, faith to faith, and strength to strength.
We are all on the journey to total victory in Christ Jesus. And my new, second blog—OverNotUnder.com—is going to encourage and inspire you in all the practical things.
From His Presence(R) is not going away or changing, but …
On Over Not Under, we'll be talking about (and are already talking about) things like:
Money and financial increase;
Business and entrepreneurship;
Health and fitness;
Soul care—taking time out of your day to have FUN!;
Home management; and
Motivation.
It's going to be awesome! And as my free gift to you …:)
I'm giving away a copy of my new ebook, 15 Prayers for Financial Increase, to everyone who signs up for free email updates from OverNotUnder.com!
The name of the ebook, 15 Prayers for Financial Increase, speaks for itself. I've been working on it for months, and it contains 15 of the Scriptures I pray continually over my own finances. Praying these Scriptures WORKS!
And about those free email updates:
On Over Not Under, I'll be sending out not only the newest posts via email, but also extra encouraging words and inspirational emails.
To stick with our Presence Seekers University theme we have on this website, I'm calling our Over Not Under email group "Victory U." 🙂 Yes, it has a double meaning–Victory University, because YOU can walk in victory.
So what are you waiting for? Hop on over to OverNotUnder.com and sign up for free email updates! When you sign up, an email will be sent to your inbox asking you to confirm your subscription. When you confirm, you'll be taken to a second screen with a link to download your free ebook.
Click here to check out the new site, OverNotUnder, and sign up for free email updates today!