Prayer for Help If You're Sad and Crying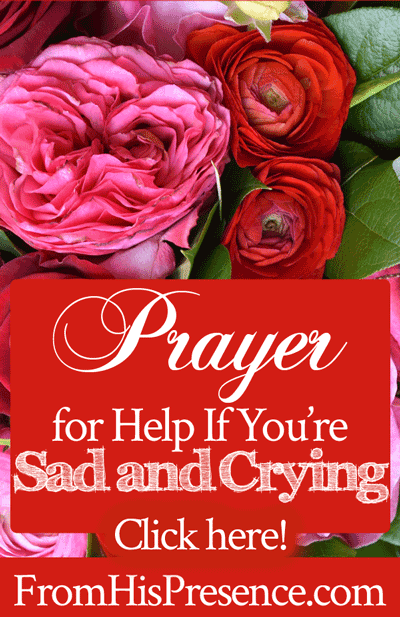 Beloved Presence seeker, are you sad and crying today?
If so, the Lord gave me an encouraging word and a prayer for you.
Here's the encouraging word:
As I was reading this morning, the Lord took me to Psalm 71 and highlighted verses 20 and 21. These verses say:
You, who have shown me great and severe troubles, shall revive me again, and bring me up again from the depths of the earth. You shall increase my greatness, and comfort me on every side" (Psalm 71:20-21).
Here's what I heard the Lord say:
"I have walked with you through great and severe troubles–troubles so severe that you have not known such troubles before. But all the while, I have been with you.
Now I am sitting on you to revive you.
You have long felt dead, but I am waking you up. Each day, if you will look for it, you will notice yourself coming a little more alive. You will not cry quite as often; and eventually, you will not need to cry at all. Each day, I will fill you with more hope. I will give you as much hope as you have the capacity to receive.
So ask Me to increase your capacity for hope and joy.
Confess your worry to Me. Lay it all at My feet, and ask Me to help you believe. Ask Me to help you hope again. Ask Me to fill you with joy unspeakable and full of glory."
If you have been sad and crying today, pray this prayer for help:
"Father God, in Jesus' name, thank You for seeing my tears and hearing my cries. Lord Jesus, thank You that Your Word says I have hope in You. You are in me, and You are the hope of glory.
Father, I confess that I have struggled with doubt, unbelief, discouragement, and hopelessness. But these have been my feelings, Lord, and my feelings are not permanent but Your Word is.
So Father, I speak to my soul right now, and I say: "Soul, line up with my spirit, which is filled with the Holy Spirit! Bless the Lord, O my soul, and all that is within me; bless His holy name!"
Father, please help me to dwell in the secret place of Your Presence and abide under Your shadow.
Help me to confess Your Word out loud, for You are my refuge and fortress–my God, in whom I shall trust. Father, as I abide under Your shadow, please keep my emotions stable and fixed.
Father, You are the God of all hope. So Abba Father, in Jesus' name, fill me with Your hope again. Fill me with peace and joy. Help me to be anxious for nothing; but in everything, with prayer and supplication, with thanksgiving, help me make my requests known to you … and Your peace, which passes all understanding, will guard my heart and mind in Christ Jesus.
Father, I thank You for waking me up a little more each day.
Accelerate Your work and help me to cooperate with it. Thank You that You are bringing me up from the depths of the earth. Thank You that You are actually bringing greatness into my life and increasing the greatness that was already there.
Father, You are the God of all comfort, so please comfort me today. Let me sense Your presence and affection. Help me to sense Your love. Fill me with Your Spirit of adoption, and draw me close to You. Dry my tears and hold me tight to Your chest, Lord.
You always heal my heart and bring out the best in me, Father … and I thank You for doing it.
Continue to make me like Jesus. Conform me to the image of Christ. Take away my old heart, and give me Your heart. Take away my old spirit, and give me a new spirit–Your Spirit.
Abba Father, let Your peace overflow the banks of my life like a flooding river. Fill me with Your joy, and help me to set my mind and keep it set on things above, where Christ is, seated at Your right hand. Glorify Your own name in my life, Father, and I'll give You all the praise.
Thank You, Father God. Thank You, Lord Jesus. In Your holy name I pray, amen."
If you've been sad and crying today, and this word encouraged you, please leave a comment below. And, I am praying for you today!