Have you ever thought of intercessors as a weird group of super-Christians? People who seem to have a direct line to Heaven–and are a LOT more spiritual than you? If so, let's dethrone the myth today: intercession is NOT for non-existent super-Christians, and YOU are DEFINITELY called to be an intercessor!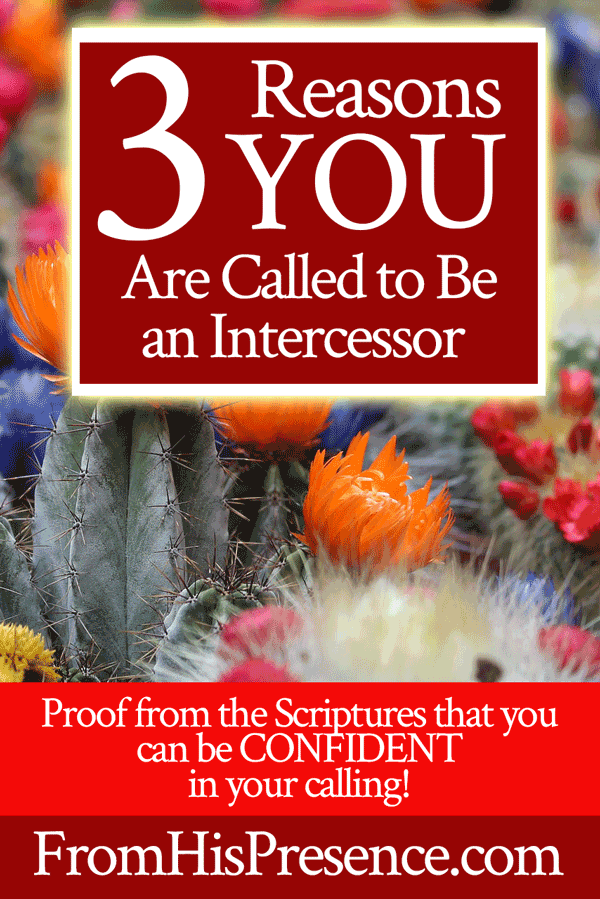 Becoming an intercessor is part of EVERY Christian's ultimate destiny. Here are three big reasons YOU are called to be an intercessor:
1. Jesus is an intercessor, and we're supposed to become like Jesus.
Because far beyond any temporal call you may have—such as being called to preach, teach, play music, raise children, evangelize, etc—your eternal destiny is to become like Jesus. And Jesus Christ is the Ultimate Intercessor.
Check out these Scriptures that show how we're supposed to become like Jesus:
For whom He foreknew, He also predestined to be conformed to the image of His Son, that He might be the firstborn among many brethren" (Romans 8:29).

"But we all, with unveiled face, beholding as in a mirror the glory of the Lord, are being transformed into the same image from glory to glory, just as by the Spirit of the Lord" (2 Corinthians 3:18).

"Beloved, now we are children of God; and it has not yet been revealed what we shall be, but we know that when He is revealed, we shall be like Him, for we shall see Him as He is. And everyone who has this hope in Him purifies himself, just as He is pure" (1 John 3:2-3).
And we know that Jesus is the Ultimate Intercessor!
The Lord tells us so in these passages:
Who is he who condemns? It is Christ who died, and furthermore is also risen, who is even at the right hand of God, who also makes intercession for us" (Romans 8:34).

"Therefore He is also able to save to the uttermost those who come to God through Him, since He always lives to make intercession for them" (Hebrews 7:25).

"Therefore I will divide Him a portion with the great, and He shall divide the spoil with the strong, because He poured out His soul unto death, and He was numbered with the transgressors, and He bore the sin of many, and made intercession for the transgressors" (Isaiah 53:12).
Additionally, we are supposed to be like Holy Spirit–and He is also an intercessor.
An intercessor is an advocate for someone else, and advocating is exactly what Holy Spirit does. John 14:26 says:
But the Advocate, the Holy Spirit, whom the Father will send in my name, will teach you all things and will remind you of everything I have said to you" (NIV).
Romans 8:26-27 also shows how Holy Spirit advocates and intercedes for us:
Likewise the Spirit also helps in our weaknesses. For we do not know what we should pray for as we ought, but the Spirit Himself makes intercession for us with groanings which cannot be uttered.

Now He who searches the hearts knows what the mind of the Spirit is, because He makes intercession for the saints according to the will of God."
So what exactly does it look like to have the Holy Spirit advocate for you?
The word that is translated Advocate in John 14:26 is the Greek word "Parakletos." Strong's Concordance tells us that this means:
"Summoned, called to one's side, especially called to one's aid; one who pleads another's cause before a judge, a pleader, counsel for defense, legal assistant, an advocate; one who pleads another's cause with one, an intercessor; in the widest sense, a helper, succourer, aider, assistant."
Holy Spirit has been sent to your side to be your Advocate. He is your Intercessor. He pleads your cause before whomever He needs to plead your cause. He is your Helper.
Since we're only supposed to do what God does and say what He says, doesn't it make sense that we should intercede also?
Of course it does! God the Father, God the Holy Spirit, and God the Son (Jesus) are all one. And if we're supposed to become like Jesus–who is an intercessor, and who only said what Father said and did what Father did–then we should intercede also.
This is so simple, folks. I know it is. But I desperately want you to see how SIMPLE it is for you to walk in powerful intercession before God!
Finally, the third reason YOU are called to be an intercessor is:
3. The Scriptures command all of us, without exception, to intercede.
Look at these powerful Bible passages:
Therefore I exhort first of all that supplications, prayers, intercessions, and giving of thanks be made for all men, for kings and all who are in authority, that we may lead a quiet and peaceable life in all godliness and reverence" (1 Timothy 2:1-2).

"So I sought for a man among them who would make a wall, and stand in the gap before Me on behalf of the land, that I should not destroy it; but I found no one" (Ezekiel 22:30).

"He saw that there was no man, and wondered that there was no intercessor; therefore His own arm brought salvation for Him; and His own righteousness, it sustained Him" (Isaiah 59:16).

"Is anyone among you sick? Let him call for the elders of the church, and let them pray over him, anointing him with oil in the name of the Lord. And the prayer of faith will save the sick, and the Lord will raise him up. And if he has committed sins, he will be forgiven.

Confess your trespasses to one another, and pray for one another, that you may be healed. The effective, fervent prayer of a righteous man avails much" (James 5:14-16).

"… Praying always with all prayer and supplication in the Spirit, being watchful to this end with all perseverance and supplication for all the saints" (Ephesians 6:18).

"If anyone sees his brother sinning a sin which does not lead to death, he will ask, and He will give him life for those who commit sin not leading to death. There is sin leading to death. I do not say that he should pray about that" (1 John 5:16).

"Pray for the peace of Jerusalem: 'May they prosper who love you. Peace be within your walls, prosperity within your palaces.' For the sake of my brethren and companions, I will now say, 'Peace be within you.' Because of the house of the Lord our God I will seek your good" (Psalm 122:6-9).
Beloved, we are ALL commanded to intercede.
All of us, including you. Don't let some evil lie from the enemy put you off from your calling. Don't listen if the enemy tells you that you're not good enough. It doesn't matter where you are on your spiritual journey–if you just gave your life to Jesus yesterday or if you've been saved a hundred years.
ALL of us are supposed to be like Jesus, the ultimate Intercessor. All of us are supposed to allow Holy Spirit to flow through us and manifest Himself in intercession. And all of us are commanded to obey the Scriptures.
Intercession is not for some kind of special few.
How do you know if you're called to be an intercessor? Simple. Just check your lungs. Are you breathing? If so, then YES, YOU are called to be an intercessor! 🙂
Intercession is for everybody because Christ lived an intercessor, died an intercessor, and ever lives to make intercession for us. INTERCESSION IS FOR YOU.
Do these Scriptures instill confidence in your heart that you ARE called to be an intercessor? If so, please leave a comment below and shout it out with confidence: "I AM called to be an intercessor!"