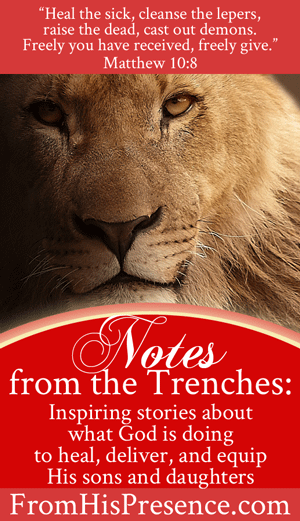 Hey beloveds,
I wanted to provide you with an update on what the Lord did in 2018. There's so much to share; and although you already know some of it, please read it all and rejoice with me!
Also, I have a couple of questions for you about events we're considering going forward, and I'd love to hear your input.
First, 2018 was one of the most challenging years I've ever had.
Our son was born at the end of December 2017, so I was caring for a newborn (never having had any experience with babies before) as well as working. We didn't have much in the way of help or support with the baby all year. Additionally, he had major health problems for the first several months, with 2 hospitalizations this last summer as well (after those first problems were resolved). And then, of course, I had a c-section delivery, and the incision did not heal for a long time. (It still gives me pain even now.)
I consider this ministry to be my full-time job, and I work at it hard. I don't just slack off and eat pizza in front of the TV all day; I ordinarily work during the day, night, early morning, late nights, and weekends. And I take it really seriously.
But, you can imagine how that went with having a new baby, and with all of the issues I mentioned above.
Hint: It didn't go well.
I spent a lot of time the first few months crying. It was one of the most stressful times I have been through.
But you know what? I learned a lot.
I got to know the Lord last year in a way that I didn't know Him before. It was a baptism by fire, and not one I wanted, either. Nevertheless, I learned that He is the God of tangible grace, and that His grace to help in time of need is real:
He was with me when I sat on my floor and bawled crying, holding a screaming newborn who wouldn't stop crying for hours on end.
He was with me when I thought we were losing our baby on the way to the hospital.
He was with me every day when the stress of my work in this ministry plus caring for the baby threatened to do me in.
I know many of you all have already learned these things through this tough parenting journey, but I hadn't. I have never been here before; it's all new for me.
And honestly, I have struggled this year.
Not gonna lie. The Lord has really blessed us, and I'm so thankful for all of that. But I'm just trying to be transparent here, in the hopes that maybe my story will help someone else. It's been hard.
It's been hard because I prayed and begged God to send me help, and He didn't … except for His own help.
It's been hard because, each day, I had to swallow my reluctance and face the fact that it must be the will of God for me to rely strictly upon His grace that day. Most days, I knew no one was going to show up; no friends were going to help; and no one was going to call.
It's been hard because I didn't want to rely on His grace. I wanted help and rest and someone around, and there has been very little of any of those things until the last 3 weeks.
It's been hard because I had to learn in a whole new way that "God's grace is sufficient for me" is real.
Sometimes I've been so discouraged or stressed out that I didn't even want to get out of bed or take a shower. The stress came from baby + job, but the discouragement came from having no help and having to face that somehow God expects me to walk in victory anyway. Honestly, some days, I preferred to throw a pity party for myself–or, rather, attend the pity party the devil was throwing for me.
Just being real. Can anybody identify?
The first few months, I gave in to the stress and discouragement.
I was a basketcase. Nursing a cluster-feeding baby for hours and hours every day (sometimes over 12 hours a day), staying home alone with a baby who refused to sleep, not knowing how to be a parent, and working too (often from my phone held over a nursing baby, or from my laptop sitting next to me while he nursed).
But somewhere during the summer, I finally realized that I was going to have to pick myself up and figure out a way to live my new life as a parent with victory, even if help or relief never showed up. I had a sneaking suspicion that God was not going to send other people to help me until I did this; that somehow, this suffering and struggle was His way of walking me through the valley of the shadow of death again.
It was really hard at first.
Some days, I would eke out a blog post and put the baby in his playpen while I showered … but I called that a successful day.
Some days, I had to stand in one spot and say over and over, "God's grace is sufficient for me, for His strength is made perfect in my weakness" just in order to move my feet and go into the next room. But I said it, and I repeated it until I believed it. And I moved on to the next activity and called that a successful day.
And some days, I've just loaded the baby in the car in the hopes that he would sleep. (He has had a tough time learning to sleep on his own.) Then, when he finally did, I'd drive home and sit in the car in the driveway, using our wi-fi and my laptop to try and work. But being able to work in peace like that was a victory, so I called those days successful too.
It hasn't all been bad, but it has taken me a really long time to start facing the truth that God's grace was sufficient for me …
… because I didn't want God's grace to be sufficient, you see.
Again, I'm just being real.
I didn't want to rely on God alone. I wanted things to go back to the way they used to be, with all the help and company and friends and full schedule and mobility and sleep I used to have–but with a cute little bundle of joy included as well. And that's simply not going to happen.
So I have been learning because God forced me to learn.
It was a hard year, but a fruitful kind of hard (looking back). I could feel myself changing throughout the process, even when I didn't want to admit it. Somewhere in there, I really did grow:
I forgot how to cry over my situation.
I began believing God instead of crying, and I lost the temptation to doubt Him.
The Lord burned a lot of feeling sorry for myself off me.
Somewhere in there, I became stronger than I knew was possible to be. The Lord put steel in my spine.
Honestly, it's been dreadful. But I can see the benefits of this whole time period already. I can see how the Lord has been working in my heart and breaking stuff off me. And even though much of this time has been miserable, I'm so thankful. I'm walking in victory every day now, even when things are hard. Only God could have done that.
And we do have a darling bundle of joy, and I'm so thankful for him.
Our son is doing so well. Thank you all so much for your prayers for him and for us. He is getting so big; he took his first steps a few weeks ago, and now he's walking all over the house! He's even trying to run. He's growing and changing every day. He loves books and pens and papers and stickers, and he wants you to read his favorite book to him like three times in a row. He's such a lovely baby. We are so in love with him.
But during all these things, the Lord has moved so powerfully over the last year.
I am in awe of how Father God so beautifully orchestrates things over time. Even though I felt like a total failure so much last year, the Lord still used everything we did get done–and He added more to our efforts besides. It was the most impactful year we have had so far.
Here are a few of the highlights:
We saw about 60 people attend September's inner healing retreat.
Dozens of people received scholarships for that inner healing retreat (paid for by this ministry through your donations, webinar tickets, and so on) to attend. And nearly every person told me their lives had been changed.
We discipled people through this blog day in and day out, with a total of 2,042,084 pageviews for the year. Yes, that's over two million times we touched people's lives for Jesus using this website alone.
We reached 747,229 individual people using this website alone.
We launched OverNotUnder.com, which is our website about money, wealth, motivation, and productivity.
We got 47 blog posts up on OverNotUnder.
We saw 43,780 pageviews on OverNotUnder for the year, which is great considering the fact that I didn't post on that blog very much.
I did wrote dozens and dozens of new teaching posts and prophetic words for this blog. We now have 1,081 posts up on this blog.
We had articles published on iBelieve, Spirit Fuel, and The Elijah List a number of times throughout the year. These posts help us reach over a million additional individuals outside our own community.
We took a team of pastors and ministers to preach and teach in Ireland in November at our Dublin prophetic equipping intensive.
We ministered to people through TEN webinars–some free, some paid. (The paid webinars funded much of the ministry you see in this list.)
We released a brand-new e-book, 15 Prayers for Financial Increase, on OverNotUnder.com (free for people who sign up for free email updates on that site).
We released 5 books in printed format for people who need/prefer written material:

Prayers and Prophecies for Financial Increase (which is about twice as big as the free ebook we give away on OverNotUnder);
my original Bible study on the book of Ruth;
Ministry of the Pioneer;
Our own edition of E.M. Bounds' Power through Prayer; and
The Presence Seeker's Guide to Inner Healing.

We sowed seeds of honor or provision into many pastors who needed financial help, ministry help, or help with spiritual/emotional health.

I'm not going to go into detail on this, because each individual situation is private. But, just know that this thing about being an agent of restoration is very real to me–and we carry it out with shoe leather every single day. Every dollar that comes in from you all goes to ministry, and much of it heals and restores hurting and wounded people.

We mentored several pastors to help them build websites that would bless their ministries.
We were approved to place Bible reading plans on YouVersion (with over 3 million users worldwide), and we uploaded our first plan and got it approved in 2018. (Then they released it on January 4, 2019.)
We took on a small part of sponsoring two missionaries who work with unreached people groups. (I'd like to expand our support of those missionaries this year, as the Lord provides.)
We provided a whole vehicle-trunk-full of beautiful study Bibles and financial education books to a local jail ministry. We haven't continued working with them simply because the opportunity has not arisen (we have to go through a security-certification course in order to actually enter the jail, and there have been scheduling issues); but we hope to help them more in the future.
We came alongside a student pastor and provided discipleship tools for their youth group.
I made over 600 individual edits to this site–some of them to multiple places–to make it run faster and appear in more Google search results.
The Lord did so much, but His most important work is seen in the lives He has changed.
Every single day, I receive testimonies about how people are seeing breakthrough as a result of reading our websites, listening to our e-classes, reading our books, etc. I hear from:
Regular people.
Moms and dads.
Older people and younger people.
Ministers and pastors and pastors' wives.
People who up-and-out and people who are down-and-out.
You name it, God is bringing them to us. It's not because of us, though; it's because of the Word. God's Word is our passion, and His Word is restorative. If you will receive His Word into your heart and act on it, as so many people are, it will change your life. HE will change your life.
So God is moving–and YOU are His hands and feet.
You make all this ministry possible through your prayers, by reading and sharing our articles and resources, and through your donations and product purchases. THANK YOU.
A thousand times, thank you.
And now, our forward vision:
The Lord has given me a massive forward vision, and I wrote about my goals for that here on OverNotUnder. (Please check out these goals!) Suffice it to say, the material we plan to release in 2019 will BLESS YOU. Free webinars, free teachings, more prophetic words than ever before, and a whole lot more … all are on the horizon. 🙂
Also …
Going forward in 2019, I want to make things easier for you on this website again.
I know we just re-designed the site in November 2017, but I'm considering another website design overhaul. And I'm wondering, is there anything in particular you would like to see on this site–or something that would make using the site easier for you?
If so, would you please leave a comment below and tell me what it is? Also, if there is something on the site that blesses you, would you please tell me about that too, so I'll know what not to take off the site?
Please let me know.
Also, we (all of us on our board) are praying about future events, and we'd love to have your input.
We are praying specifically about bringing live workshops to major population centers to teach dreams and visions, prophetic intensives, or inner healing.
We are also praying about an inner healing retreat in the UK, due to the volume of readers we have in the UK. (Shout-out to all my UK friends. High-fives right here … I love you all!) These are all topics that are very difficult to cover via webinar; you really need to do them in person for the best results.
So if you would love to see us bring a workshop to your city, would you let me know in the comments below? Please tell me your city/area and what you'd love to study.
We'll take all these things to the Lord in prayer. I am not sure which way He wants us to go for live events this year, beyond a quarterly School of the Prophets here in Chattanooga for local people (and for anyone who travels in, as people did this last weekend). But if you want us to hold a workshop near you, let us know and we'll pray about it.
Also, if you are not already helping us do the work of this ministry, please. From my heart to yours, I ask: would you please help us?
All of the ministries I listed above cost money. The Lord provides what we need every month, and He uses you to do it.
So if you are already partnering with us through monthly giving or occasional donations, THANK YOU. But if you aren't, would you please consider helping us?
Your gift of $5, $10, $20, $30, $50, or $100 per month (or more; million-dollar checks are welcome!) 🙂 combines with gifts from so many others and your gifts all ADD UP. Every dollar, every pound, every peso matters. Every one brings souls into the Kingdom.
Would you help us? We'd be so grateful.
Every gift makes a huge difference, so THANK YOU.
Beloved, you are awesome. Thank you for being part of our community. THANK YOU from the bottom of my heart for caring about us and this ministry enough to read this update, to pray for us, to support us financially, and to participate in our community.
All praise goes to Jesus, and I believe we can greatly expand His inheritance of sold-out souls devoted to Him in 2019.
Will you help me?
In Christ,
Jamie Rohrbaugh
Founder, From His Presence, Inc.