4 Prophetic, Encouraging Words for You In This Season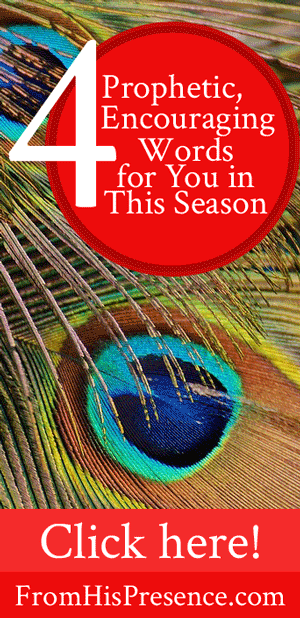 Precious readers, I felt like Papa gave me these four prophetic, encouraging words for you today. Here are the words:
1. "There is a grace in this new season for beginning to walk in the ultimate thing you are called to do.
Grab onto that grace and take little steps as I show you the way. I will light up the path for you one day, one step at a time."
Psalm 32:8: "I will instruct you and teach you in the way you should go; I will guide you with My eye."
2. "IF you will abide under My covering, you will feel My Holy Spirit hovering and brooding over you.
I will keep you safe and My glory will rest upon you. It's all about covering. Your safety is found in clinging to Me. I am your Refuge, your Shield, your Defense, and your Everlasting Father.
Wait on Me. Don't get ahead of Me. Walk, don't run. Allow Me and My Word to propel you into the fullness of My promises. My Word will create the world of your dreams."
Psalm 139:1-5: "O Lord, You have searched me and known me. You know my sitting down and my rising up; You understand my thought afar off. You comprehend my path and my lying down, and are acquainted with all my ways. For there is not a word on my tongue, but behold, O Lord, You know it altogether. You have hedged me behind and before, and laid Your hand upon me."
3. "You think I have forgotten you, but I have not.
I have hidden you in the palm of My hand. The silence you feel is the silence of My rest that I am giving you. Remember that I am morally perfect and I will work everything I allow you to go through for your highest good. TRUST. Give yourself the luxury of resting and abiding in My hand. No evil can reach you there."
Psalm 91:4-12: "He shall cover you with His feathers, and under His wings you shall take refuge; His truth shall be your shield and buckler.
You shall not be afraid of the terror by night, nor of the arrow that flies by day, nor of the pestilence that walks in darkness, nor of the destruction that lays waste at noonday.
A thousand may fall at your side, and ten thousand at your right hand; but it shall not come near you. Only with your eyes shall you look, and see the reward of the wicked.
Because you have made the Lord, who is my refuge, even the Most High, your dwelling place, no evil shall befall you, nor shall any plague come near your dwelling; for He shall give His angels charge over you, to keep you in all your ways. In their hands they shall bear you up, lest you dash your foot against a stone."
4. "I speak to mothers today, and I declare that your labor has not been in vain.
I have seen your heart beating for your children even in the darkest of nights. I will reward your labor. I AM your Shield, and your Exceeding Great Reward. Your work is not small in My Kingdom. You are raising up the foundations of many generations who will love Me and serve Me. And you are more than your motherhood; you are My beloved, My daughter. You are My delight, and in you I am well-pleased."
Song of Solomon 2:10, 11, 14: "My beloved spoke, and said to me: "Rise up, my love, my fair one, and come away. For lo, the winter is past, the rain is over and gone. … O my dove, in the clefts of the rock, in the secret places of the cliff, let me see your face, let me hear your voice; for your voice is sweet, and your face is lovely."
If one or more of these encouraging words spoke directly to your heart, would you leave a comment below and share? I'd love to hear how Papa is speaking to you.