A Prophetic, Encouraging Word For The Heavy-Laden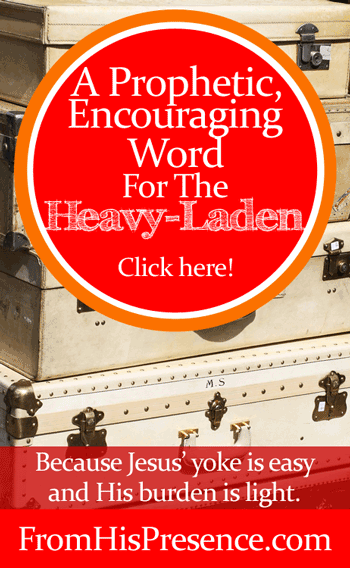 I don't know about you, but I've been really worried about some things.
I know I could try to sound all spiritual and call it "burdened," not "worried," and I'd like for that to be true … but it wouldn't be. I've been weighed down, and weighed-down always equals worry.
Lord, forgive me.
This morning, I was taking some of these things I've been worrying about to the Lord. In the middle of talking with Him about the things that have been concerning me, He interrupted me. 🙂 He told me to journal, because He had something to say to me.
So I did. I listened, and He talked. What He said was so timely, and I felt like I should share it with you today too. After all, 2 Corinthians 1:4 tells us that all the comfort God gives us may be shared with others to comfort them also. So if you've been worrying about some things too, this is going to encourage you too (and please tell me about it if it does).
Here's the prophetic, encouraging word the Lord gave me:
You've been weighed down by heavy things. Things that matter. Weighty things.

But beloved, I desire you to release them to Me, and I will make them light again. The responsibility is not yours. It is My Own. And I will take these things that bother you, form them and shape them, and conform them to the very image of My glory.

Ask and you will receive, that your joy may be full.
And I received that. It's a simple word, and it's not anything I didn't already know in theory. But sometimes I forget to practice it, you know? So I turned over my cares about the people I love, the situations I'm involved in, and my own struggles to the Lord. And He has made those burdens light already. I also asked Him for specific things TODAY, because He wants me to ask so that He can answer and fill me with joy.
Thank You, Lord.
Do you also feel worried, burdened, and heavy-laden?
If so, would you also release your cares to the Lord right now? Jesus bore that burden for you all the way to the cross. He was beaten and weighed down for you and me, and now we can have rest in Him. He promises to give us rest over and over in His Word. For example:
Come to Me, all you who labor and are heavy laden, and I will give you rest. Take My yoke upon you and learn from Me, for I am gentle and lowly in heart, and you will find rest for your souls. For My yoke is easy and My burden is light" (Matthew 11:28-30).

and

"For I have satiated the weary soul, and I have replenished every sorrowful soul" (Jeremiah 31:25).

and

"Be anxious for nothing, but in everything by prayer and supplication, with thanksgiving, let your requests be made known to God; and the peace of God, which surpasses all understanding, will guard your hearts and minds through Christ Jesus" (Philippians 4:6-7).
So would you release your burdens to the Lord with me today? Let's pray this prayer together:
Heavenly Father, I come before You in Jesus' name. I love You, Daddy. Thank You for loving me and taking care of me. Thank You for hearing and answering my prayer, and for caring about everything I care about.

Lord Jesus, Your Word says, "Come unto Me, all ye who are weary and heavy laden, and I will give you rest." So Lord Jesus, I'm coming to You right now. Please give me rest. I've been so weary and heavy-laden, and I don't want to deal with these things anymore. Thank You, Lord God, that I can drop my burdens at Your feet. 

Heavenly Father, You see what's going on with __________. Lord, I can't fix this situation. But You can. I release it to You right now, Lord, and I lay it at Your feet. Lord Jesus, please take care of it.

And Lord, I confess that I've been worrying, and I know that worry means I haven't been trusting You. Father, please forgive me for worrying. I repent of it. Please forgive me and cover me with the blood of Jesus. Wash me clean, and fill me with Your Holy Spirit, and help me to release everything to You right now and trust You again.

Heavenly Father, I choose right now to be anxious for nothing, but in everything, with prayer and supplication, with thanksgiving, I will make my requests known to You. And Your peace, which passes all understanding, will guard my heart and mind in Christ Jesus. I thank You for perfecting all things that are even a remote concern to me, Lord Jesus, and I receive Your peace right now.

And also, Lord, Your Word says that if I ask, I will receive, and You will fill me with joy. So Lord, today I'm asking You for __________. I ask this in Jesus' name, Lord, and I thank You that You hear me and that I have what I've asked for.

I love You, Jesus. Thank You for fixing it. Thank You for taking away my burdens. Thank You for giving me rest. I choose to rest in You right now, Lord Jesus. I receive Your peace.  I love You and thank You. 

In Jesus' name, amen.
Was this encouraging word for you today, too? If so, please leave a comment below. I'd love to hear from you!