Lord, Teach Me To Think Rightly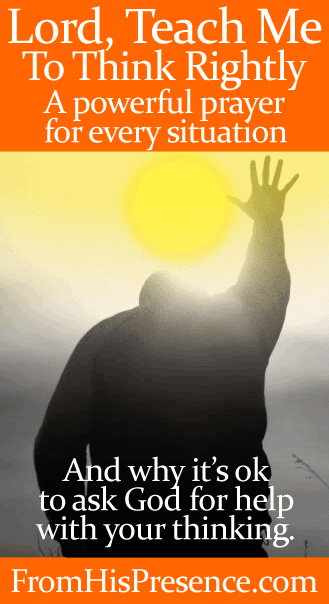 I was struggling this morning with my thought life.
It was all innocent enough. I was spending time with the Lord, reading the Word, and praying about my day. One of the things I have on my schedule today is a worship and intercessory prayer service ("The Furnace") at my church tonight that I am in charge of (with a leadership team, but I'm in charge of the leadership team). And when I started praying about that service, I began to struggle.
Here's why:
Every person that comes needs an encounter with Jesus, not with me.
So I need to get out of the way.
But yet I still have to be there and lead, so "getting out of the way" doesn't mean I get to disappear or anything. I'm accountable. I still have to be there and minister, as does the rest of our team.
And also…
I want to follow the Holy Spirit's plan for both worship and intercession.
I want to focus on Him and follow Him precisely. I want the Holy Spirit to utterly and completely and totally have His way with us and do the ministry with power.
But I can't go in with no plan at all, because that would be irresponsible.
And yet I have to let my plan completely yield to His plan.
Well, when you put all these things together, I began to feel like my thoughts and prayers were just going in circles. Have you ever felt that way? I didn't really know how to pray or what to pray for. All I knew was that I am hungry, and I want God, and I want to encounter Him tonight, and I want every person at this meeting to encounter God too.
And in the midst of all those thoughts, when I realized that I don't know how to pray about this or what to ask for, this one prayer came bubbling up out of my spirit:
"Lord, teach me to think rightly about The Furnace."
It was a simple prayer. It seemed to come out of nowhere (but I know it came from the Holy Spirit). And it immediately brought my thoughts into a state of peace.
Why?
Because Jesus said:
I am the vine, you are the branches. He who abides in Me, and I in him, bears much fruit; for without Me you can do nothing" (John 15:5).
Did you get that? "Without Me you can do nothing." 
I can't do anything without Jesus. That means I can't walk, talk, eat, breathe, pray… or think.
Without Jesus I am incapable of thinking rightly. I don't know what to think about things, or what things to think about. I don't know what to pray for or how to offer my prayer worthily (Romans 8:26-27). So I need His help.
Starting at the very beginning, I need His help.
So as soon as I prayed "Lord, teach me to think rightly about The Furnace," I felt instant peace.
It was like He brought me back to the very most basic point there was. I can't do this without Him. He has to do it all, even though He will use my team's hands and feet and voices to do it. But I can't do it, and I can't even think about this thing rightly without His help.
And there was a powerful freedom in admitting that.
What's going on in your life? Do you need God's help to think rightly about something too?
Maybe it's a tough marriage. Maybe your most basic, most desperate prayer would be: "Lord, teach me to think rightly about my marriage and my spouse."
Maybe it's an awful work situation. "Lord, teach me to think rightly about my job and my boss and my coworkers."
Maybe it's yourself. Maybe you're struggling with shame and self-hatred. "Lord, teach me to think rightly about myself."
Whatever it is, let's pray about it now, shall we? Pray this prayer with me:
Dear Heavenly Father,

I come before You in Jesus' name. Father, thank You for letting me approach you. Thank You for Jesus. Thank You for adopting me and making me Your child through Christ. Thank You for loving me and having a good plan for my life. Thank You for helping me in all things, for protecting me, preserving me, and keeping me alive. Thank You for the air in my lungs and for sustaining the beating of my heart.

Daddy God, please help me. I need You. I am desperate. I don't know what to do, and I don't know how to pray about my situation. But Daddy God, You know I am dealing with ___________. And Lord, I don't know how to think about it. I don't know what to ask You for or how to ask. 

So Lord, I need Your perspective. Heavenly Father, would you teach me to think rightly about _________? Please take my thoughts and line them up with Your thoughts. Take my perspective and line it up with Your perspective. Change my heart. Take away my stony heart and give me Your heart. Take away my old spirit and give me Your Spirit. Change me, Lord, and make me like Jesus. Teach me to think rightly. Your Word says that I have the mind of Christ, so please take all my thoughts and conform them to Yourself today.

I fall at Your feet right now, Jesus, and thank You for helping me. I know I can't think rightly on my own. But Jesus, You said You would help me. So Lord, here I am. Your grace is sufficient for me. Let Your strength be made perfect in my weakness right now. Mold my thoughts, my words, and my heart to be shaped like Yours. Teach me to think rightly, and help me to humble myself before You and receive Your truth, Your guidance, Your strength, and Your peace. 

Thank You, Father. I love You, and I thank You for hearing and answering my prayers. I give You all the glory, and I thank You for what You're doing and for what You're going to do.

In Jesus' name, amen.
Does this message encourage your heart today? If so, please leave a comment below. I'd love to hear from you!