Bible Boot Camp: Who You Are, Where You Belong, and Who You Belong To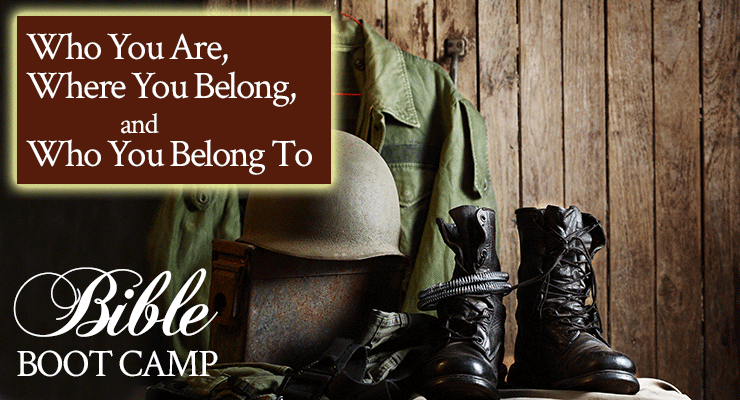 Did you know that you and every other person alive on the planet are looking for three things? It's true: we are all looking for who we are; for a place to belong; and for someone to belong to.
But in Jesus Christ, you can have all three of those things. In Him, you can find out who you are. In Him, you have a home. And in Him, you know who you are and who you belong to.
Here's how it all works:
Related: Read the other Bible Boot Camp posts here.
The politically-correct quest of many who live in the 21st century is the search for something that makes all men "one." "World peace!" is the cry of every idealist and beauty queen. The tie that binds, however, is not as positive as these optimists want it to be.
The unifying factor in the world today is that people have a self-absorbed view of life. [1]
Self-focus is a fatal disease that has existed since the fall of man, and it has spread farther than the black plague of the Middle Ages ever could. The three favorite people of every lost person on the earth are "me, myself, and I."
However, although this self-absorption is all-consuming, it is not fulfilling. Mankind has therefore been faced with a dilemma:
We aren't happy when we aren't doing what we want to do; but
When we do what we want to do, we still are not happy.
What is wrong with this picture? What is the solution to finding true happiness and fulfillment?
Jesus Christ is the solution.
Consider Christianity:
In the face of the lost person's religion of self, Christianity—the faith in Yahweh God and in His Son, Jesus Christ—has an answer. It is the only faith that has answered the questions of identity, significance, and purpose for the human race. This faith in Christ has proved itself to be the only effective and lasting answer to the problems mankind faces.
The central figure of Christianity is Jesus Christ; and in Him we find identity, a place to belong, and significance for every individual in the history and future of the world.
Finding one's identity is a process that many people never complete. However, the Bible tells us that, when we receive salvation in Christ Jesus, we gain an instant identity. [2] Here are the steps to how that works:
1. First, no matter what your earthly parents were like, when you accept Jesus as the Boss and Master of your life, you suddenly gain a perfect, loving, personal Father in Jehovah God.
When you make this one, life-transforming decision, you instantly become the child of God and the brother or sister of Jesus. Jesus told us this in Matthew 12:50 when He said:
"For whoever does the will of My Father in heaven is My brother and sister and mother."
And we also read this in 1 John 3:1-2:
"Behold what manner of love the Father has bestowed on us, that we should be called children of God! Therefore the world does not know us, because it did not know Him. Beloved, now we are children of God; and it has not yet been revealed what we shall be, but we know that when He is revealed, we shall be like Him, for we shall see Him as He is."
2. In addition, you get a completely new life when you accept Jesus as your Savior.
When you make this one decision, you get to put everything in the past truly behind you–including your old self–and you instantly become dead to yourself and ALIVE in Christ. You get instantly free from the disease of self-centeredness.
As it says in Galatians 2:20:
"I have been crucified with Christ; it is no longer I who live, but Christ lives in me; and the life which I now live in the flesh I live by faith in the Son of God, who loved me and gave Himself for me."
When you make Jesus the Boss and Lord of your life–meaning you love Him, serve Him, worship Him, and do what He says and ONLY what He says from now on–then you become a brand-new creature. As it says in 2 Corinthians 5:17:
"Therefore, if anyone is in Christ, he is a new creation; old things have passed away; behold, all things have become new."
3. You also receive a new spiritual "heart"—a new mind, will, and emotions–when you make Jesus the Lord of your life.
Ezekiel 36:26-28 states:
"I will give you a new heart and put a new spirit within you; I will take the heart of stone out of your flesh and give you a heart of flesh. I will put My Spirit within you and cause you to walk in My statutes, and you will keep My judgments and do them. Then you shall dwell in the land that I gave to your fathers; you shall be My people, and I will be your God."
4. You instantly enter into right standing with God, which we call "righteousness." You become absolutely righteous because JESUS is righteous.
In other words, when you give your life to Jesus, His perfect life kicks your old, sinful life out the door. You suddenly become hidden in Him; perfectly righteous–and in right standing with God–in God's sight. We read this in 2 Corinthians 5:20-21, which says:
"Now then, we are ambassadors for Christ, as though God were pleading through us: we implore you on Christ's behalf, be reconciled to God. For He made Him who knew no sin to be sin for us, that we might become the righteousness of God in Him."
This is only possible because, as the verse above clearly states, Jesus literally "became sin" for us, so that all our sins and the penalties thereof could be imputed to Him and washed away from US. Jesus very literally bore your sins and mine on the cross, dying in our place.
But because Jesus did all these things for us, when we designate Him as the Lord of our lives …
The transformation is total. When you make Jesus the Lord, Boss, and Master of your life, you become a child of God in every respect. You get all the rights and privileges that pertain to that relationship.
One of my heroes, eighteenth-century revivalist Jonathan Edwards (1703-1758) [3]–the foremost preacher of the First Great Awakening–described our relationship to God after salvation like this:
"God has chosen the godly out of the rest of the world to be nearly related to him, to stand in the relation of children, to have a property in him, that they might not only be his people, but that he might be their God.

He has chosen these to bestow himself upon them. He has chosen them from among others to be gracious to them, to show them his favor.

He has chosen them to enjoy him, to see his glory, and to dwell with him forever.

He has chosen them as his treasure, as a man chooses out gems from a heap of stones, with this difference: the man finds gems very different from other stones, and therefore chooses, but God chooses them, and therefore they become gems, and very different from others, [as it says in] Malachi 3:17, "And they shall be mine, saith the Lord of hosts, in that day when I make up my jewels; and I will spare them as a man spareth his own son that serveth him." Psalm 135:4, "For the Lord hath chosen Jacob unto himself, and Israel for his peculiar treasure.""[4]
Isn't that gorgeous? YOU are God's treasure! You are His dream, His delight, His gemstone!
Even though it may take time for your actions and habits to change and match up with the perfection of your new identity in Christ, the change is still real. If you have made Jesus the Boss and Master of your life, your identity is in Christ and you are His beloved child.
Therefore, you can know who you are–because you know who your Father is. This is a gift the unbelieving world does not have.
Your faith in Christ also makes you part of a family here on the earth, as well as in Heaven.
When you make Jesus the Boss and Master of your life, you need to hang out regularly with other people who have done the same thing. As my pastor and mentor, Pastor Judy Jacobs, says, you need to hang out with people of "like faith, like spirit, like destiny, and like anointing." Finding a local church to attend regularly, and to get involved with, gives you a place and a way to do that.
Anyone who is committed to and involved with a local church body can affirm how true this is by their own experience.
Without Christ, people continually seek to be a part of a group; they seek someone who will love them for themselves. But in Christ, you no longer have to seek a place to belong or people to love you because you have both in this, our/your Christian family.
Your brothers and sisters in Christ truly love you. They are empowered to do so by the Holy Spirit because they have also been forgiven of many sins. The love of the Father therefore flows through the people of Christ, one to another. We truly do become the Body of Christ:
His hands and feet to serve one another;
His heart to love and forgive one another;
His mouth to encourage one another;
His mind that carries His thoughts.
As Dietrich Bonhoeffer, a great theologian who gave his life as a martyr in World War II, wrote in his book The Cost of Discipleship:
"The community of saints is not an "ideal" community consisting of perfect and sinless men and women, where there is no need of further repentance. No, it is a community which proves that it is worthy of the gospel of forgiveness by constantly and sincerely proclaiming God's forgiveness (which has nothing to do with self-forgiveness).

It is a community of men and women who have genuinely encountered the precious grace of God, and who walk worthily of the gospel by not casting that grace recklessly away."[5]
This is why your local church will be a true home to you, and a place to belong–if you will let it.
Because we Christians are the family of God, our local church home becomes a resting place for our spirit. And, the fellowship of our brothers and sisters in Christ becomes a solace for our troubled soul.
The Psalmist described this place of belonging in Psalm 84:1-4, which says:
"How lovely is Your tabernacle, O LORD of hosts! My soul longs, yes, even faints for the courts of the LORD; my heart and my flesh cry out for the living God.

Even the sparrow has found a home, and the swallow a nest for herself, where she may lay her young— even Your altars, O LORD of hosts, my King and my God. Blessed are those who dwell in Your house; they will still be praising You. Selah."
All of these things depend on your making two choices, though.
First, you have to choose to make Jesus the Lord, Boss, and Master of your life. That's what brings you into the family of God, making you His child and giving you:
a new start,
a new life,
a new heart,
a new spirit,
a new mind,
and a new family.
Secondly, you have to choose to connect to a local church.
This means you find a great church, where the inerrant, infallible Word of God is preached every single week. Find a great church where they worship God the Father, His Son Jesus Christ, and God the Holy Spirit; where you are taught and discipled and loved and encouraged (and even corrected when you need it).
Then, you have to actually attend said local church every week. Go to the worship services. Get connected with the classes they offer. Show up for prayer meetings so you can learn how to pray with power. Don't be shy; the people at your local church WANT you around!
Getting plugged into the local church–not just admiring it from the outside–is how you can form good, solid, lasting, genuine relationships with those other people of "like faith, like spirit, like destiny, and like anointing."
Becoming a child of God is the immediate result of giving your life to Jesus.
Finding a home in Him and a family to belong with is also an immediate result of making Jesus the Lord of your life. These things are instant and automatic; you just have to learn to re-calibrate your mind to match your new reality. But, God will help you. Ask Him for help today and every day, and He will personally disciple you and walk you through the process of learning, growing, and becoming on the outside who you ALREADY ARE on the inside–who He made you to be.
Does this installment of Bible Boot Camp help you understand who you are in Christ, who you belong to, and where you belong? If so, leave a comment below!
********
[1] Boice, Foundations of the Christian Faith, 531-532
[2] Boice, Foundations, 532-534
[3] Piper, God's Passion for His Glory, 50-73
[4] Edwards, Jonathan. Christians A Chosen Generation, A Royal Priesthood, A Holy Nation, A Peculiar People. Quoted in "A Puritan's Mind," http://www.apuritansmind.com/jonathanedwards/JonathanEdwards-Sermons-ChristiansChosenGeneration.htm, accessed March 5, 2011.
[5] Bonhoeffer, The Cost of Discipleship, 287