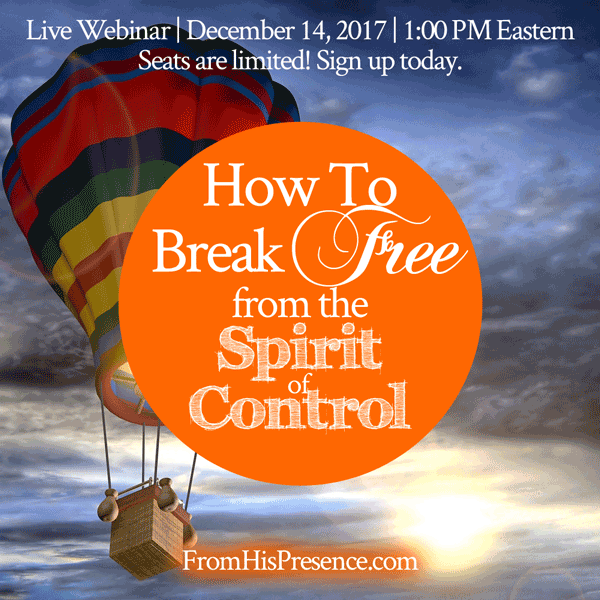 Dear Presence seekers,
Is someone trying to control you? Are you living under the oppression of people who give you guilt trips, manipulate you, and try to dictate your actions every day?
If so, they are operating in a spirit of CONTROL. And you can be free from the influence of that spirit–without having to cut off the relationship–
… if you learn how.
How to recognize it.
How to discern when that spirit is operating.
How to distinguish between what's true and what's a lie, especially when people lie to you about yourself in an attempt to control you.
If you want to break free from the influence of the spirit of control that is trying to manipulate and destroy your life, this webinar is for you.
Date: Thursday, December 14, 1:00 PM Eastern time
What: One-hour live webinar.
Cost: $12 per person, as this is an advanced study.
Only 100 seats are available since this is a paid webinar.
Click here to read more about what I'll teach in this class, and to sign up: https://jamierohrbaugh.webinarninja.co/my/wnwebinarlist/index?webinar_id=94277
Note: After you make your payment, you MUST allow PayPal to redirect you to the final WebinarNinja signup screen, where you will enter your name and email address. You should receive a confirmation email from WebinarNinja after this last step. Registration is NOT complete until after this final step is completed. (If you have any difficulty, please email me.)
All registrants will receive a replay video, emailed to your inbox after class is over. So, if you can't attend class live, sign up anyway if you want to receive the replay video.
After class is over, I'll offer the class materials for sale on my Gumroad store, but the price will go up.
Beloved, FREEDOM is yours in Jesus Christ. But you do have to learn how to walk in that freedom!
Remember that we wrestle not against flesh and blood, but against principalities and powers and rulers of darkness. PEOPLE are not the problem; we have to learn how to fight and win against the enemy of your soul.
This class will equip you and teach you how to appropriate the victory that belongs to you in Christ Jesus! Don't miss it!
See you on December 14!