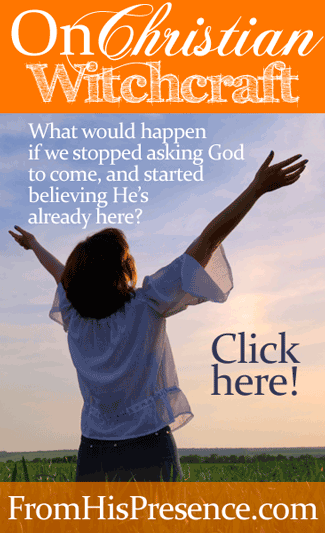 Have you ever noticed that Christians do certain things out of habit, or because the activity sounds really spiritual?
Yes? I have too. As a matter of fact, I think some forms of worship fit in this category.
Last year, when the Lord was bringing me into greater understanding about His constant presence (He is with us everywhere and all the time), I started to notice something about Christian worship:
We spend an awful lot of time trying to get God to come.
No, seriously. Pay attention next time you are in a worship service. There are a lot of songs out there that do this. I used to think most of these songs were great.
But then I started noticing the problem.
So many songs ask God to come. But yet, if we are worshipping the God of Heaven–God the Father, God the Son, and God the Holy Spirit–then He is already here.
Nevertheless, we think that if we sing three fast songs, and three slow songs–all of which ask Him to come–then at the end of those six songs, He'll magically appear. We're hoping that, somewhere before the outtro of Song #6, we'll get knocking knees and teary eyes and poof! Voila! God enters!
When we do that, we are trying to conjure God up.
I know it sounds tough, but it's true. And trying to conjure God up is Christian witchcraft.
It's also pointless.
Why is it pointless?
Because God can't give us something that He has already given. He has already given us His Presence. He can't take it back; it's His very nature to be present everywhere at the same time (i.e. "omnipresent"). He cannot deny Himself.
That means that, no matter where you are, all of God, and all of His attributes, are with you right now. Additionally, everything He can do is here, right now.
So when we spend our time in worship asking God to come, I imagine Him sitting in Heaven, biting His tongue, and wishing we'd move on so He could actually do something with our worship service.
So here's what I'm wondering…
Could we just abandon Christian witchcraft, please?
Could we start worshipping God as He really is?
Could we worship from the perspective that God is already here, and He's already in a good mood?
Could we worship from the perspective that Jesus already bought and paid for everything He'll ever do in our lives, so He's ready and willing to get on with it?
Could we start thanking Him for being here already, instead of begging Him to come?
It's all about perspective.
If you want to, you can walk in the manifest presence of God every moment that you are alive. You can live under an open heaven.
You just have to believe that what God said about Himself and His relationship with you is true.
The veil in the temple that separated man from God was torn when Jesus died. You have His Spirit without measure now. Everything God is and everything He has is available to you right this minute.
So meditate on it. Thank Him for it. Pray like you believe it. And worship a God Who Is here, not a God you hope will someday show up.
You'll be amazed at the results.
Have you ever noticed the difference between trying to get God to come, and believing that He's already here? If so, what are your thoughts on this subject? Please share in the comments below.
Related posts: