Called to Preach? Here's How to Start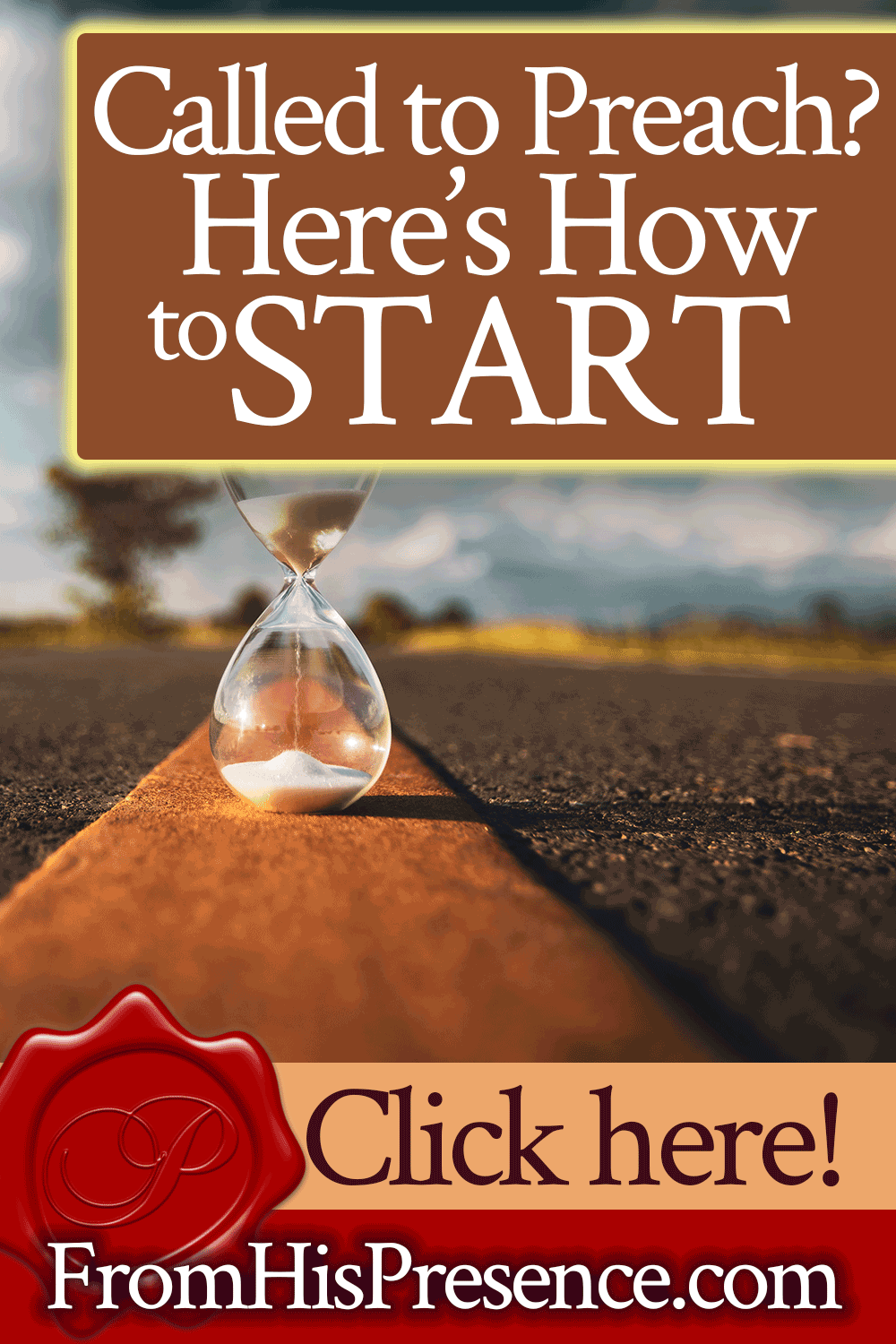 Are you called to preach–but you haven't received any invitations to preach yet? Do you feel stuck in the frustration of being called, but having no opportunity?
If so, then I have a word for you today:
Stop waiting for a middleman. Create your own opportunity and start preaching anyway.
When God called me to preach, I was young in the Lord. I knew I had a lot of growing and studying to do before I could ever be found worthy to stand in a pulpit.
So, I didn't worry about the call too much. I knew about it, and I prayed about it; but I also knew that I was in a season where I just needed to get to know God. I talked about the Lord to anyone I could, but other than that I spent all my time seeking God, one-on-one alone with Him in prayer and Bible study. Hours every day; hours upon hours upon hours. Seeking God was my primary social life.
But after several years had passed and I knew God better, my heart began yearning to walk in my call to preach.
I knew 2 Timothy 2:15, which says:
"Study to shew thyself approved unto God, a workman that needeth not to be ashamed, rightly dividing the word of truth" (2 Timothy 2:15 NKJV).
Or, in the NKJV:
"Be diligent to present yourself approved to God, a worker who does not need to be ashamed, rightly dividing the word of truth" (2 Timothy 2:15 NKJV).
And I noticed that this Scripture doesn't say, "Study to get approved." No; it says "Study to show yourself approved." In other words, the studying demonstrates to other people that you are approved by God.
So, looking at the opportunities around me (or lack thereof), I decided to go to seminary.
Now, I don't believe that seminary is necessary for every person. But, in the church culture I was in at the time, there was very little opportunity for things like preaching.
There was plenty of opportunity to show up and work for the church for free, which I did. I counted my hours one time, and realized I was spending 17 hours per week volunteering at the church for free. And to be honest, every single hour was a joy. I have no problem with serving; we MUST serve.
But there was very little opportunity for people like me to begin preaching.
There were a few opportunities, and I was grateful for those. But not very many. And I believed that the problem must be that I had not been to seminary. So I went to seminary to show myself approved.
Seminary really helped me, because it strengthened my faith in areas I had never studied before.
I took a 4-course series on Systematic Theology, and I would recommend that to every believer. (At least, every believer should read a book on Systematic Theology.) That is the #1 thing that helped me in seminary; it taught me aspects of theology–the study of God–that I never would have understood without taking those courses.
But, if I had known how, I could have studied all the things in seminary on my own without actually going to seminary. (And you can, too.)
When I graduated from seminary, I assumed that people would start calling and inviting me to preach.
I laugh at this now, because it was incredibly naïve of me. Nevertheless, that was what I believed. And to be honest, I was heartbroken when that didn't happen. After all, I had shown myself faithful. I had proven that the anointing and power of God was on my life to preach.
And I got to preach once or twice. I'm grateful for those opportunities.
But I am called to minister the Word every day.
And if you can identify, you'll know that an occasional opportunity to walk in your spiritual gifts once or twice a year, or even once or twice every six months, doesn't cut it. When the Word of God is like a fire burning in your bones, you must preach the Word or die.
And that's where I was.
After agonizing prayer, I finally realized this:
God called me to preach. He did not call me to wait until someone else gets a witness.
God's call on your life is not a suggestion. It is an order; a commandment; a mandate. If you are called to preach, God did not call you to wait until someone else gets a witness that you are called to preach.
Matthew 28:18-20 says this:
"And Jesus came and spoke to them, saying, 'All authority has been given to Me in heaven and on earth. Go therefore and make disciples of all the nations, baptizing them in the name of the Father and of the Son and of the Holy Spirit, teaching them to observe all things that I have commanded you; and lo, I am with you always, even to the end of the age.' Amen" (Matthew 28:18-20 NKJV).
Frankly, every believer in Christ is called to preach. Preaching is not reserved for the elite few, or for people with the right family connections or the correct last name.
Preaching is not a privilege given to those who own a business or have a high net worth. Preaching is not reserved for people with 1 million followers on Instagram or their own TV show. Preaching is EVERYONE's responsibility.
Beloved, if you have given your life to Jesus Christ–making Him the Boss and Master of your life–then you have been both called and commissioned to preach.
No matter who you are.
So I surrendered to the Lord. I told Him I would do whatever it takes to preach the Word. I told Him:
I would paint the Word in a picture;
I would sing it in a song;
I would shout it from the rooftops;
I would write it in books;
I would preach from a pulpit;
I would do whatever it took and take whatever opportunity and methods were available to me to obey His call.
What I didn't know, behind the scenes, was that "the preaching circuit" was drying up.
See, in the USA anyway, in 2008 when the real estate market and mortgage banking industry crashed, many churches and itinerant ministries got in major financial trouble. People lost tons of money during that economic crash, so they weren't tithing as much and weren't giving offerings.
There was very little money available in many churches. So, many places stopped inviting visiting singers and preachers. They simply couldn't afford to invite them because they couldn't pay their travel expenses and honorarium.
And the "preaching circuit" has never recovered. And if you look at the preaching circuit now, it's often simply made up of various "good ol' boys' networks" who invite each other to their churches–and that's fine. But it has never recovered to what it was.
I didn't know that then, but I learned about it since that time from other people in the ministry who really got hurt during that cycle. And looking back, I can see God's hand at work.
See, when people view "preaching" as something you have to be invited to do, if God doesn't like that mindset, He'll dry up that river of opportunity.
And I can tell you right now He doesn't like that mindset. He doesn't like it because it's unBiblical. He doesn't like it because it contributes to an elitist mentality in the church. He doesn't like it because it exalts one person to be worshipped while alienating the sons and daughters who desire to serve and be faithful to God.
Because you are called to preach. We all are.
And you don't have to have an invitation, a pulpit, a bodyguard, an honorarium, an escort, a flyer, a business card, a playbill, a conference, a revival service, or a church building in order to preach.
I'm not saying there's anything wrong with business cards, pulpits, honoraria, conferences, or revival services. I'm saying that God closed one river of methodology in order to expand the way His children thought–especially those who were just getting started.
Because through it all, God built culture so that it was perfectly positioned to receive from His new preachers.
God's "new preachers" are the ones who don't have a playbill or a business card. They are the ones who are called and have been faithful to study and do everything they could to prepare.
They are the ones the church has, for the most part, ignored, neglected, and forgotten. They are the ones of which many "old-school" people are jealous, because they think differently and are blessed for it.
God's new preachers are the ones who are willing to be brave and preach anyway, even if they are not embraced by the establishment.
And God's new preachers use the internet.
I truly believe that God invented the internet to facilitate the preaching of His Word.
God has always changed and grown culture and inventions in order to facilitate and support His plans and His will. Think about Jesus and His crucifixion:
It could not have happened at any other time in history because the Romans HAD to be in power; they were the inventors of crucifixion.
The Jewish people HAD to be in a state of "hearing they do not hear" in order to betray Jesus.
Prophecy after prophecy about Jesus' life could not have been fulfilled unless the political and cultural situations in Israel at that time were exactly what they were.
And do I believe that God sent Jesus to earth at exactly the moment He did because He knew the time was right, and the cultural "womb" was perfectly prepared for Jesus' ministry–including Jesus' death by crucifixion?
Absolutely, I do. The evidence is irrefutable.
And beloved, I believe God sent you to earth at such a time as this for the exact same reason.
God has called you to preach, and He has prepared a culture that is ready, willing, and eager to receive His Word of salvation, hope, joy, and healing. As it says in Isaiah 61:1-3:
"The Spirit of the Lord God is upon Me,
Because the Lord has anointed Me
To preach good tidings to the poor;
He has sent Me to heal the brokenhearted,
To proclaim liberty to the captives,
And the opening of the prison to those who are bound;
To proclaim the acceptable year of the Lord,
And the day of vengeance of our God;
To comfort all who mourn,
To console those who mourn in Zion,
To give them beauty for ashes,
The oil of joy for mourning,
The garment of praise for the spirit of heaviness;
That they may be called trees of righteousness,
The planting of the Lord, that He may be glorified" (Isaiah 61:1-3 NKJV).
That was the mantle on Jesus' life, and it's the mantle on your life too.
And both culture and people are perfectly prepared to receive the message.
The problem is that many people have been brainwashed–yes, I'll say it, brainwashed–by a seasoned preaching elite who:
are not healed on the inside and they're working for love, so they equate attention with love and if the attention is not all on them, they "aren't loved." So they can't raise other people up around them because then they won't feel loved.
Or, in some cases, for the same reasons above, they can't raise anyone up around them unless they get the credit for it–so if God Himself raised you up, they won't acknowledge it because they get no credit.
There are other reasons; insert them on your own. Suffice it to say that people have been brainwashed into thinking that XYZ–and only XYZ–qualifies a preacher, and that the pulpit is the only place to preach.
WALK IN YOUR SUPERNATURAL IDENTITY
9 Power Gifts of the Spirit EBOOK!
Do you want to walk on earth as Jesus did, manifesting miracles and living in the supernatural? If so, then this ebook is for you!
But you know what? There are many places to preach. And the time of the middleman is over.
I'll say it again: the time of the middleman is over.
You no longer need a church job, a title, ordination, and a pulpit to preach.
People are forsaking regular church attendance in droves. (It's sad; we need corporate worship and teaching.) But people want something real, and sitting in rows watching "the anointed ones" do the ministry is no longer sitting right in people's spirits.
People want real community, real relationships, real mentoring, real teaching, real equipping, worship that isn't limited to three fast songs and a slow song. And people want to exercise and walk in their spiritual gifts every day, not just once in awhile "when the pastor releases you."
This is why I believe the house church movement and micro-church movement are rising up, but that's another article for another day.
Anyway. The time of the middleman is over.
People want what's real–and so many people are getting free enough to recognize that "receiving ministry" from someone with a church job title does not equal what's real. And so people gravitate to learning with people, and associating with people, who help them to REALly grow and REALly learn and REALly practice walking in victory.
That includes you. People are waiting for you to preach, because you're real.
Now, that doesn't mean to preach when you're not prepared. If you've never read your Bible, don't be so stupid as to put yourself on the front line of spiritual warfare–which preaching IS, make no mistake–without being adequately armed. You do have to study and prepare in order to preach.
But even if you just got saved, you can share your testimony. You can find one Bible verse and preach your testimony and tell people what Jesus did for you.
That's what the apostles and new converts did in the book of Acts: they told everyone what they had seen and heard.
Acts 4:18-20 tells us what the apostles (the young upstarts) said when the Pharisees (the religious establishment) rebuked them for preaching Christ:
"So they called them and commanded them not to speak at all nor teach in the name of Jesus. But Peter and John answered and said to them, 'Whether it is right in the sight of God to listen to you more than to God, you judge. For we cannot but speak the things which we have seen and heard'" (Acts 4:18-20 NKJV).
Did you get that?
"We cannot but speak the things which we have seen and heard."
Beloved, the apostles weren't religious pros. They were fishermen and one guy was a tax collector–the lowest of the low on the social ladder. They didn't have a pulpit, a business card, or a speaking circuit. They didn't have an annual budget or a TV show.
But they were filled with the fire of God and were telling everyone what they had seen and heard.
You can do that too. And you must, because the time of the middleman is over.
You no longer need a pastor's permission to reach people. You no longer need the bishop's anointing to preach. YOU can reach people directly–no church permission needed. You can tell EVERYONE what you have seen and heard.
And if you will start, the Lord will bring the people to listen to you who need to hear your message.
He will bring you the people whom He needs YOU to disciple. He will gather the people to you who need to hear YOUR testimony. He will surround you with people whom you can bless, you can mentor, you can encourage.
With YOUR testimony.
With the one verse YOU have learned.
With the study you have done.
This isn't a license not to study and prepare; the call to preach is the call to prepare. You should get to know your Bible forward and backward if you don't already.
But you no longer need a middleman.
You don't need a pastor to invite you.
A middleman is not coming.
Stop looking for a kingmaker. Stop waiting for a kingmaker.
The King, King Jesus, has already called you. He has anointed you and equipped you.
And if you are called to preach–if you are willing to obey God's call no matter what–then it's time for you to preach.
I leave you with the words of 2 Timothy 4:1-5:
"I charge you therefore before God and the Lord Jesus Christ, who will judge the living and the dead at His appearing and His kingdom:
Preach the word! Be ready in season and out of season.
Convince, rebuke, exhort, with all longsuffering and teaching. For the time will come when they will not endure sound doctrine, but according to their own desires, because they have itching ears, they will heap up for themselves teachers; and they will turn their ears away from the truth, and be turned aside to fables.
But you be watchful in all things, endure afflictions, do the work of an evangelist, fulfill your ministry" (2 Timothy 4:1-5).
Beloved, are you called to preach? Then it's time for you to write your book, build your blog, start that YouTube channel, begin recording that podcast. This is your moment. You must preach, for the Word of God will consume you without release or recourse until you do.
Are you called to preach? Have you been waiting for a middleman? Is this word for you today? If so, stop and leave a comment below.