How To Dominate Your Spiritual Atmosphere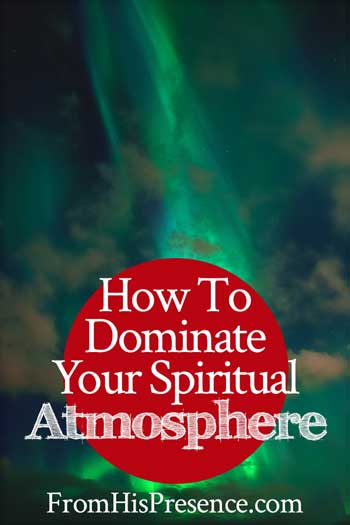 This last weekend was one of the highlights of our ministry so far here at From His Presence(R). We hosted our first live conference, called "Inheritance: Claiming the Blessings that Belong to You," and it was OFF THE CHARTS.
This morning, as I'm reviewing the weekend and gathering testimonies to share with you on the blog this week (please send me your testimony if you haven't already), Holy Spirit sat down on me to write to you about how to dominate your spiritual atmosphere.
Here's the thing:
There is always a war going on for the ATMOSPHERE around you.
Always.
Ephesians 2:2 says:
And you He made alive, who were dead in trespasses and sins, in which you once walked according to the course of this world, according to the prince of the power of the air, the spirit who now works in the sons of disobedience …"
Did you notice? The enemy is the prince of the power of the AIR. The prince, but an unholy one … and NOT the King. Jesus is the King, and all things are under His feet. Everything in Heaven and earth belongs to Jesus.
The enemy just tries to steal whatever he can.
So why does the enemy want to steal power over the AIR around you?
Because if he has access to the air around you–your ATMOSPHERE, in other words–he can send his evil minions–demons–to infiltrate it. Those demons cannot possess you if you have given your life to Christ. But they CAN sit in the air around you. And from that position, they whisper their evil lies in your ear.
That's why it's so important to protect–no, dominate over–your spiritual atmosphere. Dominate over the air around you.
So how do you dominate over your spiritual atmosphere?
1. Cleanse and anoint your house/office/church/wherever.
Here's how to cleanse your house. Modify the principles as needed to apply to your office, church, whatever.
2. Lift up the name of Jesus.
I was teaching this to my Presence Seekers University members a few weeks ago, in an email entitled The Easiest Way to Win in Spiritual Warfare. The absolute most powerful way to win in spiritual warfare–and also how to dominate your atmosphere–is to continually lift up the name of Jesus.
That's why I love Kara Green's worship so much. (She is the worship leader who led worship at this weekend's conference. She's my favorite!) Kara and I learned this principle together when we were leading a long series of church prayer meetings together.
We were praying for God to protect the church from some attacks of the enemy, and the Lord showed us that Jesus is both our worship and our warfare.
Beloved, if you didn't get Kara Green's album of prophetic worship this weekend, GET IT NOW on iTunes or by ordering it through Kara's website. It has 10 of her prophetic songs on it that lift up the name of Jesus–songs that are birthed in intercession and DEEP times of glorious worship. I play this album for hours at a time, and you would not believe the glory that sits down on me when I do. Bless yourself and grab this album TODAY!
So we began lifting up the name of Jesus. We sang and prayed into the descriptions of Him from the book of Revelation. We sang into His name "Jesus." We prayed and sang into dozens of His names, like:
Wonderful
Counselor
Mighty God
Everlasting Father
Prince of Peace
Pure and Spotless Lamb
Father of the fatherless
Protector of widows
The Lamb of God which takes away the sin of the world
The Root and the Offspring of David
The Bright and Morning Star
Prince of Peace
King of Israel
Emmanuel
Messiah
Savior
Mighty Warrior
Sustainer
Lord of Hosts
God of the angel armies
The list goes on and on! When you get in His flow, Holy Spirit will reveal Jesus to you and the revelation of Him just won't stop. The subject of Jesus is inexhaustible!
Well, that's what we did this last weekend at the conference too.
We didn't really get into the long list of Jesus' names, but we did lift up the name of Jesus. Kara and our band sang song after song about Jesus. Prophetically, they sang into the beauty and holiness of Jesus.
And that is one of the huge reasons why the Holy Spirit sat down so powerfully on the conference. It's also why He unleashed loads of prophetic words … because the testimony of Jesus is the Spirit of prophecy (Revelation 19:10).
As a matter of fact, as I'm typing this word out, I'm listening to Kara sing about Jesus right now (from a recording). And that song–that lifting up of the name of Jesus–inspires me all over again.
It's simply ALWAYS true:
Whenever you start testifying about Jesus, singing about Jesus, and lifting up the name of Jesus, YOU WILL DOMINATE the atmosphere …
… and whatever else you're doing that He's called you to do …
… because JESUS dominates the atmosphere.
Everywhere He goes. Everywhere He is welcomed. Everywhere He is exalted.
He's the First. He's the Last. He's the Alpha and Omega, the Beginning and the End. He's the Be All and End All of everything. He's the First Word, and He's the Last Word.
He's Jesus.
And that's really all there is to it. JESUS. There's no greater name in Heaven or on earth, and there's no other name given among men by which men must be saved.
Jesus.
And when Jesus is enthroned in the atmosphere around you, everything is different.
You have an easier time focusing on Him. Temptation can't get to you. You have creative inspiration and ideas. You'll have a holy flow to do everything you need to do, and it becomes easy.
Most importantly, as long as there are no other barriers between you and Him (like these 3 things that keep you from feeling God), you will sense His presence with you.
Then, keep your atmosphere clean.
When things happen where you are–like violence, cursing, negative attitudes, sexual perversion, or anything else evil–those things impact your atmosphere. This is true even if those things come into your environment over TV or radio! (Remember, the devil is the prince of the power of the air.)
So keep your atmosphere clean. If something nasty happens there, command it to leave in Jesus' name. Anoint your house again if you need to (if your house doesn't feel right again after telling that thing to leave in Jesus' name). Play music that lifts up Jesus all day, every day, even if you're not home.
(By the way, Jon Thurlow is another worship leader who has great music that lifts up Jesus.)
Wherever you are today, I implore you: dominate your atmosphere by lifting up the name of Jesus.
He's worthy of the worship, and you'll benefit greatly from the help you'll receive from Him when HE'S enthroned in the atmosphere around you and the enemy is kicked OUT.
Is Holy Spirit speaking to you about taking charge of your atmosphere today? Leave a comment below if so!
Would you help me with my work of reaching people for Jesus as a domestic missionary? I need you; we are in this together! This blog, and all of the Kingdom work we do in this community together, are made possible through your partnerships, donations, and product purchases.
If you'd like to help, please check out the partnership details and products available for sale here. And, thank you in advance for helping make this blog and everything we do together for the Kingdom possible!