Father Says: "Don't Cry. I've Got You."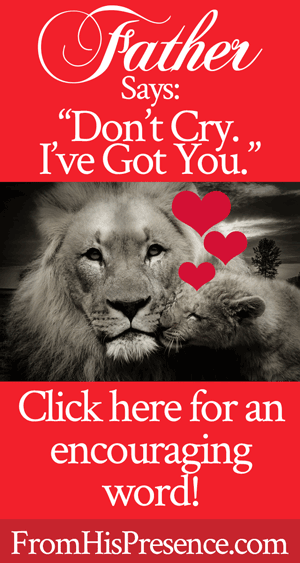 My son wouldn't stop crying this morning. He's just over three months old, and he's going through a developmental leap right now. Leaps make babies extra-fussy, and he was sure demonstrating that today.
At first, I wore him in my baby wrap; usually the closeness of being snuggled up to my chest calms him down after a few minutes. But today, it didn't work. Then I changed his diaper, just in case. Didn't help. I tried feeding him, but he wouldn't eat. He still cried and fussed.
So I walked him around the house; that usually helps too, because he can feel the movement and (I'm told) it reminds him of the womb.
No go, though. Still crying and crying and fussing.
So finally, I sat down with him in my rocking chair and just rocked him.
He kept crying, sometimes at the top of his lungs. All the while, I was holding him tight to my chest and nuzzling his head. He was swaddled and warm and all of his needs were met. He was safe as can be.
But he kept crying.
Finally, after a long time of crying, I grabbed my phone and turned on my favorite song: "Good, Good Father" by Housefires. This song means the world to me, and I played it a lot while I carried Elijah in the womb. So he heard it a lot.
The guitar intro came on, and he didn't stop crying. The vocals began, and I sang along, and at first he still cried.
But gradually, as the words "You're a good, good Father … It's who You are … It's who You are … It's who You are … and I'm loved by You … It's who I am … It's who I am … It's who I am … You're a good, good Father …" sounded in the room, a miracle happened.
Suddenly the strength of his crying began to ease.
Within a few moments, it stopped together.
Within a minute or two after that, Elijah was sound asleep.
And I got a revelation.
The whole time my son was crying, he was in my arms. all his needs were met in spades. I love him with all my heart and was making sure he wasn't cold, hungry, wet, or anything else.
But he didn't receive my comfort at first. Not until I played him the song about his good, good Father–a song about how Daddy's got him, and how He's perfect in all of His ways, and he's loved by his Father–was he comforted.
And I think you and I are exactly like that.
At least, I know I am, so often.
When I get sad or upset about something, I'm fussy. Sometimes I cry. Sometimes I won't stop crying. And all the while, Father's got me. He has already made sure I'm warm, fed, dry, and in need of nothing.
But still I fuss. I fuss even while my good, good Father holds me tight to His chest with both arms, face nuzzling mine, taking care of me with His big, strong love.
But not until I get a revelation that He's a good, good Father, and that's who He is; and I'm loved by Him, and that's who I am, am I comforted.
Not until I truly understand, yet again, that He's got me and He's perfect in all of His ways–so He's got this, and it will be okay–do I stop fussing.
Not until I receive His love for me do I stop crying.
I'm just like my son in that respect.
Aren't you?
We're all our Father's babies. And just like He's holding me, He's holding you right up against His chest right now too.
He's got both of His big, strong arms wrapped around you. He's already wrapped you in a blanket and keeping you so you can't get out. He knows that the safety and security of His arms is what you need. He's fed you; even though you'll be hungry again in the future–at which time He'll provide again–RIGHT NOW you have everything you need.
And your good, good Father is holding you in His arms, rocking you back and forth, and saying: "Don't cry. I've got you."
He's got you.
You're safe.
And you're loved.
You have nothing to fear. Nothing to worry about. Just like I could see my son's needs and I made sure they were all met, Father sees all of YOUR needs–even more than we mothers ever could–and He's got them all taken care of.
All that's left for you is to receive His love, trust Him, and rest on His chest.
He's a good, good Father. He's perfect in all of His ways. Anything He has allowed, He's working out for your good. Anything you need, He has already provided. All of your cries are heard–
–but not heard from far away.
Your cries are heard in His ears that are right above yours, because you're nestled right under His chin and He's kissing your head right now.
"Don't cry. I've got you," Father says.
"Don't cry. Shhhhhhh. Shh shh shh shh shh. I've got you. Muah muah muah muah (insert Father's kisses on your soft, downy hair here). Shhh. Everything is all right."
"I've got you."
And He does!
Will you rest in Him today? Will you receive His love?
Your good, good Father loves you with an everlasting love. With great mercies He has borne you. He has carried you all the days of your life. He's carrying you in His arms right now, and He'll continue to do so. He's never going to set you down, not ever.
Father's got you. His big, strong arms are wrapped around you and He's holding you tight to His chest …
… And you are loved.
Listen to Housefires sing "Good, Good Father" today (video below), and meditate on your Papa's love. He's got you. Don't cry. You're safe, and you're going to be all right.

Does this word minister to your heart today? If so, please leave a comment below. I love to hear from you!