The Real Reason You Exist (and It's Not To Worship)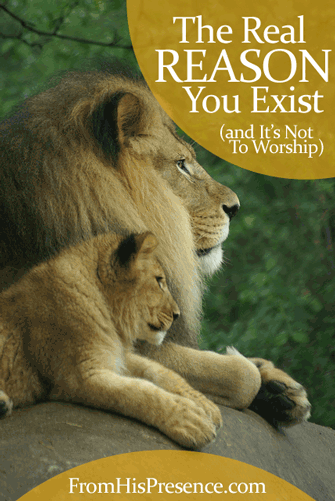 There's a Christian fallacy out there that's really popular. That fallacy is the teaching that the reason you exist is to worship God.
There's only one problem with that: the reason you exist is NOT to worship Him.
"Whaaaat?" (All the religious and spiritual people just gasped in shock.)
That's right. I know people say that the reason you exist is to worship God. It sounds spiritual. It sounds Biblical. It sounds really noble, and worship is spiritual and noble and Biblical and necessary and wonderful and more. I love to worship and am not belittling worship or saying it's not important at all; it's one of the most important things we could ever do.
But worship is not the reason you exist, and the paradigm that it is has caused a lot of pain in the Body of Christ.
Why pain, you ask? Because if people think they exist for the wrong purpose, then they keep trying to fulfill their purpose the wrong way. They end up frustrated and unfulfilled, even when they engage in the most spiritual of activities. We have a lot of people trying to worship their way into fulfillment.
So what is the reason you exist?
The reason you exist is just to be with Him; to exist in His manifest presence. Jesus died so you could access the Father's immediate presence.
How do we know?
Because Scripture tells us so, which I will explain below. But first, consider this foundational truth:
Our purpose for existing cannot be an action that we do.
If God needed an action performed, He would have had the angels and hosts of Heaven do it. He has plenty of servants, and He didn't need any more.
So what did He want?
He wanted companionship. He wanted a family. He wanted sons and daughters that would just be with Him.
"But that messes with my religious mindset," you say. "I'm accustomed to working for love and acceptance, and that seems too easy."
I know it seems easy, and it is. And I know it messes with your religious mindset, because "worship-as-the-reason-you-exist" has been taught so long in religious circles. It's true that Scripture tells us that we were formed to worship, but the context and meaning of the words "formed" and "made" etc are better translated as "engineered for," like you were made to walk and talk and see and hear. You were definitely made with the ability to worship, and you should worship every moment of every day.
But when we say that worship is the reason for our existence–the reason God made mankind–we cross into fallacy. Here's why:
When we believe that worship is the reason we exist, we try to fulfill our purpose by worshipping. That's a problem. We try to fulfill our purpose through an action or a even state of mind and heart–which is still achieved by actions–and by doing so, we fall into a trap of working for acceptance.
Yet we could never fulfill our purpose through an action. If activity is the reason we exist, we would be automatons, not sons.
Let me put it even more bluntly:
If worship is the reason you exist, you would have worshipped, and the cross would not have been necessary.
Yet Jesus' death on the cross was necessary. Why?
Because without the shed blood of Jesus, we had no access to God…
… and the reason we exist is just to be with Him.
We were made not to perform an action, but for a state of being. We were made to be in His presence. We were made for a state of companionship: being with Him.
Think back to God's original design. He made Adam and Eve, his son and daughter, and put them in the Garden, where He walked with them in the cool of the day. They had tasks to fulfill–taking care of the Garden–but their main purpose was just to be sons. They were God's companions; His family. God's delight was just in loving them and being with them.
He desired to have children, you see. So He made them, and He made them absolutely perfect so He could be with them.
That's why the first mention of our relationship with God (the creation account) was all about Him being our Father and our just being together with Him. It wasn't about worship. It was about being together in perfect love and harmony.
The whole reason He wanted children was just so they could be with Him. They were the object of His affection.
You were also made to BE–to simply exist–in His Presence. Why? Because in Him we live, and move, and have our being (Acts 17:28).
That's what Scripture clearly teaches:
just as He chose us in Him before the foundation of the world, that we should be holy and without blame before Him in love, having predestined us to adoption as sons by Jesus Christ to Himself, according to the good pleasure of His will" (Ephesians 1:4-5).

"For through Him we both have access by one Spirit to the Father" (Ephesians 2:18).

"In this the love of God was manifested toward us, that God has sent His only begotten Son into the world, that we might live through Him" (1 John 4:9).

"And we have known and believed the love that God has for us. God is love, and he who abides in love abides in God, and God in him" (1 John 4:16).

"We love Him because He first loved us" (1 John 4:19).
He chose us before the foundation of the world, that we should be with Him . Jesus laid down His life so that we could know His presence. Now it is our privilege to simply exist in His presence.
You were made to be His companion.
That's why 1 John 3:1a tells us:
Behold what manner of love the Father has bestowed on us, that we should be called children of God!"
And that's why Jesus taught about just being with Him:
At that day you will know that I am in My Father, and you in Me, and I in you" (John 14:20).

"As the Father loved Me, I also have loved you; abide in My love" (John 15:9).
You were made just to be with Him.
You don't have to strive. You don't have to perform. You don't have to worship hard enough, sing your song well enough, be popular enough, be skillful enough, rich enough, prestigious enough, or successful enough. You just have to enjoy His presence. Rest and let Him love you with His fierce, strong love.
You were made just to be with Him.

I am captured by His presence, and have become even more gripped by it just writing this blog post. When I think about it, my breath draws up short and I can only whisper.
Think of the greatness of this call, this purpose. Think of the greatness of a Father who loved you and wanted you so much that He made you just so He could enjoy your company. Then, when we sinned and could not be with Him anymore, He sent Jesus–Immanuel, God With Us–to bridge the gap so we could enter His presence again.
Our fiercely loving Father made us just to be before Him in love. Then He fulfilled our purpose for us, because in Christ we have access to Him and His love.
I am captivated by this truth. I was made to be with Him, and so were you.
So just let yourself enjoy His presence with you today. Ask the Holy Spirit to help you sense His presence and His affection.
And rest. Stop performing. Stop trying to work for acceptance. Don't worry; your worship and service and love for God won't go away. They will simply flow automatically as you rest in the main thing.
You were made for the Presence of God. He loves you and delights in your company. You were born for His Presence.
How does this truth transform your paradigm? Leave a comment below!
Image courtesy of Bethany Weeks on Flickr.