FREE Spiritual Gifts Inventory!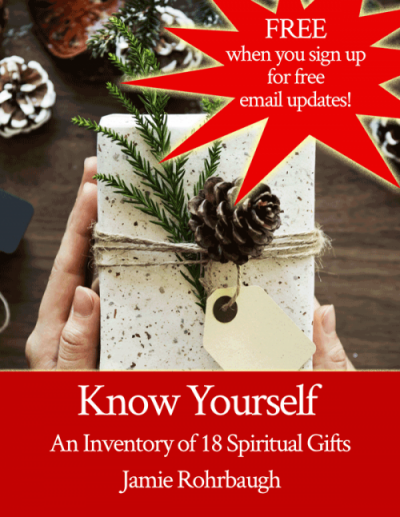 Would you like to know what your spiritual gifts are? You can, with my new, FREE spiritual gifts inventory!
"Spiritual gifts" are special abilities that God gives to every person when they give their life to Jesus.
Know Yourself: An Inventory of 18 Spiritual Gifts contains:
Scripture references to where each gift is found in the Bible;
bullet-point teaching about each of 18 gifts of the Spirit; and
a 90-question survey (with a simple scoring grid) that will help you figure out what your gifts are, and which of your spiritual gifts are strongest.
This spiritual gifts test is written from the supernatural point of view that we find in the Bible–not watering down any of God's powerful gifts to present them as less sensational or less powerful than they really are, as some spiritual gifts tests do!
This 15-page PDF ebook is instantly downloadable, and it's available to everyone who signs up for my free email updates. (You can unsubscribe at any time.)
Enroll here in free email updates and receive my FREE spiritual gifts inventory when you confirm your subscription:

Need more info about this free spiritual gifts inventory?
Here are the gifts I discuss in the book:
Prophecy
Ministry/helps
Teaching
Exhortation
Giving
Leading
Mercy
Word of wisdom
Word of knowledge
Faith
Gifts of healings
Working of miracles
Discerning of spirits
Different kinds of tongues
Interpretation of tongues
Craftsmanship
Celibacy (don't worry, this is not the same as involuntary singleness) 🙂
Administrations
This free spiritual gifts inventory will not only help you figure out what you're called to do, but it will also help you determine where and how you can serve others and still enjoy it. It will also show you which gifts you don't have yet, so you can ask God to give those gifts to you too. He'll give you all the spiritual gifts if you ask!
Convinced?
Enroll here to sign up for free email updates and get Know Yourself, my free, 15-page, instantly-downloadable PDF spiritual gifts inventory, when you confirm!
* We value your confidentiality and never share or sell your email address. We believe our free email program, Presence Seekers' University, will bless you, and we'll never spam you. However, you can always unsubscribe at any time if you don't benefit from our emails after all. The free spiritual gifts inventory is yours to keep regardless. 🙂