How to Claw Your Way to Victory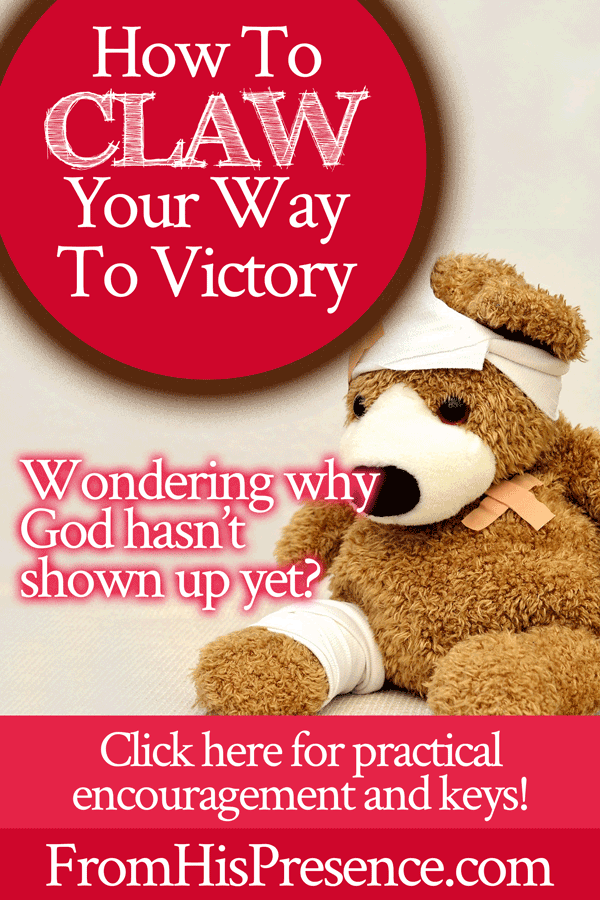 I sat in the shadows of the stage with my djembe, discouragement and depression swirling through my mind. As a member of the worship band, I was trying so hard to focus on the worship service–but my mind kept wandering toward my miserable circumstances.
For about two years, my circumstances had felt overwhelming … and I didn't know why God wasn't doing anything.
I had fought it all. Depression, suicidal thoughts, anger, rage, frustration, bitterness, and more. You name it; I had been battling it. And battling it … and battling it. It seemed like the battle never ended. "Why, God?" was the constant cry of my heart.
Suddenly, though, in a moment of help from above, I realized:
"I'm sitting in this worship service feeling sorry for myself. I'm not worshipping. And yet, no matter how I feel, God is the same. He is good. He is righteous. He's holy. He's pure. He will perfect all things that concern me, and I can trust Him … whether I feel like it or not."
And in that moment, I decided to worship anyway.
I decided to worship God because He is good, and He deserves to be worshipped. His goodness doesn't vary from day to day. His faithfulness never fails. He always has me in the palms of His hands … whether I feel like acknowledging that today or not.
So I lifted my hands to my Father, left the frustrations behind, and worshipped the Lamb of God who takes away the sin of the world. And when I did, my perspective changed. My heart changed; and, although I still struggled with the circumstances, I never again struggled with feeling distant from God within those circumstances.
Can you identify?
Beloved, have you been wondering where God is lately?
If so, I want to bring you a word of hope today. Today, I want you to know:
God is good, and He is faithful, and He is right there with you right now.
As a matter of fact, if you have made Jesus Christ the Lord and Boss of your life, Jesus lives inside you. So does His Spirit. There is no distance in between you. He has not let you go. He has not left you, and He will never fail you.
I know things don't always FEEL like God is with you. I get it.
But He is.
Beloved, today, listen to the words of the apostle Paul from 2 Corinthians 4:8-10:
"We are hard-pressed on every side, yet not crushed; we are perplexed, but not in despair; persecuted, but not forsaken; struck down, but not destroyed—always carrying about in the body the dying of the Lord Jesus, that the life of Jesus also may be manifested in our body."
Jesus never promised that attacks wouldn't come against your life. In fact, He promised that they would.
In John 10:10, He said that the thief (Satan) does not come except to steal, kill, and destroy. BUT, Jesus came that we might have life, and have it more abundantly.
What does that mean for you?
It means that attacks will come, but you can win anyway if you'll appropriate the victory that Jesus purchased for you on the cross. The enemy may come against you one way, but he'll flee before you seven ways. The enemies who rise up against you shall be defeated before your face. And the enemy you see today, you can defeat so handily that you will never see them again.
It's all because Jesus died for you to have victory.
Sometimes you have to claw our way through to victory, though.
Getting attacked is hard. Being "pressed but not crushed" is not comfortable. Nobody wants to be pressed, perplexed, persecuted, or struck down! Nevertheless, thank God: when these things happen, we can claw our way through to victory.
What does it look like to claw through to victory?
Sometimes it means you double up on your prayer efforts.
Sometimes it means you pray in the Spirit in your car for an hour at your lunch break, even if your tears soak your car's seat.
Sometimes it means you get up and put one foot in front of the other, all day long, when all you want to do is hide in bed.
Sometimes it means you take another breath, and another breath, and another breath; and you decide that you are going to do ONE thing today that needs to be done.
Sometimes it means you make a to-do list, and you mechanically cross each thing off–because you don't want to do anything at all, so you can't rely on motivation.
Sometimes it means you stand up on the stage, in the shadows with the drums, and worship God despite how you feel.
Are you feeling crushed, pressed, shaken, flat, and unmotivated today?
Beloved, I understand. I really do. But you know what? You can't let the enemy win. He's trying to steal your peace, steal your joy, steal your right standing with and obedience to God, steal your family, relationships, finances, and everything else you have. Don't let him.
Acknowledge instead that God is good, and He's right here with you, and in Christ Jesus you're going to win this thing–even if you have to claw your way through to victory.
Lamentations 3:22-26 says:
"Through the Lord's mercies we are not consumed, because His compassions fail not. They are new every morning; great is Your faithfulness. 'The Lord is my portion,' says my soul, 'therefore I hope in Him!' The Lord is good to those who wait for Him, to the soul who seeks Him. It is good that one should hope and wait quietly for the salvation of the Lord."
God's compassion toward you doesn't fail. It will never fail. His mercies toward you are new every morning. He is good, and His mercies endure forever.
Beloved, even if you feel pressed, persecuted, and frustrated today, will you make the decision to worship Him anyway?
Making this decision will be a big step in your growth; a big indicator of victory. You can do it; the Lord will help you. And when you do, you will encounter Him right where He has been the whole time–rising up inside your heart.
Go ahead. Put on your favorite worship song and lift your hands to the Lord right now. And remember that you are worshipping Him because He's worthy, whether you feel like it or not.
Did this word speak to your heart today? If so, leave a comment below and tell me what the Lord is saying to you! I'd love to hear from you!