How to Take Communion at Home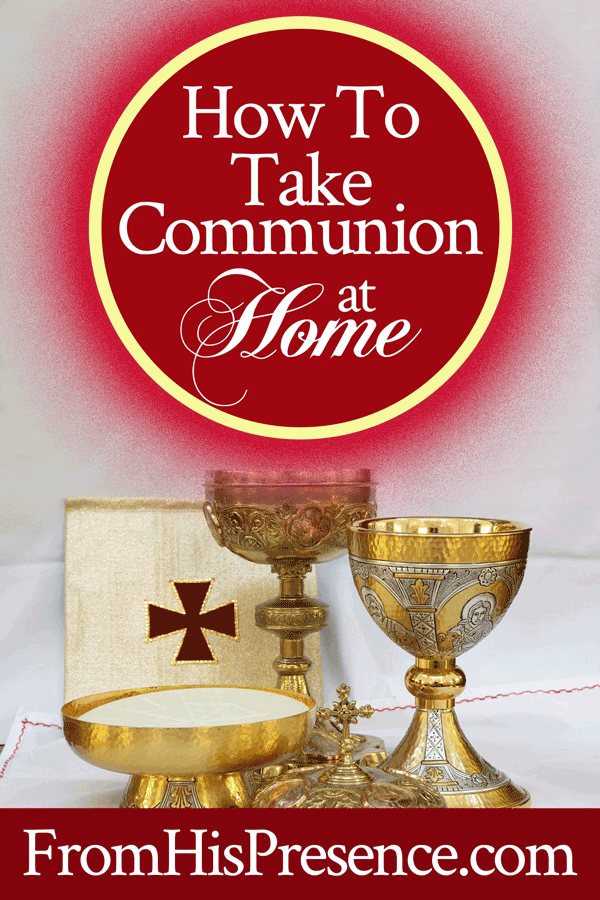 I received a ton of questions recently after I released a prophetic word saying that You've Been Fighting Witchcraft and You Didn't Even Know It. The questions were about 1) avoiding witchcraft, and 2) taking communion.
In this blog post, I'm going to attempt to answer questions I received about communion. I'll discuss avoiding witchcraft later.
The link below for pre-filled communion elements is an affiliate link. This means that, if you decide you want pre-filled communion elements and you purchase them using my link, this ministry will be paid a small commission by the manufacturer from your purchase. Thank you for helping support the ministry in this way.
Here were some of the questions I received about the Lord's Supper/communion:
1) Can you take communion at home?
Answer: YES!
Some folks may not realize that you don't have to wait for a priest or a pastor to administer communion to you. It's true; you don't. You can take the Lord's Supper either way–at home with the Lord, or at your church.
Taking communion (also called the Lord's Supper or the Eucharist) together with your local church body is a big blessing. It's a powerful time with the Lord. However, Jesus said "as often as you do this" when He administered the first Lord's Supper. That's important: "often." Jesus was encouraging us to remember Him often, and He prescribed the Lord's Supper as one of the ways to do that.
That's why I encourage people who are right with God to go ahead and take communion at home, just between you and God. You don't have to have a group, an audience, a priest, or a pastor. You can remember Jesus in this special way that He prescribed, at home.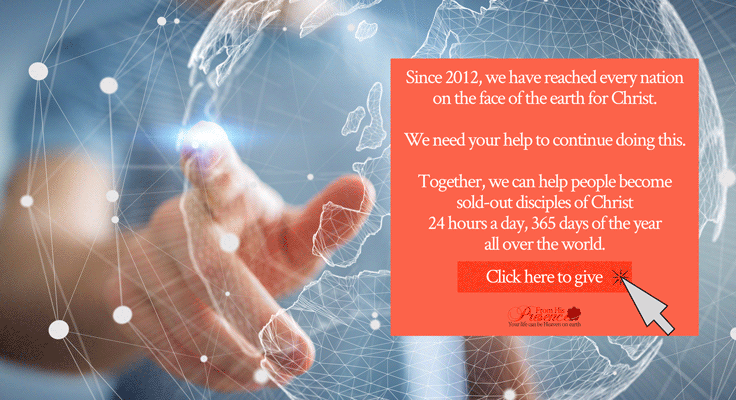 2) How do you take communion at home?
Well, first, you have to get your heart right. Taking communion at home or anywhere else can kill you if your heart isn't right. That's what Paul wrote in 1 Corinthians 11:27-34 when he said:
"Therefore whoever eats this bread or drinks this cup of the Lord in an unworthy manner will be guilty of the body and blood of the Lord. But let a man examine himself, and so let him eat of the bread and drink of the cup.

For he who eats and drinks in an unworthy manner eats and drinks judgment to himself, not discerning the Lord's body. For this reason many are weak and sick among you, and many sleep.

For if we would judge ourselves, we would not be judged. But when we are judged, we are chastened by the Lord, that we may not be condemned with the world.

Therefore, my brethren, when you come together to eat, wait for one another. But if anyone is hungry, let him eat at home, lest you come together for judgment. And the rest I will set in order when I come" (1 Corinthians 11:27-34).
In this passage, Paul wrote to people whose hearts were wrong when they took communion.
They were coming together to the Lord's Supper when they were hungry, so they were eating the bread and cup like a buffet. They were eating of these sacred elements to satisfy their own hunger, not as a sacred remembrance of the Lord.
Therefore, Paul rebuked them. He also told them that their inattention to the sacredness of this ceremony was actually killing some of them. He urged them:
to examine themselves before ever putting the bread and cup to their lips;
to act soberly and with decorum, not coming together like a herd of hungry sheep, each vying to get to the bread first; and
to be sure they had already eaten before they took the sacred elements, so they weren't doing so to satiate their hunger.
I can understand why there would be consequences for treating the body and blood of the Lord like a pizza buffet; can't you? That's why the first step to taking communion at home–or taking communion anywhere–is to examine ourselves.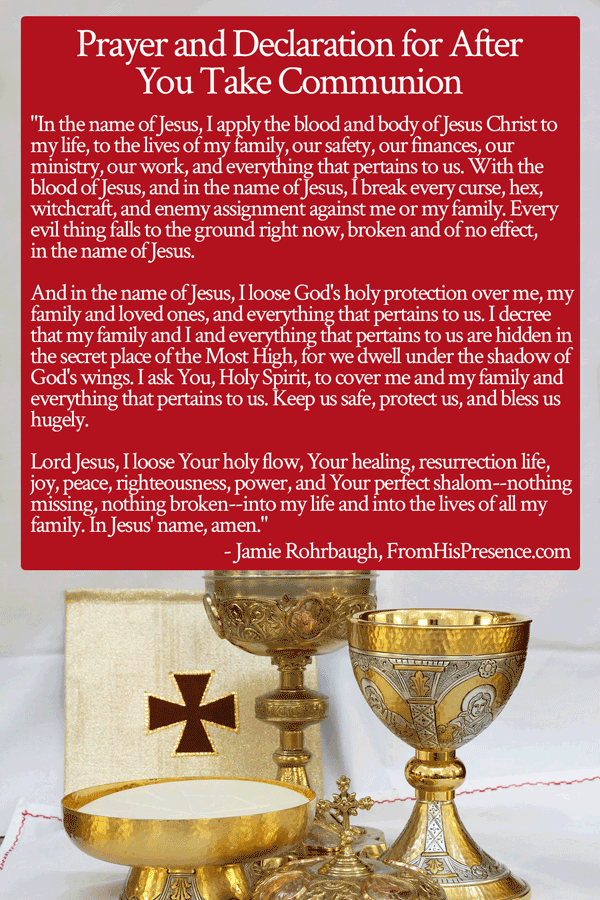 How do you examine yourself before taking communion?
Holy Spirit will lead you. I can only share what I do. When I sit down to take the Lord's Supper, I follow this general sequence of events:
I stop and pray first.
I ask the Lord to reveal to me if I have any unrepented-of sin; any unconfessed sin.
If I do, then I repent of it and confess it right away.
I also ask the Lord to cover me with His blood and fill me anew and afresh with His Spirit.
Then, I focus my mind on Jesus.
I imagine Him hanging on the cross; I remember the blood He poured out for me.
I look at Him and thank Him for dying for me.
I thank Him for forgiving my sins.
And I give my life to Him all over again.
Then, thanking Him for His sacrifice that saved me from death and gave me eternal life with Him, I eat the bread/wafer and drink the grape juice (representing His body and blood).
No matter how you do so, ask Holy Spirit to help you get right with God before you take communion at home or anywhere else.
After that, though, you take the elements.
What communion elements should you use? And, where do you get communion elements?
That part is easy! One option: Stop at the grocery store today and get some unleavened bread/crackers and some grape juice. I like to buy the unseasoned Triscuits, because they are striped and pierced, as many kinds of communion bread are. I also purchase the plain grape juice without additional fruit flavorings.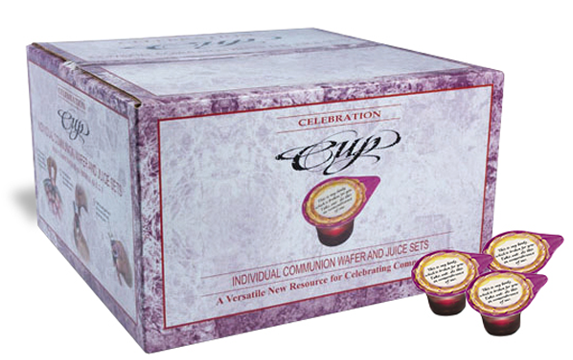 Or, you can purchase pre-packaged communion elements like the ones pictured above. I like to use those as well, if I have them handy. I have purchased (and definitely recommend) the pre-filled communion elements from Celebration Cup (affiliate link; click the photo above for more info). They are easy, clean, and create no dirty dishes. 🙂 Plus, you can easily transport them in your purse or bag anywhere you go. (And I do carry them with me.)
Then, together with whatever else Holy Spirit shows you to do:
Focus on Jesus.
Thank Him for His body, broken for you, and for His blood, shed for you.
Make sure there is no unconfessed sin or un-repented-of sin in your heart.
Then take one piece of bread or cracker and eat it.
After that, take a sip of grape juice.
Thank Jesus for His sacrifice; for forgiving your sins; for saving you; and for everything else you can think of while you do.
Communion is not a meal that is supposed to fill you up physically.
Remember that point from the passage above in 1 Corinthians 11. Don't pig out on communion, even if you really like Triscuits. 🙂 The apostle Paul was very clear about this. Communion is a sacred time with the Lord, not a main course, okay?
Next: When you take communion, pray and speak out loud something like this:
"In the name of Jesus, I apply the blood and body of Jesus Christ to my life, the lives of my family, our safety, our finances, our ministry, our work, and everything that pertains to us. With the blood of Jesus, and in the name of Jesus, I break every curse, hex, witchcraft, and enemy assignment against me or my family. Every evil thing falls to the ground right now, broken and of no effect, in the name of Jesus.

And in the name of Jesus, I loose God's holy protection over me, my family and loved ones, and everything that pertains to us. I decree that my family and I and everything that pertains to us are hidden in the secret place of the Most High, for we dwell under the shadow of God's wings. I ask You, Holy Spirit, to cover me and my family and everything that pertains to us. Keep us safe and protect us. Bless us hugely.

Lord Jesus, I loose Your holy flow, Your healing, resurrection life, joy, peace, righteousness, power, and Your perfect shalom–nothing missing, nothing broken–into my life and into the lives of all my family. In Jesus' name, amen."
That is what I speak out, or some variation thereof. It is powerful, and it makes a difference!
Related: If You Feel Like You're Going to Die Inside, Take Communion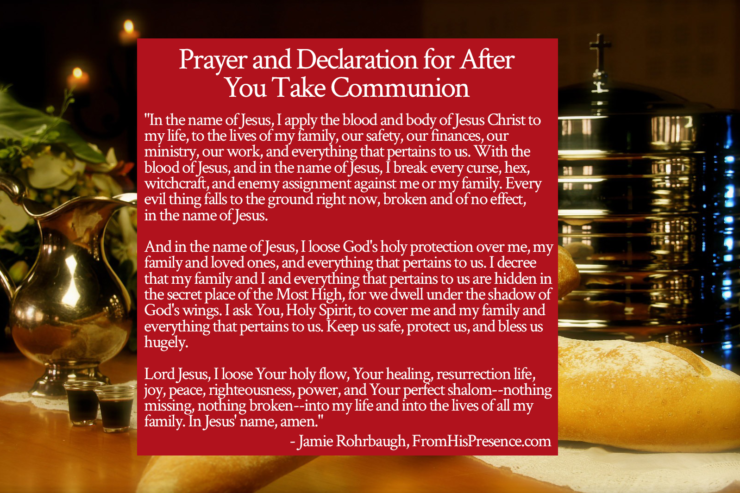 Finally: How often can you take communion?
Answer: Often! Every day if you want to–and I actually encourage you to partake of the Lord's Supper every day!
I'm trying to take communion every day, for the Lord has been whispering to me about a 40-day communion challenge. When I started doing this, the Lord made it abundantly clear that the spiritual warfare I was fighting was from someone who had loosed witchcraft against this ministry. BUT, taking communion broke that enemy assignment instantly.
The enemy simply has no power against the blood of Jesus.
The Lord's supper is a POWERFUL meal.
It is a meal that can be taken inside the church or at home between you and God. But no matter where you take communion, be sure your heart is right. Reflect on Jesus and what He did for you. Thank Him and praise Him–and apply His blood to your life in practical situations in prayer!
Are you in the habit of taking communion at home regularly? If not, do you plan to start this habit? Please leave a comment below and tell me what the Lord is speaking to you!