How to Tell If You're Nearing Breakthrough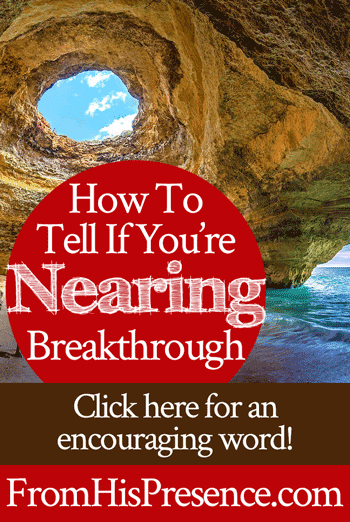 Has the enemy been throwing ridiculously-stupid darts at you lately? If so, laugh at the enemy today. Those darts are a sign that you're nearing breakthrough!
Here's what's happening:
When you're on the verge of breaking through into something major–whether it's a major blessing, a major opportunity, a major dream come true, whatever–you can sense it. You know that you've been praying, and you know the Lord is answering your prayer. Your faith is strong. You've put a demand on God based on the authority of His Word, and you know He will come through for you. You're standing on His promise.
Related: What Does It Mean to Put a Demand on God?
But then, all of a sudden, it may feel like you're taking three steps backward instead of moving forward. Suddenly, the enemy's fiery darts come at you, and you wonder if your breakthrough is really happening after all.
When that happens, very often, it's actually a sign that you're nearing breakthrough.
As in, breakthrough is imminent. Why? Because the darts themselves are a sign.
Here's how it works:
When the enemy knows God's move is established in your life, the devil will try his best to rile you up. Stupid things will happen, like:
You may battle confusion more than you usually do.
You may battle fatigue than usual–or notice your fatigue more than you usually do.
People whose actions are influenced by the enemy will try to make their drama your drama.
People will say and do rude, petulant things for no apparent reason.
People "operating in the ministry of discouragement" often seem to come out of the woodwork. Whether they're attacking your hairstyle, your appearance, your work ethic, or anything else, randomly-discouraging comments will come your way.
But you know what? It's smoke and mirrors.
These attacks can't actually hurt you. They are an illusion. They are spiteful attacks sent by the enemy because you've already won and the enemy knows it.
The enemy is just trying to throw you off the scent, but he overplays his hand.
The enemy can't stop your breakthrough. It's already finalized in the spirit realm. So instead, he lashes out at you in a different way. Jesus said that the thief does not come unless he's trying to steal, kill, or destroy (John 10:10), so that means there must be something to steal!
That's why we see those ridiculously-obvious attacks when breakthrough is imminent. And if we pay attention, we can see how ridiculous the attacks are.
That's what I mean when I say that the enemy "overplays his hand." The attacks become so obvious that we can KNOW God is on the move, and the enemy is just mad.
So, since the enemy knows you are nearing breakthrough, he tries to steal, kill, and destroy whatever he can. He tries to rob you of your joy. He wants to make you miserable so you won't enjoy your breakthrough, and so God won't get as much glory.
But you know what? All the enemy can do is needle you.
Again, he can't actually stop your breakthrough. Jesus already paid for your breakthrough and you already prayed it in. So you have a choice:
You don't have to let the enemy needle you if you don't want to.
If you pay attention and know what the enemy's strategy is, you can recognize the enemy's fiery darts as they come:
That rude email you just got? Fiery dart.
That rude family member? Fiery dart.
That knife in the back from someone you love? Yup. It's another fiery dart.
Just laugh it off.
The darts are basically the enemy's method of retaliation.
And when anyone retaliates for something, it's only because an event occurred that made them mad. Translation: The devil is only retaliating because you already beat him.
So ignore the barbs. Ignore the fiery darts. Put on the whole armor of God. Hold up your shield of faith, by which you can quench all the fiery darts of the enemy.
And while you're doing those things, just continue hiding yourself in Jesus. Look at Jesus bigger each day. Set your eyes and keep them set on things above, where Christ is, seated at the right hand of God.
You've already achieved your breakthrough. THANK GOD FOR IT.
What breakthrough are you thankful to God for today? Go ahead and speak out what you know He has already done for you in the comments below!