Prophetic Word: Roll the Dice; You're At a Crossroads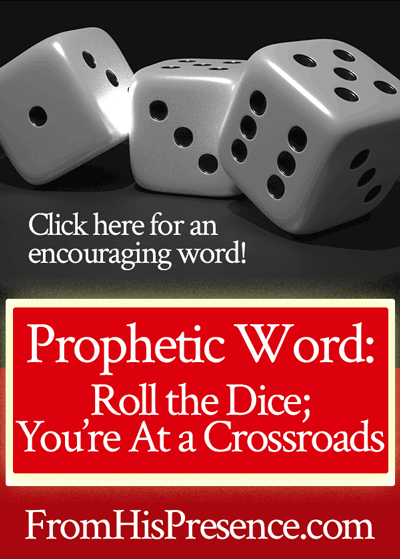 The Lord has been speaking to me about intersections and boldness. He gave me this prophetic word for July, and I believe it's also going to extend all the way into September.
The Lord says: "Roll the dice! You're at a crossroads!"
What does this mean? Let's look at each piece. First:
Roll the dice. Ask for what you want.
One of your favorite Scriptures used to be Hebrews 4:16:
Let us therefore come boldly to the throne of grace, that we may obtain mercy and find grace to help in time of need" (Hebrews 4:16).
BUT …
Lately, you've forgotten your boldness. You've left it far behind, and you've been surviving instead.
You've been praying little prayers with no risk, and you aren't giving Him the chance to do big things in your life. It's time to take a chance with your praying again!
Resurrect your boldness. I hear Holy Spirit saying, "Stir it up!"
Related: How to Get Your Prayers Answered 100% of the Time
When people play board games, they enthusiastically and BOLDLY roll the dice to see what their next move will be–what their next "season" will look like. Likewise, we Christians need to roll the dice of outrageous prayer BOLDLY, sending up prayers for even the wild things that we want the Lord to do!
Look at this wisdom from Ecclesiastes 11:1-6:
Cast your bread upon the waters, for you will find it after many days.

Give a serving to seven, and also to eight, for you do not know what evil will be on the earth.

If the clouds are full of rain, they empty themselves upon the earth; and if a tree falls to the south or the north, in the place where the tree falls, there it shall lie.

He who observes the wind will not sow, and he who regards the clouds will not reap. As you do not know what is the way of the wind, or how the bones grow in the womb of her who is with child, so you do not know the works of God who makes everything.

In the morning sow your seed, and in the evening do not withhold your hand; for you do not know which will prosper, either this or that, or whether both alike will be good (Ecclesiastes 11:1-6, emphases mine).
This passage has a lot of applications, but the application the Lord is highlighting in my spirit is that if you cast your bread upon the waters, it will come back to you (verse 1). Think of your prayers as your "bread." Are you praying prayers that can bring you a big harvest of blessings? Or are you praying survival prayers?
Stop paying attention to what the "wind" and "clouds" look like!
Don't make your decisions based on trends, your past history, or what you can see. You don't know God's works! So …
Cast your prayers upon Him!
Present Him with your petitions and requests!
Sow your seed-prayers and do not withhold your hand.
If the Lord leads you to sow seed-offerings to Him, do that as well! Do not withhold your hand!
Stir up your boldness!
Stir it up! Stir it up!
Stir yourself up! Get up at 4 AM if you have to. Pray in tongues for an hour if you have to. Clear your schedule if you have to. You've forgotten to pray, and you've forgotten to pray for what you want!
Remember that Jesus said in John 16:24:
Until now you have asked nothing in My name. Ask, and you will receive, that your joy may be full" (John 16:24).
Asking isn't selfish. Jesus told us to ask! If we don't ask for what we want, we are in disobedience! We are to ask in order to receive, and the receiving is SUPPOSED to make our joy full!
The Lord told me very clearly, "Roll the dice! Put your prayers out there and ask for what you want!" You need to ask for what you want right now.
So what do you want?
Dreams and visions? Supernatural encounters? I want to be closer with Jesus, and I know you want that too. We need to ask for that, first and foremost! But beyond that, we still need to keep asking!
Do you want …
A husband?
A wife?
Financial provision?
A house?
A car?
A paid-for, seven-passenger, 2018 Toyota Highlander? (That's what I want–in white or silver!) 🙂
Be specific! Then ask, and keep on asking.
Related: Prayer to Find a Husband or Wife
The Lord also showed me:
You are at a crossroads of two different ways.
These may be two different ways of living or two different decisions to make. Either way, things can go one way or another for you. You can go down a hard trail or an easy trail.
The hard trail looks like a dead end. However, the seemingly-dead-end trail is actually a trail that will bring you into the shade under God's wings. It is a green, leafy, VERDANT place of rest. You simply can't see a way out because it takes you directly into a place of safety in the secret place of the Most High.
The easy trail looks like a way out. BUT:
Do not take the easy trail.
The easy trail will burn you. It is a way filled with thorns and briars. The enemy makes it look like a wide way, an easy way, a downhill way. It looks like it will take you to a place of great rain–but it will not.
The easy trail will only take you into a hotter fire than you were in before. Though it looks good, it will be a thorny way. Do not take the easy trail. I repeat: do not take the easy trail!
God is also anointing people to finish things right now.
A great finishing anointing is coming upon you if you will receive it.
God is giving grace to see unfinished things completed. I saw in the spirit that people have been having recurring thoughts that almost feel like moments of inspiration to finish unfinished tasks or ideas.
The Lord wants you to know that those ARE moments of divine inspiration.
In those moments, His hand is extended to you and He is offering a grace to complete your assignment with joy. The split-second urges you've had to do this or that–things that have been hounding you a long time–are split-second urges from Him. If you will pick it up, He will reel you in to the finish line.
He's also pouring out grace and supernatural abilities.
Along with the gifts of wisdom and understanding you have asked for, He is showing you how to do things you never thought you could do. His grace is proving in this season that you can do ALL things through Christ who strengthens you!
Papa's grace is available for the asking. If you find yourself in a tight place and you don't know what to do or how to do a task, pray in the Spirit and let Holy Spirit intercede through you and for you. A solution will surely come.
I also see double portions of help.
Many of you have been crying out to God for help. Look for His help from unexpected places, for many of you have already received the help He is sending–but you have not been aware that help was from Him.
Scripture promises that kings shall be your foster fathers and queens your nursing mothers. God sends us HELP when we need it, and it's GOOD help! Thank Him for His help and–I heard this specifically–don't throw it away!
Also, re-evaluate your priorities to focus on Jesus.
This is the most important thing in this whole word. Be sure you seek Jesus' face and not only His hand. Ask Him for His hand to work in your life, but ask first and foremost for intimacy with Him.
Also, re-evaluate the way you spend your time, especially your sleep habits. Are you sleeping in a good and holy way? Or, are you using sleep as a cathartic way to deal with depression, despair, and hopelessness?
Examine yourself and ask the Lord to show you. The keys to victory are found in your time alone with the Lord at the FIRST of your day. If you aren't getting that time with Him at the first of the day, you are trying to have your concert without tuning your instrument.
Do what it takes to re-align your schedule and put Jesus first in your actions as well as in your heart.
You've been broken and bruised, but He's waiting to fill you up.
He's in you and beside you, and He's waiting eagerly with His pot of oil ready to pour into your spirit. You've been feeling empty inside, but Jesus is here. Papa is here.
Holy Spirit is within you; Jesus is within you; Father God is within you because He's within Jesus (John 17:23). Father, Son, and Holy Spirit all dwell within you right now, and they are ready to minister to you if you will but come away.
Song of Solomon 2:10-13 states:
My beloved spoke, and said to me:
'Rise up, my love, my fair one, and come away.

For lo, the winter is past, the rain is over and gone. The flowers appear on the earth; the time of singing has come, and the voice of the turtledove is heard in our land.

The fig tree puts forth her green figs, and the vines with the tender grapes give a good smell. Rise up, my love, my fair one, and come away!"
Rise up and come away! Stir up the gift that is in you with the laying on of hands! Stir up your fire! The time of singing has come!
Finally, it is a season of exaltation for the faithful.
If you have been diligent, you will experience promotion in this season. You have humbled yourself under the mighty hand of God, and it is now His due season to exalt you. He will elevate you far above the level of your dreams.
Related: 3 Secrets to Promotion in God's Kingdom
So, dream bigger!
If you can conceive it, it's too small! Ask Abba Father to expand your ability to dream. I sense particularly that this coming Saturday is a kairos time. Commune with the Lord in the early morning as you awake out of sleep and ask Him to download new dreams into you.
Father God's hand has already mixed the blessing He is pouring out on you. In this season, the unfaithful will not be blessed, but the faithful will.
May you be found faithful! May you press in! May you CHOOSE the narrow way which leads to life, and come away with your Beloved at the FIRST of your day! And may this testimony of Jesus prove the Spirit of prophecy in your life.
Did Holy Spirit use this word to confirm something He's already telling you? If so, what is He saying to you? Please leave a comment below!