Let Us Go On! (It's Time To Make Progress)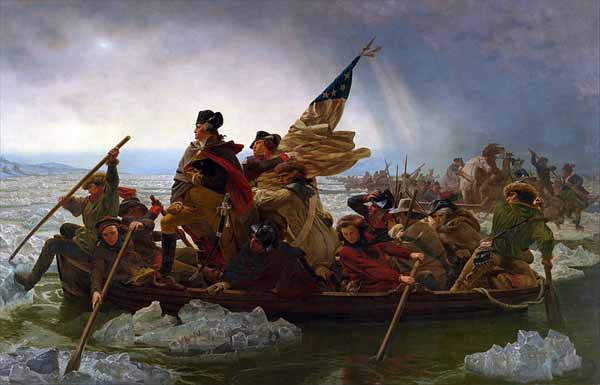 Hebrews 6:1: "Therefore, leaving the discussion of the elementary principles of Christ, let us go on to perfection, not laying again the foundation of repentance from dead works and of faith toward God…" (emphasis mine).
I love this painting of "Washington Crossing the Delaware" (Leutze, 1851) because I see an inspiring spiritual truth in it. That truth is this:
God loves it when we make progress.
Please understand that He loves US anyway, whether we make progress or not. As Graham Cooke said, in this encouraging worship song on YouTube,  God loves us just the way we are. He loves us even if we never become better, and He loves us even if we never have any plans to become better.
So it's not about whether He loves us or not. He loves us the same now and forever, and we don't have to make progress to be loved.
But God has an awesome future for every person. For you and for me. And reaching that future requires that we grow.
When we were babies, our parents weren't content to leave us in diapers. They "trained" us to grow.
When we were students, our teachers weren't content with wrong answers. They corrected our homework so we could grow.
As God's baby girl, my Father is not content with leaving me the way I am right now. He wants me to grow, because He has better things in store for me.
He has better things in store for you, too.
Your present circumstances may be terrific. He still has even better things in store for you.
Your present circumstances may be absolute hell on earth. I'm sorry if that's the case. Lift up your chin, dear heart, and look into the eyes of your Father God. See the love glistening in His eyes? He knows all about it. He understands. He loves you. And He has better things in store for you.
Getting to those better things will require you to grow, but He'll help you.
He'll teach you and train you. Cling to Him. He'll hold your hand all along the way.
He will pilot your boat. He'll be your Defense and your Leader. He'll be your Rock.
There may be tough times, but there will be more wonderful times. Romans 8:28 tells us, "… all things work together for good to those who love God, to those who are the called according to His purpose" (NKJV).
The first step is deciding that you want to move forward with Father God.
Will you "go on" with Him today? If so, what steps will you take this day, this week, this year to make progress and "go on" with God's plan for your life?