London Inner Healing and Fire Retreat REGISTRATION Is OPEN!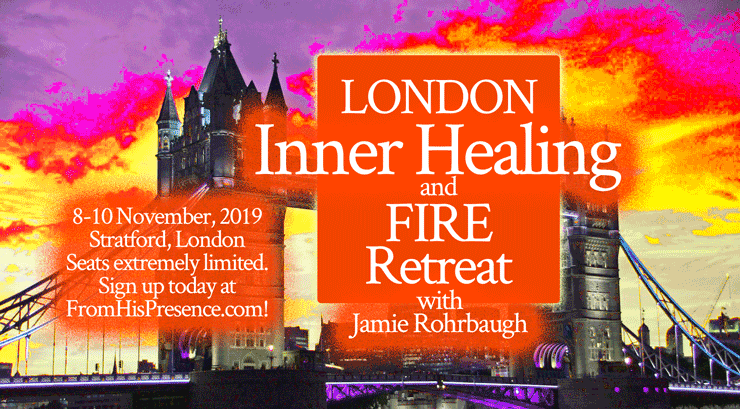 Hey everybody, GUESS WHAT??!! I just confirmed our meeting space this morning, and registration for our London Inner Healing and Fire Retreat is OPEN!
In this retreat, my team and I will be walking you through our entire inner healing path plus ministering the FIRE of God that heals and restores your life!
Dates: 8-10 November

Registration begins at 5:30 PM on 8 November. Event starts at 6:00 PM – 9:00 PM
On 9-10 November, event is from 9:00 AM – 9:00 PM with breaks.
(The exact schedule subject to change as we follow what Holy Spirit is doing during each session.)

Location: Holiday Inn Express and Conference Center in Stratford: 196 High Street, Stratford, London E15 2NE
Cost: £129 per person, which includes conference registration (teaching + ministry from me and my team) plus tea and water provided by the hotel
Registration is non-refundable unless the entire event is cancelled.
This retreat is going to be LIFE-CHANGING, and I only have 33 seats available for this event. The location is very near the Stratford tube/train station, and lodging at this hotel (and at other hotels nearby) is affordable.
Want to attend? Get one of the 33 seats fast. We've had so much interest from our UK readers that I don't think it will take long to sell out.
Click here to register via PayPal and reserve your seat.
And just to whet your appetite, read what one sister said after attending a similar event we held last year here in the US:
"Jamie,

I am myself, for maybe the first time—ever. I have dreams that are my own, a destiny that is mine, and a real true knowing that God is for me and that is all I need. I feel the constant presence of Holy Spirit. I know who I am and Who I belong to. I know that I am necessary and loved, just because I'm a child of God. I am brave. I am bold, and the Good News has made me glad. I am eager to now to put everything at the feet of Jesus, because I feel UNSTOPPABLE.

Now that I'm free, I can be ME. Thank you for releasing yourself to the Spirit and for making this experience available. Your team is amazing, and the worship leaders were phenomenal. Thank you all. Lord willing, I'll see you next year!"
So beloved, if you are in or near the UK, do not miss this event.
You will be radically transformed by the power of God. Click here to sign up, and I can't wait to see you there!
Love in Christ,
Jamie