Ministry Update for November and December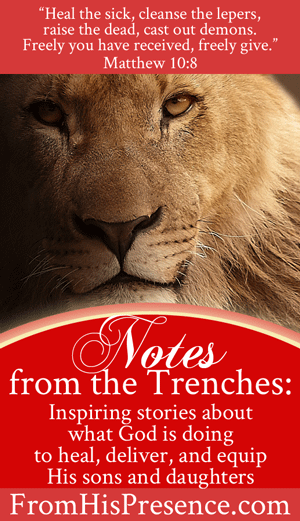 Hi everybody! I wanted to provide you with an update today on all the ministry happenings for November and December.
First, you already know that I had a baby in December. 🙂
I'm pretty excited about this fact. 🙂 Thank you SO MUCH for all your prayers, blessings, and encouragement regarding that!
Our son is doing well in general, but we are having some feeding issues with him that we are desperately trying to resolve. Lots of prayers and doctor's appointments so far, but he is getting better. The Lord is answering our prayers and yours, and we believe will be able to give you an "all clear," totally perfect report on his health soon. We would definitely appreciate your continued prayers in this matter!
I am also recovering from the c-section well. Today marks the end of the second week post-op (and my doctor says it takes about 6 weeks to fully recover). However, happily, I am beginning to be more physically functional and the pain is MUCH less than it was. So, thank You Lord! And thank you, friends, for your prayers!
Next, you may have noticed we're in the middle of a major design overhaul on this website.
I decided to redesign the site because we have nearly 1,000 timeless posts, and the site was getting too big to find things. Even for me! And when I asked for your opinions, you all agreed and let me know what would make reading easier for you. (Thank you!)
So I have added a whole bunch of index pages to the home page.
These pages now contain lists of every timeless post we've ever released on the site. They are categorized by topics such as:
I also re-released our 3 free prophetic worship albums in December!
These are albums that my team and I recorded several years ago. The Lord told me to take prophetic musicians and singers to the studio and worship and see what happened. So, we did … and what happened each time was powerful and anointed!
If you haven't seen these 3 albums of free prophetic worship yet, you can listen to them and even download them here.
There is a lot more work to be done on the website redesign.
Since it's just me working on it–other than a tech guy who is helping me speed the site up–it's going to take time to finish the redesign. But, I would sure love to hear what you think so far!
Specifically:
Is the new style easier for you to navigate?
Is it easier to find things?
Is it easier to find articles that you've never read before?
Please let me know in the comments below!
Next: November and December were busy months for this ministry. Papa God did SO much!
Specifically, in November:
We served 55,987 individual readers through the blog alone.
According to our Google stats, those readers were in 191 countries around the globe.
We saw 160,331 pageviews on the blog alone. That's the number of times people were touched with the message of hope in Jesus Christ in November 2017 alone.
We released 16 new blog posts with prophetic words or teaching;
We built and designed a website for a local, full-time pastor/missionary for free.
We also developed and hosted 3 webinars in November:

291 people signed up for the free How to Hear the Voice of God 101 webinar!
55 people signed up for the advanced How to Mine the Deep Things of God webinar! (Be sure to get a copy on our Gumroad store if you weren't one of them!)
307 people signed up for the free 10 Signs You're Growing in God webinar!

In November, I was able to pour a significant amount of time into mentoring local sons and daughters who God is allowing me to help raise up into the ministry.
We released 4 new YouTube videos and 2 Facebook videos;
We were able to sponsor a local pastor's continuing education; AND
Through your generosity, we were also able to sow significant financial seeds (totaling in the 4 figures) to help send THREE missionaries into the international mission field!
One nurse-missionary went to Puerto Rico in December, working with the ministry of Crisis Response International to help with disaster relief, medical missions, and evangelism there (due to the recent devastation caused by hurricanes).
The other two missionaries are pastor-missionary-evangelists who are headed to Central America this month. They have an established ministry there, where they win hundreds of souls to Jesus every time they go.
And in December:
We served 55,622 individual readers through the blog alone.
According to our Google stats, those readers were in 195 countries/territories around the globe.
We saw 150,651 pageviews on the blog alone. (December is usually lower than prior months because of Christmas.)
We continued work on a website for a local, full-time pastor/missionary for free.
We released 15 new blog posts;
We also developed and hosted 3 webinars in December:

464 people signed up for the free Getting Free from the Spirit of Poverty webinar!
50 people signed up for the Becoming a Moneyed Marketing Maven professional training webinar that taught pastors, writers, and traveling ministers how to fund their ministries! (You can grab a copy of that training on our Gumroad store here.)
75 people signed up for the advanced How to Break Free from the Spirit of Control webinar!

We were able to sponsor a local pastor's continuing education; and
We released 2 new YouTube videos and 7 new Facebook videos.
These things were possible because God has used YOU! So, THANK YOU!
We also have been praying for 70 new monthly financial partners to come alongside us to help us grow.
And in the last few weeks, 14 of you or so have answered the call to help us, bringing our monthly partners up to 84! If you are a monthly partner, THANK YOU!
And if you sense the Lord drawing you to come alongside this ministry with your monthly financial partnership, praise God! We want your help, and we're still praying for the full number of 70 new partners at the amount of your choice!
If you'd like to partner with us via monthly automated partnership, you can sign up to partner with us via Gumroad here or via PayPal here.
We also have so many wonderful readers who donate via one-time donation as they are able.
And EVERY gift counts, no matter how small or how big. Every dollar, pound, yen, peso, and anything else counts.
Our monthly partnerships account for roughly 20% of our operating budget, and your one-time donations account for about 40% of our budget. (The rest is paid for by ads and product sales.)
So, again, THANK YOU. Your donations mean the world to us–whether they are via automated monthly partnership or via one-time donations–and the Lord is using YOU to pay the bills and keep this ministry online.
Thank you.
So here's a bit about what's next for this ministry:
As I mentioned here, we're going deeper this year. We're discipling people deeper and working on ways to minister to you and others around the world in more areas.
I can tell you that I anticipate a big focus being finances. The Lord is brooding over me daily both in praying for people's finances, teaching about finance, and in mentoring people to get them free from the poverty mentality and into God's abundance.
I HATE poverty, and I desire to eradicate it in the Body of Christ.
Too big of a goal, you say? I don't think so. God has always used bold people, and bold-but-small companies of people, to release His kingdom, His plans, His government, His freedom, and His abundance on the earth.
Think of the 12 disciples.
Think of Wilberforce and the Clapham Sect.
If you're in the USA, think of the Founding Fathers of our nation. Men like George Washington and Thomas Jefferson.
Despite our smallness and imperfections, God will use us to shape the earth if we are only willing to receive His vision.
And I want to eradicate poverty in the Body of Christ. So we'll be teaching on God's financial principles a lot. I'll be continuing to pray for you all in this area. And we'll see what God does.
In addition to that, there will be lots of prophetic words and more teaching, mentoring, and equipping.
The Lord has been moving in my life to prophesy more and more. And I want to be obedient. So, we'll be continuing with our prophetic words, prayers, and teachings as we have always done … to equip you to live in the manifest presence of the Lord, and to equip you for the work of the ministry.
Beloveds, this community is literally reaching the world for Christ this month. Together, He is glorifying His own name. Lives are being changed absolutely day in and day out. (Read the comments on recent posts to see living evidence of this!) I give Him all the praise.
Will you help us?
We covet your prayers. We want you also to come alongside us. (Notice I said "want," not "need," because the Lord has been convicting me about how He'll provide our needs but we have to ask for our wants!)
How can you help?
By praying for us every day;
By sharing posts on social media–especially on Facebook;
By partnering with us financially, whether by automated monthly partnership or via one-time donations as you are able; and
By participating in the discussions and encouraging other members of this community.
THANK YOU.
Thank you for all you have done, and for all that you continue to do. We appreciate you so much. I appreciate you. And we give Jesus all the glory.
In Christ,
Jamie