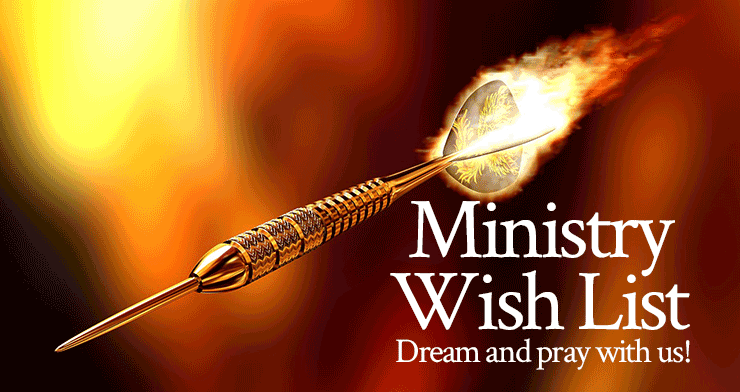 Hey everybody,
I wanted to share a ministry wish list today, with information about some of the dreams we have for this ministry … even wishes!
Some of these things are small (e.g. $15 for one day of Pinterest or $20 for one hour of help for me), and some are large. I didn't list them in any kind of order or priority. I am simply sharing these.
I will try to keep this post updated on an ongoing basis. If you feel led to help with any of these needs, great! And if not, would you pray with me for these things whenever you think of it?
Thank you! And without further ado, here's our wish list!
Scholarships for the inner healing retreat:
We have awarded over 2 dozen scholarships for the September inner healing retreat. We'd love to award more, as we still have people waiting who cannot attend without a scholarship.
If you'd like to sponsor or help sponsor a scholarship, you can contribute any amount here–just add a note saying it's to help with scholarships. (A full scholarship is $405, and we'll combine smaller donations to award either partial or full scholarships.)
Ministry mission trips we're considering:
Ireland & the United Kingdom (England, Scotland, and Wales):
I have a deep passion for these island nations–a passion to see Jesus get His inheritance in the prayers that have been going up there for over 1,500 years. So, I'm praying about bringing a team to Ireland and another team to the UK to minister and facilitate several workshops.
If you're in or near Ireland and wish to receive updates about any ministry on the ground there, sign up here for those updates.
If you're in or near the UK and would like to receive updates about ministry there, sign up here for UK updates.
If you'd like to invite us to your church/event, or help sponsor someone to go on one of these mission trips, please contact me.
South Africa:
I'm also praying about coming to South Africa in a future year. If you're in South Africa and would like to receive updates on any visits we make to your beautiful nation, please sign up for South Africa ministry updates here.
Again, if you'd like to invite us to your church/event or help sponsor a trip, please contact me.
Pinterest sponsor:
Pinterest is usually our third-largest traffic source, so it's a BIG deal. (Keep in mind our site gets from 150,000-185,000 pageviews per month right now, so the third-largest traffic source still means a LOT of traffic.)
Our Pinterest is mostly handled by a pastor's wife who loves this work and does a great job. Current cost to keep our Pinterest running is $15 per day. We need to increase her time spent on this to $30 per day.
We need 31 daily sponsors for our Pinterest traffic. If you would like to sponsor a day, a month, or one day per month of Pinterest traffic (at either the $15/day rate or the $30/day rate), please let me know.
Email sponsor:
We have over 10,000 people on our email list. Sending our encouraging emails to that many people requires professional email software.
Our email currently costs $150 per month for the email software alone, not counting any man-hours spent working on the system or sending those emails out. This is about $5 per day for the software.
If you'd like to sponsor one day of email software per month, or even sponsor our email on a monthly basis, please let me know.
Partner Prayer Box:
I've hired someone part-time to help me develop a partner/donor contact system and prayer box. She is a prophetic intercessor who used to work with the partner prayer program at GodTV and also for Pastor Benny Hinn.
We're trying to figure out the logistics of this. I pray for our readers and partners/donors all the time anyway, but I want a system by which somehow I can have closer communication with you.
Right now, she has started by interceding for all aspects of the ministry. She and I hope to get the logistics of the prayer box set up this week.
The partner prayer box will cost the ministry about $175 per week ($25 per day) to start. If you would like to sponsor one day of the partner/donor prayer box and contact system, please let me know.
Virtual assistant:
I've enlisted help from some of the folks who have offered to volunteer, but I also found a virtual blogging assistant who can help me with some of the more complicated back-end tasks that I do on an ongoing basis.
This assistant charges $20 per hour. If you'd like to sponsor an hour of virtual assisting for me, once or once a month, please let me know. At this point, I need about 80 hours of help per month, between volunteers and paid assisting.
Equipment we need:
Wireless lapel mic:
We need a wireless lapel mic so that I can record audio when I preach.
I don't have a link to these because I don't know enough about them to pick a good one. I do have a knowledgeable sound guy, though, so if you're interested in helping with this, let me know and I'll ask him. I do know that a good, professional mic is several hundred dollars.
Desktop computer:
We need a new desktop computer (PC, not Mac) desperately. The one we have is about 12-13 years old and won't run many apps anymore because they aren't compatible with modern software/internet. We have a new keyboard and a great screen. We just need to replace the tower. I'd like a Lenovo with a whole lot of memory.
External hard drive:
We need a portable, external hard drive with 4 terabytes of storage.
Sound system for events:
We need a portable sound system that includes a 20-channel mixer and 8 mics. This will allow us to rent facilities that do not already include sound systems for classes and workshops. It also will allow us to go into non-traditional places, such as malls or parks, to do worship evangelism.
Here's an example of a sound system like I'm talking about. (It doesn't include all the mics we would need, though.)
Video camera:
We need a small, portable, lightweight, hi-def, wi-fi streaming video camera with external microphone, batteries, charger, tripod, memory cards, and carrying case.
This will enable us to shoot video of classes, workshops, and mission trips, so we can get that information to you if you're not able to attend those things live with us.
Studio microphone:
I am using a Snowball mic for audio and video recording now, but it doesn't work as well as it should. I would love to have a professional microphone for better sound and more professional recordings.
The microphone and setup parts that I'm dreaming of–pop filter, shock mount, boom arm–are listed here, at Cliff Ravenscraft's site.
Israel:
This is a wish, indeed, and a hope. My pastors are going to take a group of their mentees to Israel in early 2020. My husband and I long to go with them and see the land where Jesus walked.
Cost has not been announced yet, but it's generally over $3,000 per person. We would have to sign up and pay for the trip in mid-2019, and we would have to take Elijah also. We do not see the money in the bank to do this at this point, but God can do anything. 🙂