Believe with Us for The Sanctuary, Our Paid-For, Log-Cabin Retreat Center!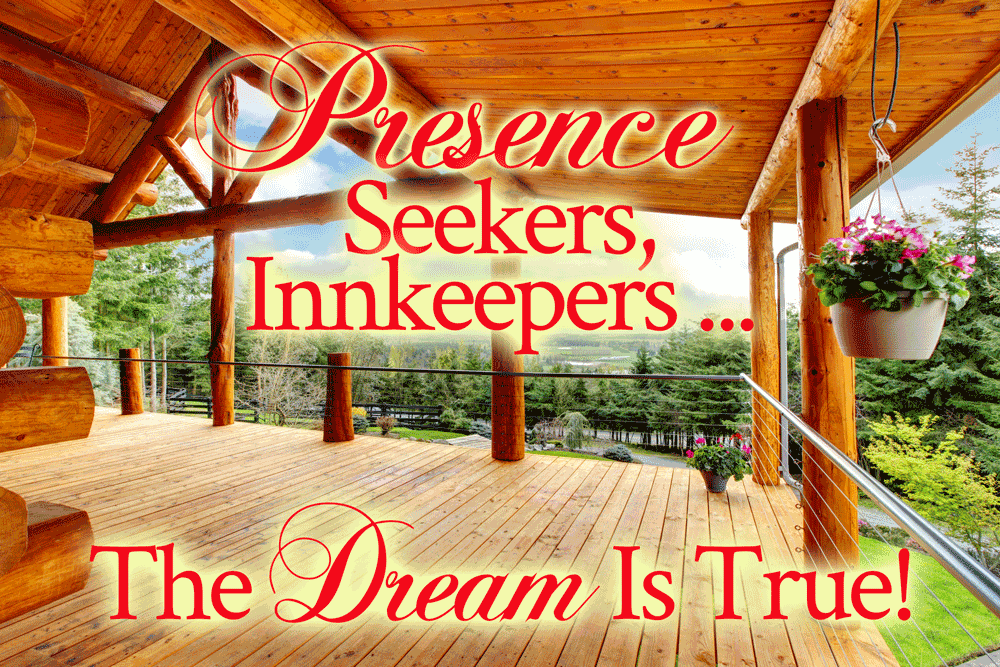 Hey beloveds,
After years of dreaming and prayer, I believe the Lord has led me to share the dream with you, our Presence-seeking community, for our ministry to own a paid-for, timber frame log cabin lodge and retreat center.
I am asking you to BELIEVE with me.
Like Pastor Jesse Duplantis, whom the Lord told to believe for a plane that can fly him around the world without stopping, the Lord didn't tell me to try and raise money for it. I'm not going to do fundraising campaigns for this retreat center. He simply told me to ASK Him for it and believe.
But I do believe I'm supposed to share the dream with you, so you can believe with me. I'll keep this page updated and in a prominent place on our website. And whether sooner or later, God will provide what we're believing Him for, because His Word says He will.
The dream is to HOST and HEAL. Only God can do this, but God CAN do this.
Here's the dream:
For our ministry to own a paid-for, timber frame log cabin lodge/retreat center with which to serve our readers.
The retreat center will be called The Sanctuary. 🙂
It will have a minimum of 5 bedrooms (preferably more), most with their own ensuite baths.
I would like for it to be secluded and, preferably, set in a forest to make it more restful and private for our attendees.
The location needs to be within reasonable driving distance of where I currently live, as I still intend to continue supporting the local churches in this area as we currently do–and to continue attending my own local church, as well.
My dream is to be the innkeeper, and for this ministry's staff and volunteers to use our hospitality gifts to host and heal God's people.
We will use this center to host our readers in the following ways:

prayer retreats for people who just need to get away with the Lord to be refreshed;
vision retreats for people who are seeking God about His plans for the next season of their lives;
ministry planning and website building sessions for people who are launching their own ministries;
mentoring weekends for women and/or couples;
small-group equipping workshops;
small-group prophetic intensives;
"burn" weekends, in which we do extended worship and prophetic intercession (e.g. worshipping for 3 days straight, other than mealtimes and sleep); 🙂
writing retreats for pastors who are trying to write books, but struggle to focus in their own environments; and
respite and rejuvenation retreats for tired, worn-out, burned-out pastors, ministers, and lay leaders of local churches.
We will need an endowment for The Sanctuary, so we can operate it without financial burden.
I'm not going to get our ministry into something that would handicap our purpose. So even with the retreat center paid for, it would still need an endowment to pay the utilities, insurance, maintenance, and applicable taxes–as well as the costs for hosting large groups of people (such as food costs and extra staff and catering for events). A building like this costs thousands of dollars a month just for electricity, water, insurance, and taxes.
Based on my calculations, we will need a $3,000,000 endowment. This fund will be legally set up and professionally managed (in other words, it won't be cash in our bank account). 🙂
The Sanctuary also needs to be paid for from day one–land, building, and furnishings.
I don't do debt. I believe debt is sin. And I know God, who is NOT a debtor, is fully capable of simply GIVING us this center–and to make it nice, for His glory.
Unless The Sanctuary is given to us already built, I estimate based on my research of comparable properties that we need $3,000,000 to either purchase it or build it.
All donations that come in toward The Sanctuary will be kept for this purpose for as long (or as short) as it takes the Lord to fund the entire project.
We're not going to compromise our faith. We're asking Him for a paid-for, fully-endowed masterpiece that will be a blessing and not a burden–and we're going to get it, because He is going to send it! So, please pray and believe with us for the Lord to do so QUICKLY, so we can get it up and running to HEAL and HOST YOU, our precious readers!
And if you'd like to donate, the form below has been set up especially for this project.
If you'd like to donate a very large amount, or fund the entire thing as a gift to the Lord and an investment in His Kingdom, and would like to help us avoid significant credit card fees on the large gift, then please send the check by US Mail to:
From His Presence, Inc., PO Box 25232, Chattanooga, TN 37422 USA. Thank you!