Do You Need Covenant Friends?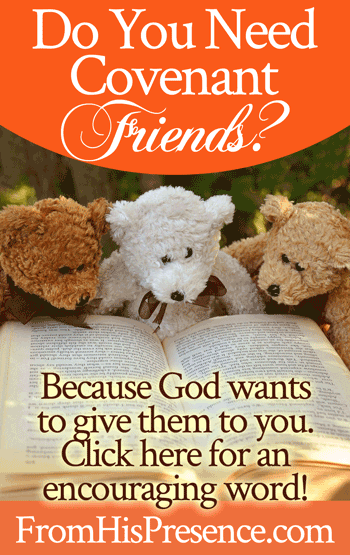 I've heard many of our precious Presence seekers talk lately about their loneliness. If you are lonely today, I want to encourage you and help you build your faith for divinely-appointed friendships.
Here's the backstory:
I wept as I listened to the preacher talk about Jonathan and David from First Samuel 18. "Jonathan's soul was knit to the soul of David," he said. "Jonathan took off his royal robe and his sword and gave his inheritance to David, making a covenant with him there—because he loved David as his own soul."
I was inspired by the beauty of David and Jonathan's friendship, but I didn't cry because I was inspired. I cried because I longed for friends like that.
Oh, I had friends already; plenty of them. Plenty of acquaintances too: those nice people I greet in the hallway; my Facebook friends. I'm surrounded by people, and I'm in the public eye constantly.
But covenant friends? They were few and far between … and I was lonely.
So I began to pray.
"Dear Father, You know I long for covenant friends like David and Jonathan were. The kind of friends for whom my husband and I would be willing to give our lives, who would also lay down their lives for us. I believe it's Your will for us to have friends like that. So Father, I ask in Jesus' name, please send us the covenant friendships that You desire us to have."
It took time, but the Lord began to answer that prayer. Not all at once. Slowly, however, new people came into our lives:
People who feel like they are extensions of ourselves, and with whom we share the same heart.
People who value real friendship as much as we do.
People who ask us how we are, and actually care about the answer.
People with whom we can laugh, have fun, and be serious too.
One at a time, in answer to prayer, God began to send my husband and I amazing people with whom we have much in common.
It has not been easy. It can be hard sometimes to discern who is going to be a covenant friend, versus a short-term friend, versus an acquaintance. Sometimes people come into your life for just a season. So, I continue to pray for additional true, lasting friendships. However, I am eternally grateful for the relationships He has already sent.
But what about you? Are you lonely today? Do you need covenant friends too?
Do you long for friends who will reach out to you, instead of you always having to reach out?
Do you long for friends who ask questions about your life, instead of only talking about themselves?
Do you long for friends who will be as involved in your life as you are in theirs?
Do you long for friends who will love you like Jonathan loved David?
You're not alone if you do, but don't despair. God can give you friendships like that!
God sees the desire of your heart, and He approves. He invented friendship. He invented covenant. He invented deep, lasting relationships. And right now, our Father has some friends for you up His sleeve. He wants to bring you into beautiful relationships with people who share your sense of humor, interests, and values.
All you have to do is ask Him.
In John 14:13-14, Jesus said:
And whatever you ask in My name, that I will do, that the Father may be glorified in the Son. If you ask anything in My name, I will do it."
Whatever you ask, He will do. That includes giving you real, intimate friendships.
You don't have to put up with only having acquaintances. You don't even have to be satisfied with friendships in which you do all the work. You can have lasting, two-way-street, covenant friendships:
Friends who will stand with you to the bitter (or beautiful) end;
Friends who will cry out to God in prayer the very instant you need help;
Friends who will pour into your life as you pour into theirs.
You can experience true, Biblical community with godly people who share your heart. You can't conjure those friendships up yourself. But God can give you the friends you desire.
If you're lonely, would you ask Father God for covenant friends today?