Prophetic Word: Gear Up! You're About To Run!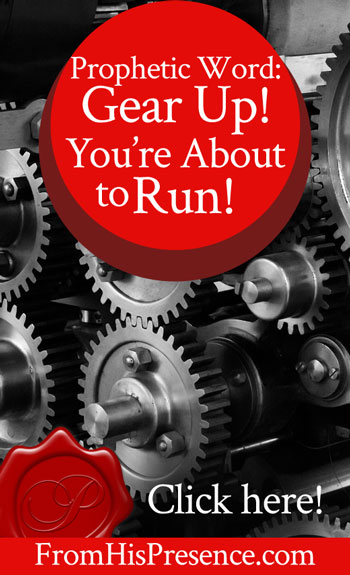 Dear Presence seekers,
Have you been taking some time to rest in January? And have you been surprised because lately, despite your attempts to rest, Papa has actually been giving you more ideas than ever?
You're not alone! I have also taken January to get some rest. I mean, I've still worked, and worked hard–but I've also practiced stillness, and taken much time alone with the Lord. I've said no to some good things this month in order to say yes to some best things.
And lately, in the receptivity of that resting state, Papa has surprised me by downloading more vision, better strategies, and more fervor and inspiration than I've ever had.
And this morning, I heard Papa say: "Gear up!"
I sense that, here in the last days of January, we are to gear up. To position ourselves where Papa shows us, and to get ready to run.
If this resonates with you, I encourage you to:
Take the steps you need to take;
Talk to the people with whom you need to talk;
Pay attention to what Papa is telling you to do when you feel a sense of urgency (the sense of urgency is from the Lord);
WRITE YOUR VISION, with the Scriptures that support it; and
Watch for more and bigger doors to open than you ever dreamed.
This is an urgent time.
Two days ago, my mentor prophesied to me that I have a window of opportunity to take care of some urgent things, and that window will close if I don't walk through it. My husband and I were both struck by that, and we sense she was right.
So I want to pass that prophecy along to you if you feel Holy Spirit impressing you that it is for you. Do what you need to do WITH HASTE.
Things are moving and changing. Gear up! Ride the crest of Papa's wave. It's time to rock and roll. After the next few days, I believe you will find yourself running the race at speed.
Blessings to you today.
In Christ,
Jamie
If this word speaks to your spirit today, please leave a comment below. I'd love to hear what Papa is doing in your life!
Would you help me with my work of reaching people for Jesus as a domestic missionary? This blog, and all of my mission work in person, are made possible through your partnerships, donations, and product purchases.
If you'd like to help me, please check out the partnership details and products available for sale here. And, thank you in advance for helping make this blog and everything we do together for the Kingdom possible!