If You're Craving Connection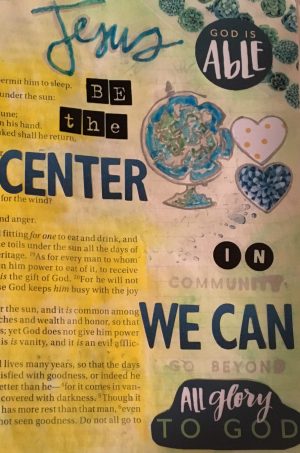 Are you craving connection right now–connections with friends, with sisters or brothers in Christ, perhaps even with a future spouse? Are you praying for connections that will help your career in the business world? Or, are you craving more intimate connection with God?
All of us could probably answer a resounding "yes" to at least one of those questions. I know I can. And if that's you too, then I have a tool that will help you pray through your heart's desires: the newest Illustrated Faith devotional kit from DaySpring, called "Craving Connection."
The Lord has been moving in my heart pretty heavily about craving connection, and this kit was a blessing in due season for me. It just released today, but I got one a few days early, so I could post this review for you.
I'll share what the Lord spoke to me out of this kit below; but first, I want to tell you what "Craving Connection" includes.
These kits are getting better and better each month. The Lord really does use them in my life powerfully.
If you want to watch the sneak peek video I used, here it is on YouTube (with a little requisite preaching from me, of course):
The Craving Connection kit uses a botanical theme of ferns, flowers, and succulents.
First, it includes a 14-day devotional booklet with devotionals that help you overcome fear of connecting with people. The devotionals also include tips for how to create meaningful connections and relationships with people. 🙂 The devotional booklet is written by all the amazing authors over at (in)courage.me, so that's a plus too. That community is precious.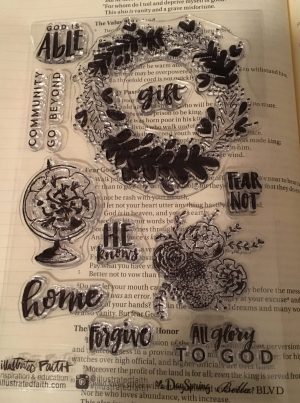 Then, the kit includes a beautiful stamping set, pictured left. I used the "community" and "go beyond" words already, as well as the wreath. That's just on my first page with this set. I'll use all the rest soon.
Next, there is a lovely page of cardstock die-cuts. I used "He knows," "God is able," and "all glory to God" on my first page. These really spoke to my heart. (You'll see why below.)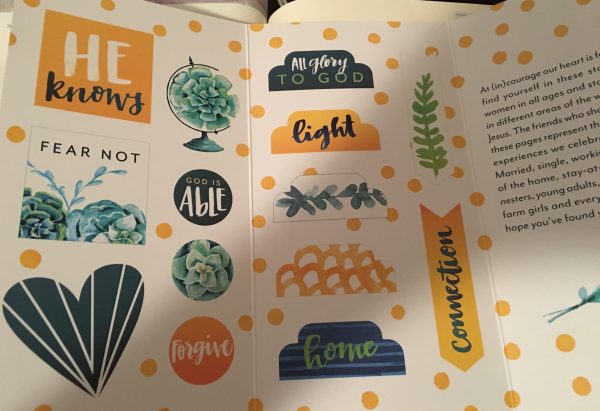 Fourth, the kit includes three bookmarks. I think most people use these not exactly as bookmarks, though, but rather as vertical cardstock additions to their Bible journaling pages. That's what I
did this month, and I know DaySpring sells packets of these just for that purpose on their website. So, I'm going to call them vertical add-ins from now on. 🙂 You can see what the Lord spoke to me about one of these vertical add-ins below.
Next, the kit includes really gorgeous succulent-themed washi tape. You can see the washi tape in the top right corner of my finished page, here: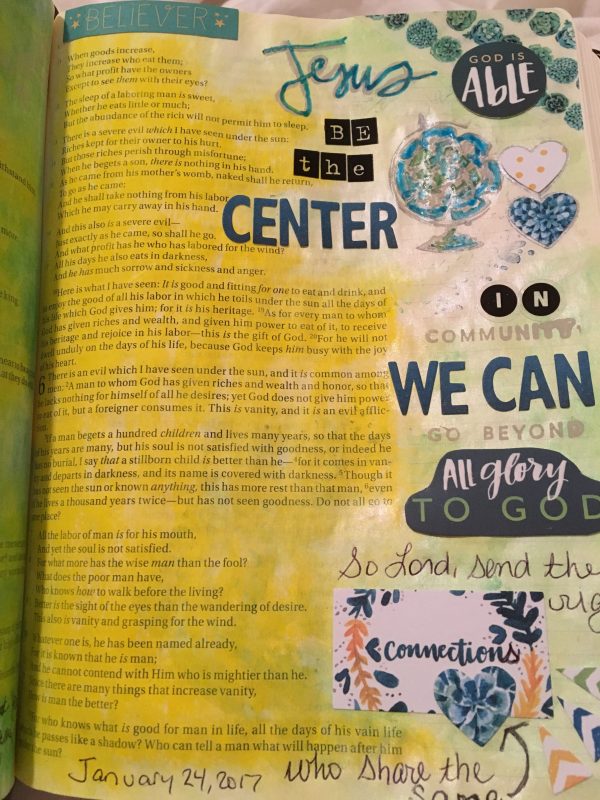 And then there are also blue-green gradient alphabet stickers; other stickers with a "connection" theme (like the hearts and connection sticker in the image above); and a vinyl pencil pouch to store everything in.
I love this kit. I devoured it.
So here's what the Lord spoke to me through this devotional kit: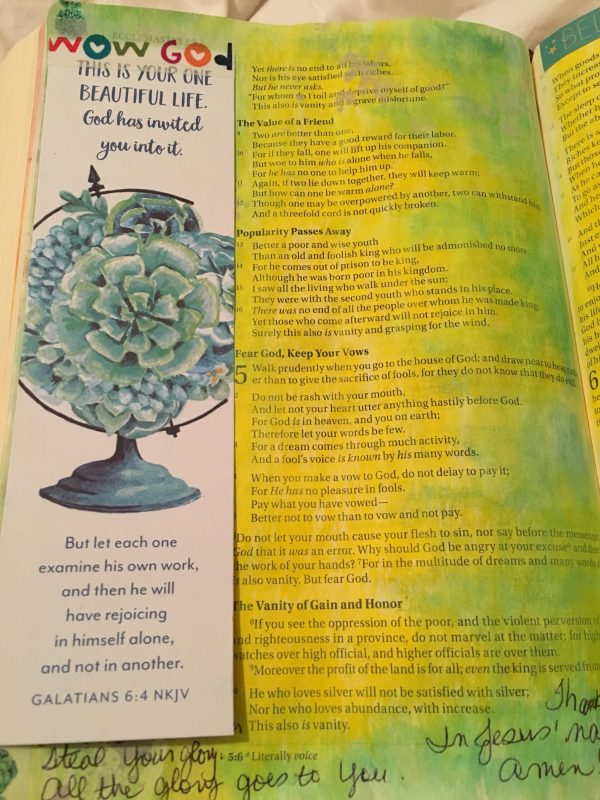 The Lord has been talking to me about creating connections.
He has already been showing me some areas in which I feel He wants me to do this. They are heavy, weighty things that pertain to the direction of this ministry. (I'd definitely appreciate your prayers right now.) I want to see more people involved in what we do here.
And when I sat down with this devotional kit, the Lord brought Ecclesiastes 4:9-12 to my mind. This passage says:
Two are better than one, because they have a good reward for their labor. For if they fall, one will lift up his companion. But woe to him who is alone when he falls, for he has no one to help him up.

Again, if two lie down together, they will keep warm; but how can one be warm alone? Though one may be overpowered by another, two can withstand him. And a threefold cord is not quickly broken."
I began journaling in this section of Ecclesiastes. When I did, I felt the Lord showing me that, when we are in community, He can do so much more than He can if we try to do things alone. Our destiny in community can look totally different than it ever could if we stay alone.
And this is your life. You only live once on this earth, and then the resurrection and Heaven. But by the time we get to Heaven, it's too late to do more for God. Any fruit we desire to offer Him must be offered now if we want to increase the inheritance of Jesus.
That's how the vertical add-in that I used in the photo above really spoke to me:
This is my life. I only have one life to spend for Jesus. Only one life to live for Him. How will I spend it?
I don't have to sit around and hope that my destiny will happen. I don't have to sit around and wish I could do something for God. No; He gave me a dream. HE placed a dream in my heart. And His Word says:
Delight yourself also in the Lord, and He shall give you the desires of your heart" (Psalm 37:4).
So what is your desire? And what connections do you need to create in order to see that desire happen?
The answer to that question looks different for every person. For example:
If you're not already plugged into a good, Bible-believing, Spirit-filled church, you need to do that in order to grow in God.
If you isolate yourself and have no posse to run with, you need a posse. Here's how to pray for your posse–but you have to take purposeful steps to find them, too (not just wait for them to show up).
If you're laboring for the Lord mostly alone, what could God do through you and others if you labored in greater community?
Father wants to see our desires happen worse than we do. He loves us that much.
But we need to take steps to find that posse to run with. Steps that help us grow in intimate connection with God. Steps that help us become part of that three-fold cord that is not easily broken.
I am personally working on creating the connections Father has laid on my heart. What about you? Will you do the same in your own life?
And if you need inspiration to pray about this, and want to study it more, I cannot recommend the Craving Connection devotional kit enough.
It just went on sale today. You can pick up a Craving Connection kit of your own on the DaySpring website, and it will arrive on your doorstep in just a few days. 🙂
What kind of connections are you craving right now? Please leave a comment below.
The kit I used was provided to me for free in exchange for an honest review. The free kit was a (taxable) blessing, but its free-ness didn't impact my opinion. 🙂 Just so you know.
Would you help me with my work of reaching people for Jesus as a domestic missionary? This blog, and all of my mission work in person, are made possible through your partnerships, donations, and product purchases.If you'd like to help me, please check out the partnership details and products available for sale here. And, thank you in advance for helping make this blog and everything we do together for the Kingdom possible!