Prophetic Word: You Were Made for Strength, Honor, and Glory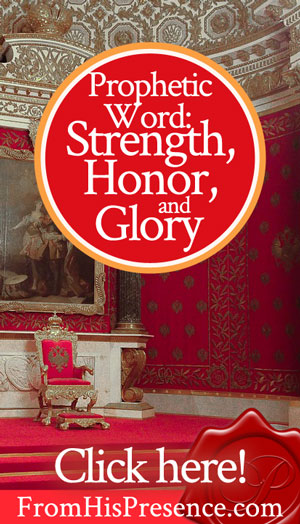 Do you feel stupid and insignificant sometimes? If so, I have an encouraging word for you today.
I know that sometimes people feel stupid, ashamed, weak, or less-than. However, that is NEVER Father's will for you.
FATHER'S will for you is for you to carry His glory.
For you to have a double portion of honor. And for YOU, yes you, to be blessed in all things … just because He said so.
I recorded a prophetic word recently for the ministry mentoring program in which I participate (the International Institute of Mentoring with Pastor Judy Jacobs), and I was thinking of you when I recorded it.
In this word, I explain HOW and why you are designed to carry God's honor, strength, and glory.
Please watch this word and let the Word of God run swiftly into your heart, soul, and spirit! Breath of God, blow into Your children, in Jesus' name!
Is Holy Spirit ministering to your heart today through this word? If so, please leave a comment below! I'd love to hear from you!
Would you help me with my work of reaching people for Jesus as a domestic missionary? I need you! This blog, and all of my mission work in person, are made possible through your partnerships, donations, and product purchases.
If you'd like to help me, please check out the partnership details and products available for sale here. And, thank you in advance for helping make this blog and everything we do together for the Kingdom possible!