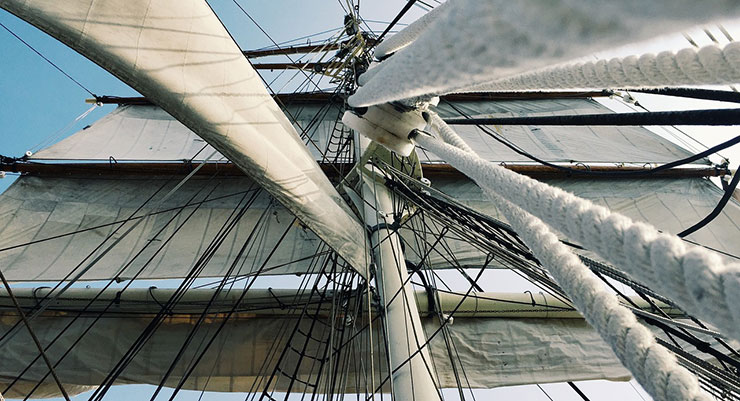 Have you been yearning to sail high and far with your ministry, but you've been feeling like you're anchored with bars of steel? If so, the Lord gave me a word for you today!
In a dream, I saw a sailboat.
It had a small hull, but its masts were very tall–four sails high! This sailboat was very top-heavy when you looked at the height of the masts compared to the very small hull.
The boat was indoors, in a warehouse, where it didn't belong. It was standing straight up in a very tall building, in the corner. And a steel bar was holding it to the wall–welded between the wall and the masts. It couldn't go anywhere!
In the dream, I then saw someone come in.
He was an experienced sailor, and He suddenly began sailing the boat! He didn't even have to break the steel bar away from the masts at all; the steel bar just disappeared! I was on the boat, and He told me to hang on–and suddenly we were sailing!
We sailed in good winds, and I stayed high aloft among the sails.
I wasn't working; I didn't know what to do. I simply stayed up there among the sails because it was so much fun!
At the end of the dream, I saw prayer staffs.
Someone who didn't have a prayer staff was being offered one, and I remember holding a staff out for his inspection. He declined it, but I knew that staff was for him–if only he would take it up. I was sad that he wouldn't accept it, but knew it was his choice.
I believe this word is for all of us. Here's what it means:
A boat represents a ministry that reaches people. (Water represents people, and boats sail across water.)
The hull was small: This boat symbolizes a small ministry; YOUR ministry.
The masts were high with many sails to catch LOTS of wind. This means your ministry is set up already to flow in MAJOR amounts of Holy Spirit's anointing. Your ministry is top-heavy, as it were; with the "top" representing Holy Spirit and the sails representing obedience to Him.
There were four sails. The number 4, among other things, represents all the corners of the earth (north, south, east, and west).
The boat was in a building where it didn't belong–a warehouse; a place of storage. Your ministry has been indoors, sheltered, unseen, in a place of storage.
A steel bar was holding the boat in place. You have felt like your ministry has been tied down with steel bars–bars that shouldn't be there!
But SUDDENLY, along comes a Man who knows how to SAIL your boat. This Man is Jesus. You don't know how to sail your ministry, so the best you have been able to do is hang out aloft with Holy Spirit. But NOW, a Man is on the scene–and He knows how to sail it!
When Jesus begins sailing your boat, the steel bars that have been holding you back will simply disappear. It will be easy.
The prayer staffs represent your authority in prayer. You are to call forth, declare, and decree in prayer ALL the things that are needed for your ministry to sail! Father God needs you to cooperate with Him to release your ministry on the earth. Accept your authority in prayer!
When I awoke from the dream, I felt strongly that every person has a prayer staff built into your body: your leg!
When you pray, taking your authority in prayer, stomp your foot as the "amen" when you declare and decree–the same way you would if you were hitting a prayer staff on the ground! The "amen" is the same, and the "thud" moves things on the earth with the sound waves it produces.
(And if you want to learn how to make a separate prayer staff–a mattah–then read about mattahs here and here.)
If you receive this dream as a word in your life today, pray this prayer with me:
"Father God, in Jesus' name, I thank You for encouraging me today. Thank You for knowing my heart and speaking directly to my need.
Father, in Jesus' name, I declare and decree that You perfect all things that concern me, including my ministry. You have called and ordained me for such a time as this. You have set me apart unto Yourself; I am Your inheritance, to do with whatever You like.
Father, in Jesus' name, I call forth:
Every good and perfect gift that You desire to give me today, and I command it to manifest;
The next conversation about my destiny that You desire me to have, and I command it to manifest;
The provision and resources that I need to serve people from every nation on the face of the earth; and I command them to manifest;
Every opportunity that You desire me to have to minister in every way You have called me to do: I command these opportunities to manifest;
Encounters with every person You desire me to meet: I command those encounters to manifest;
Every promotion You desire to give me: I command them to manifest in my life; and
Favor with You and with man in every area of my life–I command it to manifest for me in Jesus' name.
Father God, my times are in Your hands. But in agreement with Your Word, I hereby declare and decree that Your timing is manifest in my life today; accelerated blessings are coming to me; and my ministry leaps forth and sets sail under Your helmsmanship today.
Thank You, Father God. I declare it; I decree it; I call it forth and command it to manifest in my life today.
In Jesus' name, amen."
Beloved, God wants to sail your ship into promotion.
I heard the Spirit of the Lord say that the time is now. He just needs you to agree with Him in prayer, so He's sending you this inside intelligence on the Spirit's timing so that you'll know how to pray.
So what are you waiting for? Take up your authority in prayer! Declare and decree God's Word over yourself, your life, and your ministry–and I believe you will see it come to pass!
Is this dream a word for you today? If so, leave a comment below!