How To Make a Mattah for Prayer and Declaration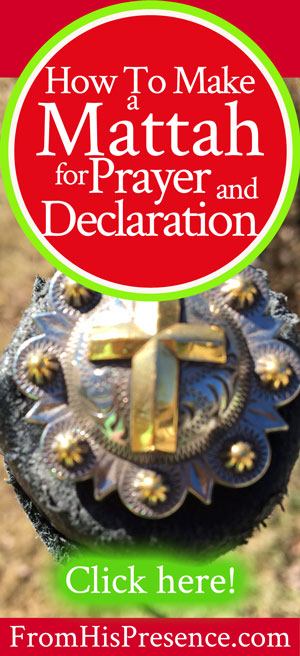 Do you want a tool that will inspire you, build your faith, and help you pray with authority? If so, then today's post about how to make a mattah is for YOU! 🙂
In the post below, my friend Pastor Madaline McFarland of Igniting Families shares about what a mattah is, as well as how and why having one will benefit you. Tomorrow, she'll also share her testimony about how God used a mattah in restoring her life … a wonderful story!
Before you read, know this: a mattah is a staff of authority, also called a prayer staff.
Remember when God told Moses to stretch forth his rod over the Red Sea, and it parted? Yeah. That was his prayer staff.
The use of a staff of authority has fallen by the wayside in modern times, but it's still an incredibly helpful tool when you are interceding and making prophetic decrees. Madaline even uses the making of a mattah as a coming-of-age rite of passage for the children she disciples.
I love that idea of children making their own mattahs, don't you?
A mattah is a wooden staff that you prepare and decorate a certain way.
The method of preparation represents the salvation and transformation process. The decorations are words and other things that memorialize who you are in Christ, His call on your life, His promises to you, and His sweet whispers of encouragement in your ear.
The process for preparing the wood is at the end of this post. The decorations could include things like medallions, feathers, stones, words, paint, pictures, and more!
The sky is the limit; you can let God create through you! (Check back on social media for some short videos from me about the decorations I am gathering for my mattah. I'm having a big time, and the Lord has been leading me to some awesome prophetic decorations for it.) 🙂
Making and using a mattah will encourage you. It will also help you pray and make prophetic declarations with authority.
I feel Holy Spirit hovering with excitement over this word about how to make a mattah!
Remember that Madaline and I are hosting a Make Your Own Mattah workshop here in Chattanooga, Tennessee on March 18. (Click here to register.) If you live anywhere within driving distance from Chattanooga, I encourage you to make a point to attend. It's going to be awesome.
Beloved, I believe you will love this revelation about the meaning and power of a mattah. It's going to be a blessing to your life. So without further ado, I give you Pastor Madaline McFarland. – Jamie
____________________________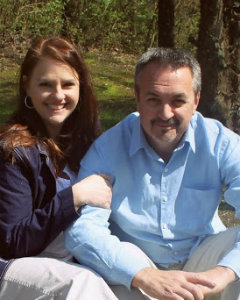 When God knows something is important, He writes it down.
He carved the ten commandments into stone; He engraved the name of His people into the palm of His hand; and He commands us to write His laws on the tablets of our hearts. He loves to preserve and memorialize significant things.
Why? Because it encourages us when we remember things we have learned from God's Word. It lifts us up and gives us hope when we remember special messages we have received from Him.
If you keep journals of your thoughts toward God, or of His words to you, then you already know what I'm talking about. If you keep favorite Scriptures around you  on pictures or plaques, you're doing the same thing as well. You're memorializing His special words.
If you love to keep track of important things from God, have you ever considered making a mattah?
A mattah, although it can mean "walking stick," and often looks like one, is really much more. The term is actually a Hebrew word meaning 'staff, rod, branch or tribe.'
A mattah is a written testimony, a source of encouragement, and weapon of intercession.
It is also a symbol of the weapons God uses to protect His sheep, as described in Psalm 23.
A mattah is a rod …
… and God's Word, the Bible, is His rod. This rod of truth contains all of His power and authority. When we memorize it and write it on our hearts, we can use the "rod" of God's Word as a weapon against the devil, our enemy.
Just like David described in Psalm 23, the Bible brings us protection by the power and truth that is written within. It corrects by telling us what is right versus what is wrong, and it warns of the consequences of our choices. The Rod also brings strength by revealing Father's love to us, and showing us His thoughts towards us.
Since it is a physical rod, a mattah is a reminder of God's Word and personal instruction for your life.
A mattah is a staff …
… and the Holy Spirit is our Shepherd's staff. The Holy Spirit was sent by God to empower us to follow God's plan for our lives. He reveals to us the meaning of God's Word and speaks to our hearts, guiding us in the choices we make each day.
The Holy Spirit also rescues us from danger. When we have made bad choices, He will speak to us through prayer and God's Word to give us wisdom to turn our situation around. When we go out each day, as the shepherd did, we need to carry the Word and the Spirit with us.
A mattah can be a constant reminder of God's plan for your life. It can also be a tangible weapon to protect you from the danger of forgetting your identity in Him.
A mattah is a shepherd's tool.
In Bible times, a shepherd's staff was his constant companion. It was used as a weapon to protect sheep from predators, as well as something to lean upon while spending hours in the valley or climbing treacherous mountainsides. Shepherds would often write on their staffs, a lot like how we would keep important dates or messages in a journal.
Imagine David, the shepherd boy, out in the field. He might have been thinking that he was a nobody, as he was rejected and an outcast from the family. But then–as he stood there leaning on his staff–he looks down and sees the words "King of Israel."
When David sees those words, he remembers the day that Samuel the prophet anointed and chose him above all his brothers to be the King of Israel. He was God's choice to be the next King! You can see the strength rise in his body as he reminds himself of God's promises.
With this staff, David was not only able to protect his sheep from danger, but he was also able to fight off the attacks of his enemy, Satan, by remembering that God's Word is true! Imagine him also taking his staff on the long journey to take his brothers food. While resting he reads inscriptions of God's praise scrolling up his staff. He sees marks that remind him that he killed a lion and a bear. By the time he arrived in camp, Goliath was already defeated by the faith that resounded within this young shepherd boy.
Isn't that powerful? A mattah is a permanent reminder of God's promises and call on your life!
A mattah is a symbol of authority!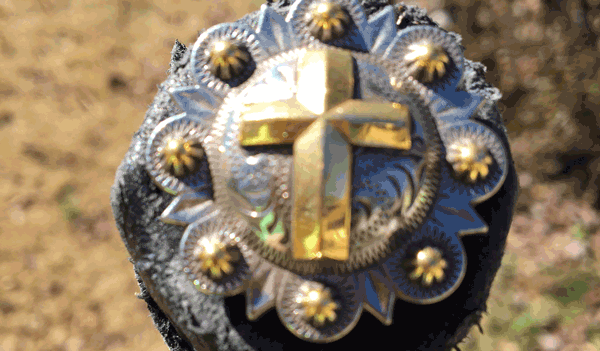 Moses's staff symbolized to him a long and treacherous journey in which he barely escaped with his life until the Great I Am touched it. As he threw his staff to the ground before the burning bush, everything that the enemy had intended for evil, God turned around for his good.
When Moses picked up the serpent off the ground, it turned back into a rod in his hands. The very experiences he viewed as defeat in his life became part of God's miraculous plan.
The same is true with the staff of Aaron. This staff that had been his companion through years of slavery was also cast to the ground and turned into a snake. It became a rod once again in Aaron's hands–but not before it had swallowed up the authority of the enemy.
Moses' and Aaron's staffs were the staffs that were used to turn water to blood; to part the Red Sea; to cause enemies to rise or fall in battle; and to settle disputes among the people of God. They were symbols of God's power, and of the authority He bestowed on Moses and Aaron to lead His people.
(Note from Jamie: I wonder if Aaron's staff was fatter after it swallowed the enemies' staffs and then became a stick again? Wouldn't that be funny? It would be just like God–a lifetime reminder of God's victory. It would be fun to ask that question when we get to Heaven.) 🙂
A mattah is a measuring stick.
Throughout your journey with the Lord, the enemy will definitely come against you and make you feel that you don't measure up to God's standard. A mattah is a way to silence this voice of condemnation.
If you should fall, simply grab hold of your staff and lean on the truth that is inscribed on it. Allow the Holy Spirit to encourage you as you remember battles and victories. Lean on the Word of the Lord, pull yourself back up, and continue on your journey.
How to make a mattah:
Note from Jamie: Remember to come to our workshop on March 18 if you can possibly drive in! It will be an anointed time and WORTH the effort! Click here to sign up today!
First, let me say that this experience of making your own mattah will be what you make of it.
To reap maximum benefit, I suggest that you spend time in prayer during each step. Make sure to meditate on the scriptures and ask God to speak to you throughout the process.
Here are the steps if you are ready to make your own mattah: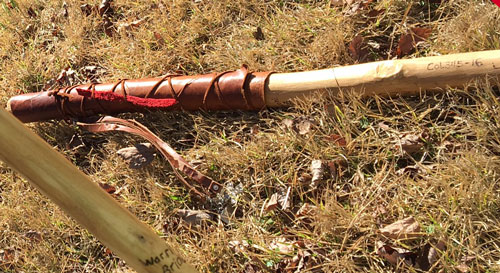 1. Before you start, meditate on the fact that, as God's child, you are like a tree planted by the water!
Jeremiah 17:8 says:
He will be like a tree planted by the water that sends out its roots by the stream. It does not fear when heat comes; its leaves are always green. It has no worries in a year of drought and never fails to bear fruit."
2. Choose a staff.
Remember as you choose your staff that you were chosen by God. First Peter 2:9 says:
But you are a chosen people, a royal priesthood, a holy nation, a people belonging to God, that you may declare the praises of him who called you out of darkness into his wonderful light."
Young trees that grow by the water are very strong, so near the water is a good place find a small young tree for your mattah. You can also use any straight branch from a tree.
The branch or tree you select needs to be thick enough that you have room to write on it but not too thick to carry; like a good sturdy stick you would use if you were on a hike.
3. Cut it down.
Remember that God has also separated US from the world to be used for His great purpose. John 17:14-18 says:
I have given them your word and the world has hated them, for they are not of the world any more than I am of the world. My prayer is not that you take them out of the world but that you protect them from the evil one.

They are not of the world, even as I am not of it. Sanctify them by the truth; your word is truth. As you sent me into the world, I have sent them into the world.
4. Strip away the bark.
Remember that God wants to cut away our sinful nature and worldly ways. Galatians 2:20 says:
I have been crucified with Christ and I no longer live, but Christ lives in me. The life I live in the body, I live by faith in the Son of God, who loved me and gave himself for me.
Also, Colossians 2:11-14 says:
In him you were also circumcised, in the putting off of the sinful nature, not with a circumcision done by the hands of men but with the circumcision done by Christ, having been buried with him in baptism and raised with him through your faith in the power of God, who raised him from the dead.
5. Sand and smooth away the rough edges.
As you do, remember God is constantly shaping and molding us into His image. Second Corinthians 3:18 says:
And we, who with unveiled faces all reflect the Lord's glory, are being transformed into his likeness with ever-increasing glory, which comes from the Lord, who is the Spirit.
6. Anoint it with oil.
Remember that you have been sealed with the Holy Spirit, anointed and set apart for great things. Ephesians 1:13-15 says:
And you also were included in Christ when you heard the word of truth, the gospel of your salvation.

Having believed, you were marked in him with a seal, the promised Holy Spirit, who is a deposit guaranteeing our inheritance until the redemption of those who are God's possession–to the praise of his glory.
The process of sanding and oiling can be done multiple times until desired smoothness is achieved. I have a friend who does the process seven times to represent the seven-fold ministry.
7. Scorch it with a flame.
This step is optional, but it will add some character and some darker places on your staff. As you scorch your staff, remember that when we are filled with the Holy Spirit, we receive the power of God that works in us. Holy Spirit burns out the desires of the flesh and gives us a passion to tell others about Him and minister to those in need.
Matthew 3:11 says:
I baptize you with water for repentance. But after me will come one who is more powerful than I, whose sandals I am not fit to carry. He will baptize you with the Holy Spirit and with fire.
8. Declare it a weapon unto the Lord.
Remember that the Word of the Lord is true and cannot be revoked. Matthew 16:19 says:
I will give you the keys of the kingdom of heaven; and whatever you bind on earth shall have been bound in heaven, and whatever you loose on earth shall have been loosed in heaven."
9. On the bottom of the mattah, inscribe the word "Amen," which means "so be it."
Every time your staff hits the floor, the words inscribed on it and the authority the Lord has given you will be declared as if a judge's anvil in striking down.
The words can be written with a permanent marker or burned in with a wood burning tool. If you use a marker, you can always go over it with a burning tool later.
10. Give it a name!
Names are important! They give identity and meaning. God instructed the leaders of the tribes of Israel to inscribe their family names onto their staffs. He did this just before He made Aaron's staff bud and bear fruit, signifying that Aaron was the chosen leader.
You can write your name (or the meaning of your name) on your staff, OR you can name the staff itself. The name the Lord gave me for my mattah is "Purity." (I'll share more about that when I share my testimony on Friday.)
(Note from Jamie: The Lord told me to name my mattah "Dwell." Ask Papa, and He'll tell you what yours is to be named.)
11. Pray and ask God what He would have you inscribe on your staff, representing the area(s) of authority for which you are anointed.
Write the vision! Has God spoken specific things into your life that you wish to declare? You can add favorite verses, dates, pictures, or anything that is significant to your walk with the Lord.
12. Leave room to grow.
Make sure to leave some room to write future revelations. As you continue to grow, your measuring stick will too!
You will be surprised at the opportunities that the Lord opens for you to witness to others with your Mattah.
Be prepared to tell your story! I don't have mine with me everywhere I go; however, when the Lord instructs me to take it, I do. When that happens, I usually come upon someone during my day who will ask me about my staff. The door is then open for me to share my mattah story.
Would you like to make your own mattah? You can do it!
It is a fun process that has profound, very personal, spiritual meaning. Go hunting for your piece of wood, and get started today! I believe the Lord will bless you as you seek Him throughout the creative process.
Also, I'd like to invite you personally to our Make Your Own Mattah workshop!
It's March 18 here in Chattanooga, rain or shine. We'll be at a pavilion in a city park, and the class includes 4 hours of teaching from me, personal help from Jamie, drinking water, and the wood for your staff. You bring your own decorations, and we'll have an awesome time with the Lord making our own mattahs together!
Cost for the class is $50 per person, and you can sign up using the PayPal button just below. We only have 25 spaces, and some spaces have already sold, so please sign up quickly if you want to attend! We are looking forward to seeing you there. 🙂