Sometimes You Just Need To Chill (Because You Are Important Too)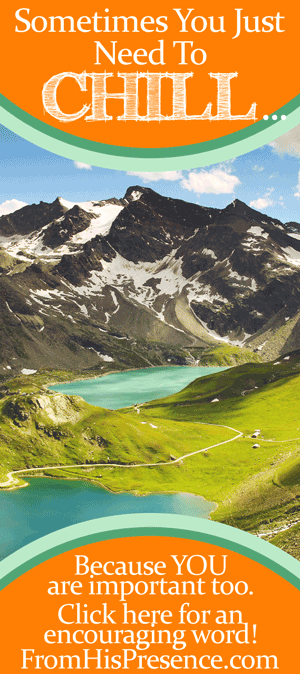 Sometimes you just need to chill.
I mean it. I'm speaking to myself too, but I thought somebody else might need to hear this today too. Not because you don't know this already, but because you might feel like you need permission.
To just. chill. out.
You're tired, worn out, and frazzled. Your fuse is short. The laundry is dirty, the sheets need changing, the dishes are sitting out on the counter, the bills need to be paid, and the kids' toys are all over the floor. And you're an emotional mess.
But you know what? I feel like the Lord wants you to know today that YOU are important too. He sees the dishes, the kids, and the dirty minivan. But they can all wait. (Well, maybe all except for the one about the bills. Paying the mortgage on time is pretty important.)
But as for the rest of it…
Have you ever noticed how much of your life is dictated by stuff, instead of by things that bring you LIFE?
Have you noticed how much of your emotional, physical, and mental energy is spent keeping up with stuff, with the rat race, and with the Jones family—instead of being used to actually propel the LIFE God designed you to live?
If you're anything like me, the answer to that question is a lot.
And that's why I'm saying that sometimes you just need to chill out. And if you're reading this today, then maybe this is an on-time word for you.
Because YOU are important too.
That's right, YOU. You, precious mama with curlers in her hair and the same bathrobe on for 3 days. Precious lady with more to do in one day than an army of people could ever get done. Precious brother with all kinds of emotional and mental stress pulling at you and frying your soul and spirit. That's right. YOU.
You are important. And God is not merely concerned with your responsibilities or your to-do list. He's a Father who loves you, and He's looking at the state of your soul right now. He sees the weariness, the discouragement, and the exhaustion.
Related: God Cares About Your Emotions More Than Your Ability To "Be Spiritual"
And I believe He wants you to know that:
Sometimes you need to chill out. And if you're there, it's ok to go ahead and rest. God never designed you to keep the world spinning.
Answer me this:
When was the last time you went outside and just relaxed?
When was the last time you sat in a chair at the beach and just rested?
Or the last time you spread a blanket on the grass and read a great book?
Or the last time you went walking in the woods, for no other reason than to see the trees and hear the birds sing?
Or the last time you set aside a Saturday morning not to work, but just to read the Word and pray and draw close to God? Or a Saturday evening just spent snuggling your spouse?
Maybe it's been awhile.
If so, I want to release you today: This busyness is not from the Lord. He is a God Who brings rest.
Related: Rest In God, Reach Your Destiny
Jesus saw the need that we people have for rest, and our need inspired His compassion. So He gave us this great and precious promise:
Come to Me, all you who labor and are heavy laden, and I will give you rest.

Take My yoke upon you and learn from Me, for I am gentle and lowly in heart, and you will find rest for your souls. For My yoke is easy and My burden is light" (Matthew 11:28-30).
God is a God of wisdom. Yes, He wants you to be diligent and hustle. But He doesn't want you to wear yourself out. He DOES want you to come to Him, with all your weariness and all your burdens, and let Him give you rest.
And maybe—just maybe—your hustle would be a lot more effective if you got some soul rest once in awhile.
Being busy isn't all it's cracked up to be. It can burn you out. It can wear you down physically. And it can make your fuse short, just because you haven't taken enough time to stop and breathe.
And just BE.
It's ok, sometimes, to just be.
God wants you to rest. He wants you to come to Him and receive rest from Him.
Your loving Papa God wants your soul to be refreshed, like it says in Acts 3:19:
Repent therefore and be converted, that your sins may be blotted out, so that times of refreshing may come from the presence of the Lord…" (Acts 3:19).
Refreshing is good. Rest is good. Rest is God's plan for you.
And because rest is God's plan, you have permission…
… to just. chill. out.
It's okay to ignore the screaming responsibilities of the rat race for a little while. Reconnect with God. Reconnect with your spouse. Reconnect with yourself.
Take a moment—or three—or five—or an afternoon or a day or three days—and chill.
Because sometimes you need to just be, and rest, and receive from this Father God Who is the source of all things; Who alone makes all things new.
Do you long to just go somewhere alone, rest, and just be? To reconnect with God and be refilled by the Holy Spirit?
If so, that's God is speaking to your heart. He's wooing you; drawing you to come into His place of rest and refreshing.
So the question is: Will you answer?
If this post describes where you are today, would you leave a comment below? I'd love to hear from you!
By the way… if you need inspiration to just rest and chill and wait on God for a few minutes, listen to this: one of my favorite songs. It's Jenn Johnson singing my favorite (the original) version of "A Little Longer." It wrecks me every time I listen to it. Take a listen here: