When You Stick Out Like a Sore Thumb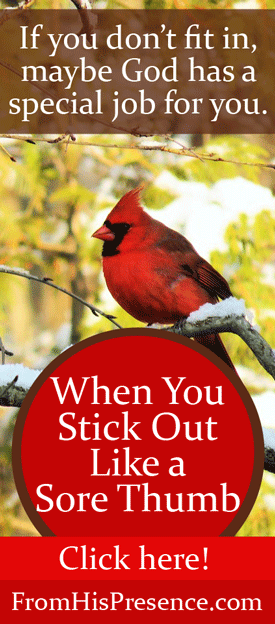 Somebody reading this feels like you just don't fit in. As a matter of fact, you stick out like a sore thumb.
Everywhere you go.
Is it you? If so, I want to encourage you today.
Here's the thing: If you stick out like a sore thumb, it's usually because fitting in is not part of God's call on your life.
That doesn't mean you're doomed to a life of solitary loneliness. It doesn't mean you can't have friends, won't have friends, or don't have friends right now. You can have all the friends in the world and still be different. Very different.
Why? Because God has called some people in this world to be forerunners, and forerunners do. not. fit. in.
They fit in sometimes with other forerunners–but not all the time. But they definitely don't fit in with the mainstream.
In fact, forerunners are usually about five years ahead of the mainstream; sometimes more.
But this job of forerunner is an actual calling in the Body of Christ. It's not a calling that's celebrated, for sure. It's not a calling that's talked about very much, unless you're in a fellowship specifically made up of forerunners. But it is a calling.
We find this calling in Scripture, most notably, in places like Isaiah 40:3, which says:
The voice of one crying in the wilderness: 'Prepare the way of the Lord; make straight in the desert a highway for our God."
And Malachi 3:1:
'Behold, I send My messenger, and he will prepare the way before Me. And the Lord, whom you seek, will suddenly come to His temple, even the Messenger of the covenant, in whom you delight. Behold, He is coming,' says the Lord of hosts."
And Mark 1:1-4:
The beginning of the gospel of Jesus Christ, the Son of God. As it is written in the Prophets: 'Behold, I send My messenger before Your face, who will prepare Your way before You.' 'The voice of one crying in the wilderness: 'Prepare the way of the Lord; make His paths straight.' John came baptizing in the wilderness and preaching a baptism of repentance for the remission of sins."
John the Baptist was a forerunner. His job was to prepare the way for Jesus to come.
And John the Baptist definitely did not fit in. He stuck out worse than a sore thumb.
Luke 1:80 tells us that he grew up in the desert. He didn't hang out with normal people; Jewish historians believe he was trained in a monastic-type settlement. We know very little more about him, and what we do know is–let's face it–strange.
He ate locusts. (Yes, the bugs.)
He ate wild honey.
He wore camel's hair and leather.
He preached against the status quo.
John the Baptist was strange. But you know what Jesus said about him? He said:
Assuredly, I say to you, among those born of women there has not risen one greater than John the Baptist; but he who is least in the kingdom of heaven is greater than he.
Despite the fact that John did not fit in at all, Jesus said that no one greater than John had ever been born until that time.
(Remember that Jesus was preaching the inauguration of the Kingdom, so His statement about "he who is least in the kingdom of heaven" was like saying, "Up until now … but going forward ….")
Even though John was so different, God esteemed him very highly:
God ordained John's birth;
God announced John's miraculous birth by sending the angel Gabriel to John's daddy personally; and
God used John as the one man He had chosen to prepare the way for Christ in his generation.
Wow. Think about that.
All from a guy who emanated different.
And you know what? John the Baptist wasn't the last forerunner.
John was the first forerunner, but not the last. Jesus is still going to come back a second time, and He still needs forerunners.
And I would like to suggest to you today that, if you stick out like a sore thumb even though you're doing all you can to seek God and follow Him with all your heart, maybe you are a forerunner too.
What do forerunners do?
Forerunners go in advance. They prepare the way. Their job in the spirit realm is to prepare the way for the Lord Himself to come and do whatever He wants to do.
Forerunners–even though they don't always know it–have a natural bent NOW toward what God will be doing in the mainstream, across His Body at large, in 5-10 years (and sometimes longer). To them, the future move of God is the normal now.
This "life lived in advance" is sometimes a source of frustration for forerunners.
Sometimes they feel like people are missing out, and they get discouraged about that. However, forerunners often put too much pressure on themselves. They don't always understand that their job is not to gather the people around the new move. Their job is simply to live the new move, and God uses their prayers and their very lives as the seed He needs to implement that new move when the time comes.
Forerunners also have keen insight. God gives this insight because forerunners MUST be intercessors, and intercessors must receive instruction from the Lord about how to pray.
Forerunners don't always understand their ministry … yet their ministry is essential, incredibly effective, and irreplaceable. However, the forerunner ministry is not necessarily a ministry to people. It's first and foremost a ministry and a matter of faithful service to the Lord. (And if you're a forerunner, you must see it that way. Otherwise, you will burn out.)
And many times, if you stick out like a sore thumb for no good reason, it's because you're called to be a forerunner.
You stick out simply because you were made to stick out. You were made to birth completely new things on the earth. You were born to be different, because God wants to expand His Kingdom–and He must have someone who is willing to take new territory in order to do that.
So ask Holy Spirit: "Lord, am I a forerunner?"
And He will tell you. (If this word is quickening something in your spirit, that's probably Him already confirming it to you.)
And if you are a forerunner, know these things:
There is nothing wrong with you. You have not messed anything up.
The fact that you are different is not a mistake.
You aren't doing anything wrong by being different.
You shouldn't try to silence yourself or fix yourself so that other people will consider you "normal."
Find other forerunners with the same heart, and you will find it easier to make friends with them.
The Lord has a very special ministry for you. It's a ministry directly to Jesus.
Your entire life will be a signpost, pointing people to Jesus–if you will follow Him with all your heart.
You will always be taking new territory. (That's why it's so important to find other forerunners for your friends; you'll need their understanding and encouragement!)
The forerunner ministry, fully lived, is one of the most fulfilling works you could have.
Being a forerunner does not excuse you from being out of authority. You still need to find a good local church, plug in, be faithful, and get under godly authority.
Asking God to bring you the reward of your labor will help you stay encouraged when things get hard.
Asking Him to show you the results of your labor will definitely help, too. 🙂
Beloved, the forerunner ministry is essential. Jesus still needs people to prepare the way before Him, so He can come back to earth.
He needs you. He needs you fully engaged, fully committed, and fully ready to live a sacrificial life of faithfulness–even though you don't fit in.
Will you do it?
If this message about the forerunner ministry resonates in your spirit, please leave a comment below!