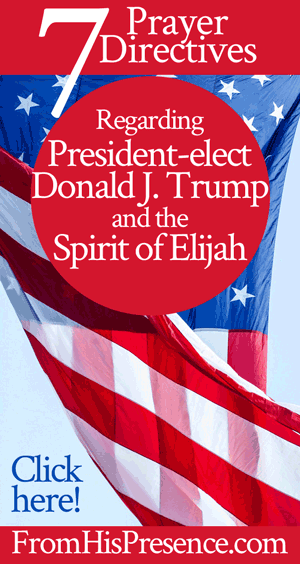 On the morning of November 9, 2016, the Lord gave me a dream that I believe contains several urgent, prophetic prayer directives for Christians regarding President-elect of the United States Donald J. Trump.
By the way: Before you comment at the end of this post, please be aware that I do not allow comments on this blog that do not align with my written comments policy, here. I do not allow defamatory comments about any person, religion, or people group, whether such comments are false or true. If you are not a fan of President-elect Trump, I understand. But, you may not leave a comment maligning him on this blog or on any of my social media outlets. And just so you know, I wouldn't allow defamatory comments about President Obama or any other person, either.

Thanks for understanding. 

Jamie
Click here to get a free, printable bookmark of all 7 prayers for President-elect Trump!
I dreamed that I was one of Mr. Trump's staffers.
The results of the election had come in, and Trump had just given his victory speech. In the speech, he purposefully honored and thanked his parents (which he also did in real life).
After the victory speech, he called all of us staffers together for our first staff meeting—a meeting which would prepare us for his transition into the presidency. At this first staff meeting, President-elect Trump talked to us about what he expected from us on his staff.
I remember jotting down notes regarding things I needed to ask him about. One of them was his "photo policy"–what his current business policy was regarding:
• which of his instructions his staffers could share with others, versus which were confidential;
• which of his quotes we could share; and
• when we could release pictures of him that we had taken throughout the workday.
I never did get around to asking him these questions. However, I remember feeling very cautious about these points and I knew that I needed to be careful with them.
During that first staff meeting, Trump honored his parents again while he was talking to us.
As I listened to Mr. Trump speak, the fact that he repeatedly honored his parents reminded me of the spirit of Elijah. [Read more…]